Directed by Benh Zeitlin
Screenplay by Lucy Alibar and Benh Zeitlin
2012, USA
Fully immersed in characters that refuse to be changed by nature's fury or modern society's encroachment, director Behn Zeitlin's Beasts of the Southern Wild sweeps the audience into a chaotic, isolated world of unchained imagination. Set deep within a closed off bayou of Louisiana where a small girl named Hushpuppy is largely free to do as she pleases, Beasts is a film that pulses with free will and resilience. Hushpuppy is a soul that can't be broken by illness, disaster, beasts or whatever else the world may throw her way. This is a story of a child living in abject poverty but one that doesn't ask anyone to take pity on her. Instead we see her wild innocence of looking at the world, her bravery and desperately want to feel that open to spaces within us that haven't yet been silenced by age or pain.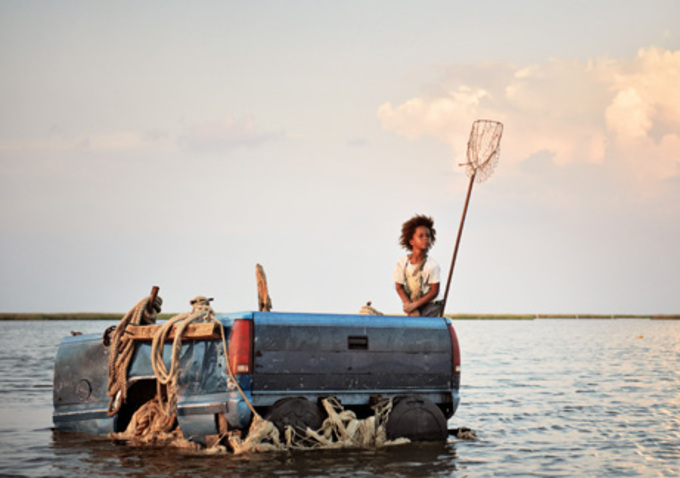 Beasts relies heavily on young Quvenzhane Wallis' portrayal of Hushpuppy. She rips her scenes apart with ferocious intensity. Though small, her poise and brashness when confronting adults is compelling and often unnerving. While Hushpuppy is defiant and adventurous, it is her fervent loyalty to her community known as "The Bathtub" that speaks the loudest to the heart of the film. Their off the grid way of life is sacred and profoundly ingrained. Essential to their happiness is a complete lack of schedules and machinery. They simply exist and aren't pushed to accomplish what a broader world wants of them. The erratic camerawork exemplifies how in the moment they live. Living on the edge of the world with their eccentricities, their only threat is being found out by outsiders who don't understand that they don't want to be hospitalized, reformed or given charity.
Wink (Dwight Henry) is Hushpuppy's manic and sickly father who imbues her with the magical knowledge he has of living. This serves to furnish her mind with daring plans and dangerous notions of prehistoric beasts called Aurochs barreling down on them. Wink is a complicated figure who is both loving and cruel. It's clear he hasn't always been the most present father but he is all that Hushpuppy has ever had. The uninhibitedness of the atmosphere has ignited her imagination and lent her tools of coping with her father's illness and a devastating flood that don't make things necessarily better but easier to rationalize and withstand.
The magnificent and intimidating beasts are perhaps representative of the harshness of adult life and the possibility that Wink may die. Instead of letting her father's illness destroy her sense of self it helps to embolden it. The stories she tells herself make her stronger and the physical presence of the beasts onscreen affirm the mighty power that Hushpuppy's imagination holds. Even if the side characters lead the movie a bit astray it is the sheer overwhelming exuberance of Hushpuppy that keeps the audience's attention transfixed until the end on this tiny but mighty savior of imagination and her people.
– Lane Scarberry
[wpchatai]