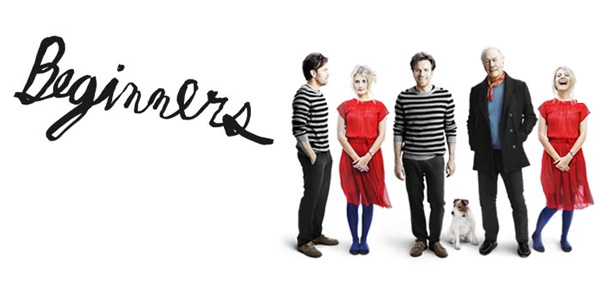 While the reviews for Beginners were almost all positive, very few people have had a chance to see the film. I myself watch over 100 new releases each year and it still took me a few months to catch up on the movie. I finally got around to seeing Beginners this week and called it the most overlooked film of 2011. I guess I can no longer say this. Last night, the Gotham Independent Film Awards surprised everyone with a tie for Best Feature Film with Mike Mills' Beginners and Terrence Malick's The Tree of Life taking the top prize. Who would have ever guessed?
Best Feature winners from the past several years include Frozen River, Winter's Bone, and The Hurt Locker. Hit the jump for the full press release.
via The Collider
GOTHAM INDEPENDENT FILM AWARDS™
WINNERS ANNOUNCED
New York, NY (November 28, 2011) – The Independent Filmmaker Project (IFP), the nation's oldest and largest organization of independent filmmakers, announced today the winners at the 21st Annual Gotham Independent Film Awards ceremony in New York City's Cipriani Wall Street. Presented by IFP, the Gotham Independent Film Awards™ is one of the leading awards for independent film and the first major honours of the film awards season. As previously announced, the awards ceremony streamed live in its entirety to a global audience at www.ifp.org.
A total of 29 films received nominations in seven competitive categories, including: Best Feature, Best Documentary, Breakthrough Director, Breakthrough Actor, Best Ensemble Performance, Audience Award and Best Film Not Playing at a Theater Near You®.
For the second year, IFP will honor the recipient of the Best Film Not Playing at a Theater Near You award with a theatrical release package so the winner WILL show at a Theater Near You. The package includes a one-week run at Cinema Village in New York City, advertising support in the New York Times, and a cash award of $15,000 from The Royal Bank of Canada.
New this year, IFP is proud present the inaugural euphoria Calvin Klein Spotlight on Women Filmmakers 'Live the Dream' grant, a $25,000 cash award for an alumnus of IFP's Independent Filmmaker Labs. This grant aims to further the careers of emerging women directors by supporting the completion, distribution and audience engagement strategies of their first feature film. In addition to the competitive awards, career tributes were given to actors Gary Oldman and Charlize Theron (Theron tribute sponsored by euphoria Calvin Klein), director David Cronenberg and Fox Filmed Entertainment Chairman and CEO, Tom Rothman.
The 21st Annual Gotham Independent Film Award™ Recipients:
Best Feature presented by Tilda Swinton
A Tie between:
BEGINNERS
Directed by Mike Mills
Produced by Leslie Urdang, Dean Vanech, Miranda de Pencier, Jay Van Hoy, Lars
Knudsen
Released by Focus Features
TREE OF LIFE
Directed by Terrence Malick
Produced by Sarah Green, Bill Pohlad, Brad Pitt, Dede Gardner, Grant Hill
Released by Fox Searchlight
The Best Feature Jury included: Anne Carey, Jodie Foster, Nicole Kidman, Lee Percy, and
Natalie Portman
Best Documentary presented by director Bennett Miller and documentarian Chris
Hegedus.
BETTER THIS WORLD
Directed and produced by Katie Galloway and Kelly Duane de la Vega
Produced by Mike Nicholson
The Best Documentary Jury included: Jonathan Caouette, Keiko Deguchi, Rachel Grady,
Chris Hegedus and Stanley Nelson
Breakthrough Director Award presented by Alexander Payne and Felicity Jones
DEE REES
Writer and director of Pariah
Released by Focus Features
The Breakthrough Director Jury included: Ellen Kuras, Anthony Mackie, John Cameron
Mitchell, Mike S. Ryan, Mira Sorvino
Breakthrough Actor Award presented by actors Stanley Tucci and Melissa Leo.
FELICITY JONES
Actor in Like Crazy
Released by Paramount Vantage
The Breakthrough Actor Jury included: Chris Eyre, Melissa Leo, Anne Rosellini, Ira Sachs
and Jeffrey Wright
Best Ensemble Performance Award presented by actor/director Vera Farmiga and
actor Peter Facinelli
Ewan McGregor, Christopher Plummer, Melanie Laurent, Goran Visnjic, Kai Lennox,
Mary Page Keller, Keegan Boos
in BEGINNERS
Released by Focus Features
The Best Ensemble Performance Jury included: Lena Dunham, Ryan Fleck, Peter Hedges,
Philip Seymour Hoffman and Emily Watson.
Best Film Not Playing at a Theater Near You Award presented by actor Judy Greer
and RBC CEO, Mark Standish
SCENES OF A CRIME
Blue Hadaegh & Grover Babcock, Directors and Producers
The recipient of The Best Film Not Playing at a Theater Near You™ award was
determined by the editors of Filmmaker magazine, a publication of IFP, and a curator
from The Museum of Modern Art.
Gotham Independent Film Audience Award sponsored by Heineken USA and presented
by actors Sarah Paulson and Zachary Quinto.
GIRLFRIEND
Justin Lerner, Director
Produced by Jerad Anderson, Kristina Lauren Anderson, Justin Lerner, Shaun O'Banion
The Audience Award was voted on line by filmgoers who love movies.
euphoria Calvin Klein Spotlight on Women Filmmakers 'Live the Dream' grant
presented by Shailene Woodley.
LUCY MULLOY
for upcoming film UNA NOCHE
The euphoria Calvin Klein Spotlight on Women Filmmakers' 'Live the Dream' grant jury
included: Zoe Cassavetes, Katherine Dieckmann, Judy Greer and Jon Kilik.
The Premier Sponsors of the Gotham Independent Film Awards™ are Royal Bank of
Canada (RBC) and The New York Times, Presenting Sponsor euphoria Calvin Klein,
Official Partners: Heineken USA (sponsor of the Gotham Independent Film Audience
Award); Russian Standard Vodka; charitybuzz; MoMA; Andaz Wall Street; Official
Haircare Partner BaBylissPRO and Official Wine Partner Mionetto Prosecco.
Chat Box - Go ahead, make my day and ask me questions about movies and TV shows...