We asked some of our writers what their top 5 games of 2014 were, and have since compiled them into five parts. They will be released every two days, with each writers top 5 counting down through successive entries.
3) Valiant Hearts: The Great War
Due to its propensity for conflict, war has long been a popular backdrop for video games but never has it been seen like this. Filled with humanity, sorrow, and honesty,
Valiant Hearts: The Great War
uses the true history of World War I to weave together the stories of its protagonists (ranging from a German soldier, to a French POW, to a Belgian combat nurse). The gorgeous graphics, evolving gameplay, and original design only serve to make the experience offered here more enticing. Thoroughly moving and steeped with loss,
Valiant Hearts
is not a game you will soon forget.
(Mike Worby)
3) The Walking Dead-Season 2
Is it as good as Season 1? Hmm, probably not. Is it another fantastic Telltale experience? Definitely. Placing Clem front and center this season forces the narrative down a more interesting path; watching how events unfold through the eyes of a child brings a nice skewed perspective at times, with the adults (if only in age, and not always in wisdom) often underestimating the player or purposefully keeping things hidden.
The story choices are as difficult to make as ever, with every player guaranteed at least one moment of self-doubt or regret as they watch their decision unfold, sometimes not until quite a bit further down the line. It may not pack quite the emotional one-two that Lee's pairing brought in Season 1, but it's still an excellent experience for anyone that's a fan of narrative-heavy gaming. (Tariq Ashkanani)
3) Five Nights at Freddy's/Five Nights at Freddy's 2
One of the scariest and most stressful game series of the year, Five Nights at Freddy's caused gamers across the country to cry out as the clock rolled over to 6am every night, "I made it!" The games should be played in the order they were released, so that players can ease into the whole "no doors" situation. Five Nights at Freddy's 2 wasn't supposed to be released until 2015, but developer Scott Cawthon decided he hadn't terrified gamers enough this year, and went ahead and released the sequel early.
There isn't much to the gameplay in the first game. Check the security cameras. Check the doorways. Check your power usage. However, as gamers are confined to one room with no means of escape, watching over Freddy and his pals is an incredibly stressful job. The sequel only makes matters worse by adding a music box that must be wound, more animatronics, and, of course, no doors. (Elizabeth Rico)
3) The Walking Dead-Season 2
If there's one thing that Telltale have absolutely nailed since picking up the Walking Dead license, it's the sadistic moral choice system. While most games give the player black and white choices – help the old lady across the road or push her in front of a bus – the Walking Dead frequently presents the player with choices in which there are legitimately no good options. It's these choices that lie at the heart of what made the first series so appealing, and the second series continues this trend in style. With the focus now almost entirely on storytelling rather than puzzle solving, the series is left to do what it does best – let you get to know characters, learn to care for them, and then callously throw them into gut-wrenchingly bleak situations for you to attempt to salvage. That the game can make the player genuinely feel guilty about what they've been forced to do is one of its greatest achievements, and something than many big budget games should take heed of. (John Cal McCormick)
3) Destiny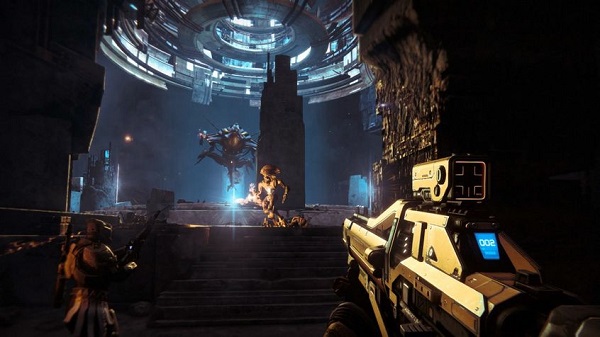 Expectation is in a direct relation to the relative hype a game garners, and no game better exemplifies this relationship than the newest Bungie title Destiny. Polarizing in ratings, yet extremely popular amongst gamers, this recent addition to Bungie's slew of hit games is sure to make waves in the future. Most critics of the game complain that while marketed as a comprehensive gaming experience, it has been far too repetitive. I on the other hand see the infinite potential that the game possesses. Just three months since the games release, it managed to fix the broken Iron Banner concept, making it far more playable and interesting. In addition, the in-game chat feature in the Crucible proves that unlike other studios Bungie makes a concerted effort in listening to the demands of the gaming audience. These simple improvements have already added to the smooth gaming mechanics of the original game, and make this first person shooter a definite contender. (YZC)
3) Dark Souls II

One of the most punishing games in recent memory, Dark Souls II continues the extreme challenge/epic reward gameplay that has made the franchise loved by many. There's nothing quite like defeating a boss that has constantly defeated you over and over again. Traveling has been made easier with the use of teleporting between bonfires and the multiplayer remains one of the most unique play experiences available. Dark Souls II might not reinvent the wheel, but is another strong entry in one of the most exciting modern franchises. (Max Covill)
3) The Wolf Among Us
After the critical success of The Walking Dead video game, Telltale released The Wolf Among Us, a neo-noir thriller based on the graphic novel series, Fables from DC Comics/Vertigo. This 5-episode series might just be the most polished game that Telltale has created yet. The art is exquisite; the sound effects and music are expertly rendered and the voice-acting is uniformly great. There isn't much, if anything to complain about here – this violent but mature detective story does a fabulous job of blending each of its creatures, myths, lore and legends into our world. In The Walking Dead, the decisions you make come with heavy consequences but here, your decisions are all about building trust. In other words, loyalty goes a long way. (Ricky D)
Part 1 / Part 2 / Part 3 / Part 4 / Part 5
[wpchatai]