Breaking into the comic book industry is like breaking into Fort Knox with a blindfold on. It takes grit, determination and above all else, talent. While the vast majority of mainstream comic book publication takes place in the good old U.S. of A., there is a sleepy little country lying just to the north that's ripe with talent; Canada. In fact, there are several well established Canadian's making waves in the comic book industry today. Here is part one of the Canucks making Canada a household name in comics:
What does a New York Times best-selling series, an Eisner Award, two Harvey Awards, a movie and a game based on your work get you? A comfortable seat to lean in while the royalty cheques pour in, of course. But what does London, Ontario born writer/artist Bryan Lee O'Malley do? You work harder than ever before to maintain your legacy as one of Canada's greatest exports. O'Malley broke into the mainstream with a video-game/indie music inspired comic series about a slacker named 'Scott Pilgrim'. While it may have started out slow the series exploded, and after all the awards, a movie and a video game, the world waits with baited breath for O'Malley to finish 'SECONDS', his long awaited follow up. Not to mention that 'Young Avengers #1' variant cover he did that had the twittersphere buzzing.
Notable works: 'Scott Pilgrim series' published by Oni Press, 'Lost at Sea' published by Oni Press
The phrase 'next big thing' gets tossed around so much these days that it's nigh impossible for anyone to even reach 'big thing' status. But if anyone can truly claim that coveted crown of praise, then its writer/artist Jeff Lemire. Hailing from the sleepy town of Essex County, Ontario, Lemire took the influences and lessons he learned growing up in that small community to form a trilogy of graphic novels entitled, you guessed it, 'Essex County'. Not content to rest on his laurels, Lemire then created one of the most revered series in modern comics, Vertigo's 'Sweet Tooth'. Throw in a character defining run on DC's 'Animal Man' and overwhelming critical praise for 2012's 'The Underwater Welder', all eyes are on Lemire in 2013. Taking the reins of 'Green Arrow' this month with issue #17, the comic world is holding its breath as Lemire prepares to take over the industry.
Notable works: 'Sweet Tooth issues 1-40' published by Vertigo Comics, 'The Underwater Welder' published by Top Shelf Comix, 'Animal Man(2011)'  issues 1-current' published by DC Comics
The comic book medium is jam packed with action set pieces that Hollywood could only dream about. From a giant tidal wave engulfing all of Manhattan in 'Ultimate Spider-Man #129', to the final battle between the celestial serpents and the Avenger's in 'Fear Itself #7', Hollywood's imagination is falling behind. This is because of one man; artist Stuart Immonen. Hailing from Ontario, Immonen is Marvel Comic's go-to guy for events. His style is filled with an energy that makes even the most static of shots spring to life. Yet action is not everything, and Immonen knows this as well. Who could forget the image of Captain America, down on his knees, shield shattered and for the first time in his career, utterly without hope. Emotion, action and an unrivaled style, Immonen is the perfect comic artist and Canadian's are proud to call him their own.
Notable works: 'Ultimate Spider-Man' Issues #112-117 published by Marvel Comics, 'All New X-Men Issues 1-5' Published by Marvel Comics, 'Nextwave: Agents of H.A.T.E. Volumes 1+2' Published by Marvel Comics.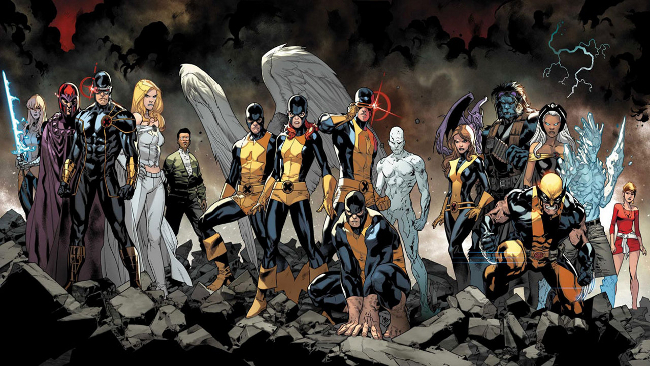 -Sean Tonelli
PART TWO