Writing a series focused on the depiction of gender and sexuality in films, it would be a massive oversight not to talk about the work of French director Catherine Breillat. Few other directors have as consistently explored these topics as directly or as interestingly. The next few articles will explore Breillat's 13 feature films in detail.
One can get an idea about Breillat's filmmaking philosophy through some of her contributions outside of directing in the 1970s. She has a small acting role in Bernardo Bertolucci's Last Tango In Paris. She contributes commentary on Pier Paolo Pasolini's Sálo, or the 120 Days of Sodom, which is featured in the Criterion release of that film. She is a screenwriter on David Hamilton's teenage coming-of-age/erotica film Bilitis. All three directors provoke controversy through their work and the open depiction of sexuality, whether due to the graphic nature of the sexuality, the inclusion of perverse fetish, or by focusing on the sexuality of teenagers.
Breillat's film debut, A Real Young Girl, includes a bit of each of these traits. It focuses on 14-year-old Alice, played by Charlotte Alexandra. The character's name and attire hints at the teen protagonists in Alice In Wonderland and The Wizard of Oz and the film frequently slips away from a sense of realism. It has a certain poetic lyricism that leaves it a bit vague. Further distancing matters, Alexandra is an adult and doesn't really pass as a young teen, though this makes the graphic nudity that prevented the film's release for over two decades a bit easier to tolerate.
At 14, Alice is hitting a time of sexual discovery, masturbating and toying with her effect on men. The lack of passion captured in these moments suggests something is a bit off. More interesting is the notion of how difficult it is for a girl to control her own sexuality, either being repressed by her mother saying she is dressed like a whore or having it forced on her when a man exposes himself to her. The film introduces Breillat as a filmmaker of challenging and unique vision, but still not one of great technical skill. Breillat's early works are fairly rough.
A couple years later, Breillat made Nocturnal Uproar. Broadly put, it is like Fellini's 8 1/2 without the surrealism and with a female director, Solange, in the focus. Seeing very little of her actually directing anything, or for that matter sleeping, the film takes us from bed to bed as we observe her polyamorous lifestyle. Curiously, she tends to engage the guy she's with in a discussion about the guys she's not with, but not in a way intended to stir jealousy. Whether this is meant to be of particular interest, a woman acting in a way more associated with men, or whether it is just particularly French is not entirely clear.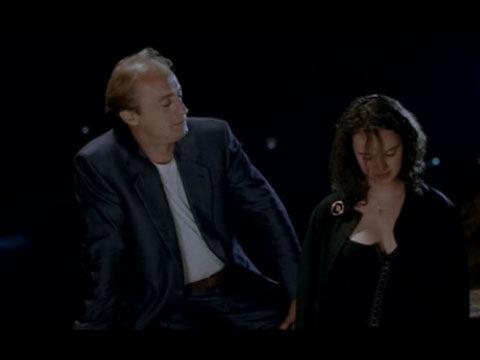 It was almost a decade before Breillat's third film, Junior Size 36, was released. It marks a bit of a return to her original work, focusing on another 14-year-old girl Lili, this time actually played by teenaged actress Delphine Zentout, though one who could pass as an adult. This fits well into the story as she longs to be an adult and cherishes her appeal to adult men, especially Boris, played by The 400 Blows star Jean-Pierre Léaud. Boris is well into middle age and bounces back and forth between finding charm in Lili's youthful appeal and frustration in her youthful immaturity. Lili meanwhile doesn't have a clear grasp of her own desire, though she gets increasingly anxious to lose her virginity. As a bit more nuanced take on the appeal and pitfall of a Lolita-style relationship, this is Breillat's first full success.
The final film of Breillat's first twenty years as a director is Dirty Like An Angel. The big change in this film is that it is the first, and to date only, film that centers fully on a male character. George is a detective nearing retirement, a bit corrupt in using his position to derive some benefit from the underbelly of Paris. Taken with his partner's new wife, Barbara, he uses his seniority to send his partner on assignment and, asked to keep an eye on her by his partner, gets close to her. Even though the film is essentially focused on the male characters, one of the main conflicts is within Barbara as she struggles with her desire for George and her guilt over cheating on her husband, however much he may be philandering himself. Infidelity seems to be the French national past-time. This feels like the least personal and ultimately the least interesting of Breillat's films.
[wpchatai]