Villains are an essential part of genre cinema.  Though scores of filmmakers have attempted to create truly great villains throughout the history of film, only a few have succeeded in achieving this difficult goal.
This article will take a look at the great film villains of the 2000's.
The criteria for this article is the same as my previous articles Cinema's Greatest Villains: The 1970's, Cinema's Greatest Villains: The 1980's and Cinema's Greatest Villains: The 1990's:  the villains must be from live-action films only, and must pose some type of direct or indirect lethal threat. The villains can be either individuals or small groups that act as one unit. The villains must be human or human in appearance. Also, individuals who are the central protagonists/antiheroes of their respective films were excluded.
****
Ben Kingsley as Don Logan in Sexy Beast (Jonathan Glazer, 2000):  Kingsley rightfully received an Oscar nomination for Best Supporting Actor for his portrayal of an obsessive and dangerous gangster in Glazer's unique British crime film.
There are very few actors who could convincingly appear to intimidate a character played by Ray Winstone and Kingsley pulls it off brilliantly in one of his very best performances.
Denzel Washington as Detective Alonzo Harris in Training Day (Antoine Fuqua, 2001):  Washington won an Oscar for what remains one of the great performances of his career, as a dirty cop acting out a lethal agenda over the course of one day. Performance highlights include a fantastic confrontation scene wherein Washington's character questions a crack addict in an alley.
Screenwriter David Ayer has created several rogue LAPD officer characters with common traits in his career, including Kurt Russell in Dark Blue (Ron Shelton, 2002) and Keanu Reeves in his self-directed Street Kings (2008), but Washington's Alonzo Harris remains the king of the bunch.
Daniel Day Lewis as Bill "The Butcher" Cutting in Gangs of New York (Martin Scorsese, 2002):  Highly regarded actor Lewis turns in one of his best performances as a lethal crime boss in 1860s New York City.  Lewis received a Best Actor Oscar nomination for his acting in Gangs of New York and later won in the same category for a similar but lesser performance in Paul Thomas Anderson's pretentious and overrated There Will Be Blood (2007).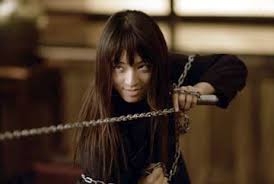 Chiaki Kuriyama as Gogo Yubari in Kill Bill, Volume 1 (Quentin Tarantino, 2003):  Decked out in a Sukeban Deka-style outfit and wielding something far more deadly than a yo-yo, Kurayama provides Tarantino's revenge epic with its most interesting character and the most effectively realized fight sequence in the two-part film.
Let's hope this talented actress and Battle Royale participant finds herself in another high-profile English language film sometime in the near future.  Rila Fukushima was excellent as Yukio in James Mangold's Wolverine but wouldn't a Chiaki Kuriyama take on the role have been something to see?
Jeremy Renner as Brian Gamble in S.W.A.T (Clark Johnson, 2003):  Years before Jeremy Renner was a globally recognized actor with two highly justified Academy Award nominations, the talented actor turned in a great performance as a renegade former SWAT team member turned mercenary in S.W.A.T.
While this take on the short-lived 1970s television series with legendary theme music is a mixed bag to be sure, Renner's performance is the reason to see the film.
Yu Ji-tae as Woo-jin Lee in Oldboy (Park Chan-wook, 2003):  It's been said that all great films are about obsession of some kind and Park Chan-wook's Oldboy, based on the Japanese graphic novel by Garon Tsuchiya & Nobuaki Minegishi, is certainly driven by the deep-running obsessions of Yu Ji-tae's character.
Yu Ji-tae creates a smooth, cool and controlled villain who is revealed to be a brilliant manipulator in a performance that provides a great contrast to Choi Min-sik's commanding and fiery lead acting in this superb and twisted revenge film.
Tom Cruise as Vincent in Collateral (Michael Mann, 2004):  At some point in the future, it's possible that more people in the film production and criticism communities will realize that Tom Cruise is more effective as a character actor than a lead actor. Case in point: his superb performance as a professional killer working his way around Los Angeles in a quest to murder a list of targets over the course of one night in Collateral.
Cruise is at the top of his game here, including impressive displays of screen combat.  Re-read the first sentence of this entry and consider Cruise's performance here as well as his Best Supporting Actor Oscar-nominated role in Magnolia (Paul Thomas Anderson, 1999).
Greg Bryk as Billy & Stephen McHattie as Leland in A History of Violence (David Cronenberg, 2005, USA):  Focus on other aspects of the film, including an absurd Best Supporting Actor Academy Award nomination for the miscast William Hurt's performance as a crime boss, took attention away from some of the best elements of this suspense thriller of acquired identity.
These include the performances by Bryk and McHattie as a pair of desperate criminals who, in just a few scenes, completely embody soulless, extremely dangerous characters who've never even considered the idea of right and wrong. Excellent work from a pair of talented actors.
Ed Harris as Carl Fogarty in A History of Violence (David Cronenberg, 2005):  And A History of Violence's Academy Award nomination for Best Supporting Actor goes to…..William Hurt?  It's impossible to watch this film, even with all its flaws, and not be stunned that the Best Supporting Actor Oscar nomination went to the wrong actor. The recipient of this critical accolade should have been Ed Harris for his intense performance as a gruesomely scarred, revenge-minded gangster out to prove a mild-mannered coffee shop owner isn't what he claims to be.
Performance highlights include the introduction of Harris' character and the great confrontation scene he has with Maria Bello's character in the shopping mall.
Mads Mikkelsen as Le Chiffre in Casino Royale (Martin Campbell, 2006):  Currently best known as the latest incarnation of the Hannibal Lecter character on American television, the very talented Danish actor created one of the greatest James Bond villains of all time with his performance as a terrorist organization's money man in the superb Casino Royale.
Mads Mikkelsen is an international actor audiences will be seeing and hearing about long after TV's Hannibal is gone and forgotten; his role as Le Chiffre is one of the most accomplished of his already impressive career.
John Ortiz as Jose Yero & Luis Tosar as Montoya in Miami Vice (Michael Mann, 2006):  Ortiz propelled his career to the next level with an impressive performance as the right-hand man of Luis Tosar's drug kingpin in screenwriter/director Mann's very uneven handling of the feature film version of his famous 1980s television series.
Performance highlights for both actors occur in their characters' first meeting scenes with the undercover cops played by Colin Farrell and Jamie Foxx.
While the casting of Ortiz and Tosar is perfect, it can't make up for the poor casting choices of Colin Farrell and Gong Li, both of whom seem out of place in the film and generate no real chemistry together.
Javier Bardem as Anton Chigurh in No Country for Old Men (Ethan & Joel Coen, 2007):  There's very little that hasn't been written or said about Bardem's sinister performance as a driven killing machine that earned him a Best Supporting Actor Oscar.
Bardem's performance is impressive even in light of the extremely anticlimactic and ultimately disappointing nature of No Country for Old Men.
Roger Bart as Stuart & Richard Burgi as Todd in Hostel: Part II (Eli Roth, 2007):  Controversy regarding this film's graphic violence and the jokey final scene that's reminiscent of the stunningly goofy ending note from screenwriter/director Roth's 2002 Cabin Fever unfortunately drew attention away from the superb performance of lead actress Lauren German and the two outstanding villains played by Bart and Burgi.
Hostel: Part II is by no means an entirely successful film, but Bart and Burgi give excellent performances, including an unexpected character turnabout late in the film that's brilliantly acted by both actors.
Russell Crowe as Ben Wade & Ben Foster as Charlie Prince in 3:10 to Yuma (James Mangold, 2007):  Director Mangold's impressive take on the Elmore Leonard short story and the 1957 Delmer Daves film of the same name features an outstanding pair of stagecoach robbing villains played by Crowe and Foster.
Played by Glenn Ford and Richard Jaeckel in the 1957 version, Crowe and Foster bring a much higher level of intensity to the Ben Wade and Charlie Prince characters, including the substantially darker ending of the 2007 version.
Beatrice Dalle as The Woman in Inside (Alexandre Bustillo & Julien Maury, 2007):  There's a certain type of cinematic villain that comes off as an almost unstoppable force and is dependent primarily on screen presence with very little use of dialogue. Excellent examples of great villains in this category include Yul Brynner's Gunslinger in Westworld, Nick Castle's Michael Myers in Halloween, Arnold Schwarzenegger's Terminator in The Terminator, Robert Patrick as the T-1000 in Terminator 2: Judgment Day and Javier Bardem as Anton Chigurh in No Country for Old Men.
Add to this list controversial French actress Beatrice Dalle as a deadly stranger who invades the home of a pregnant woman in the unforgettable Inside, the best film to date from the French New Wave of horror cinema.
In their first feature, screenwriting/directing duo Bustillo & Maury achieve a delicate and difficult balance as they produce a horror film that manages to be both insanely gory and highly suspenseful at the same time.
Garrett Hedlund as Billy Darley in Death Sentence (James Wan, 2007):  Since this adaptation of the book by Death Wish novelist Brian Garfield is only partially successful and was not a box office hit, Hedlund's revelatory performance as a revenge-seeking gang member did not and has not received the proper critical acclaim.
Best known for films like Friday Night Lights (Peter Berg, 2004) and Tron: Legacy (Joseph Kosinski, 2010), the young actor's impressive performance in Death Sentence shows he has a higher level of acting skill and a much darker side to bring to the table than has been seen in his more high-profile studio films.
Heath Ledger as The Joker in The Dark Knight (Christopher Nolan, 2008):  What appeared at first to be an unusual casting choice was transformed into instant legend status, as the late Ledger turns in the finest performance of his career in a unique and unforgettable interpretation of the famous Batman adversary.
Ledger deservedly won a posthumous Best Supporting Actor Oscar for his portrayal of The Joker.
Isabelle Fuhrman as Esther in Orphan (Jaume Collet-Serra, 2009):  Fuhrman creates one of horror cinema's greatest "killer kids" and her superb performance along with the unique twist near the film's end-courtesy of screenwriter David Leslie Johnson-are the reasons to see Orphan, which is otherwise a conventional entry in the horror subgenre.
With the obvious talent on display in this film, one hopes that Fuhrman can translate that talent into a successful adult acting career.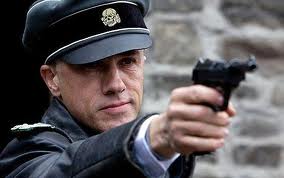 Christoph Waltz as Colonel Hans Landa in Inglourious Basterds (Quentin Tarantino, 2009):  Screenwriter/director Tarantino deserves credit for bringing little-known actor Waltz onto the world cinema stage. However, he has marred Waltz's impressive, Oscar-winning performances here as a ruthless and cunning SS officer in Inglourious Basterds and as a bounty hunter in 2012's Django Unchained by having these characters rather hastily dispatched near the end of the films by acting in ways completely and utterly incongruous to the characters as portrayed up to that point.
The Stuntman Mike character's inexplicable transformation into a coward in Tarantino's 2007 Death Proof is a further example of this lazy trend in the director's work.  The audience, the characters, and the highly talented Waltz deserve better.
****
Other notable screen villains of the 2000s:
These are characters and performances that didn't make the main portion of this article for various reason,s but are all well worth seeking out or revisiting.
Ian McKellen as Magneto in X-Men (Bryan Singer, 2000), X2 (Bryan Singer, 2003) and X-Men: The Last Stand (Brett Ratner, 2006)
Ian McShane as Teddy Bass in Sexy Beast (Jonathan Glazer, 2000)
Robin Williams as Seymour Parrish in One Hour Photo (Mark Romanek, 2002)
Alfred Molina as Dr. Otto Octavius in Spider-Man 2 (Sam Raimi, 2004)
John Jarratt as Mick Taylor in Wolf Creek (Greg Mclean, 2005)
Selma Blair as Jean Lerner in Waz (aka The Killing Gene, Tom Shankland, 2007)
August Diehl as Major Hellstrom in Inglourious Basterds (Quentin Tarantino, 2009)
****
Most Overrated Villains of the 2000's
These are screen villains with substantial critical and/or audience followings that fail to live up to the hype.
Tobin Bell as Jigsaw/John Kramer in the Saw film series.
Ralph Fiennes as Lord Voldemort in the Harry Potter film series.
****
-Terek Puckett