The end of the road. The scripts that should be studied, dissected, and taught for their quality, their timeliness, and their impact on the film industry as a whole. Some were perfect for their time and place. Some were ahead of their time. Some defined their generation. And one still rules all, forty years after it was written.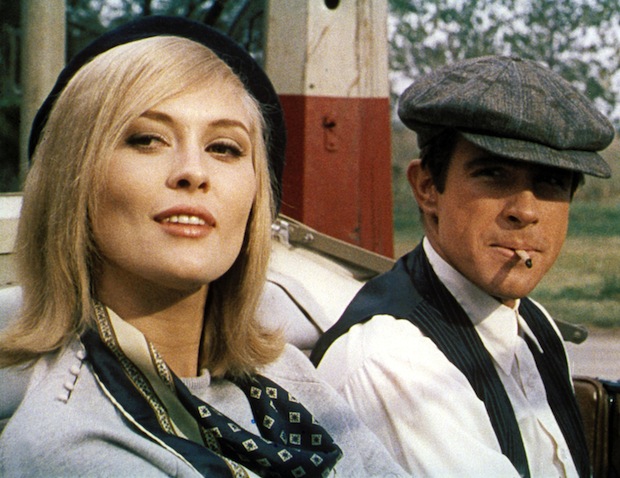 10. Bonnie and Clyde (1967)
Written by David Newman, Robert Benton, and Robert Towne (uncredited)
You're just like your brother. Ignorant, uneducated hillbilly, except the only special thing about you is your peculiar ideas about love-making, which is no love-making at all.
Nothing spices up a movie theater better than a little sex and violence; Arthur Penn's 1967 film broke new ground on that front. Fictionalizing the partnership of famous gangsters Bonnie Parker and Clyde Barrow, the film starred Faye Dunaway and Warren Beatty as the title criminals, while screenwriters David Newman and Robert Benton (with uncredited help from Robert Towne) added a subplot to humanize the lead couple. Rather than picturing them as a ruthless pair, Clyde is personified as a surprisingly flawed, insecure character, more at the mercy of Bonnie than the other way around. Throw in constant in-fighting between Bonnie and Clyde's sister-in-law Blanche (Estelle Parsons) and you see a gang of misfits that don't necessarily have it as together as their victims may think. Part road trip movie, part romance, part crime film, Bonnie and Clyde helped usher in a new generation of films by changing the way heroes (or anti-heroes) are written.
9. Eternal Sunshine of the Spotless Mind (2004)
Written by Charlie Kaufman, Michel Gondry, and Pierre Bismuth
Sometimes I don't think people realize how lonely it is to be a kid. Like… you don't matter.
It's Charlie Kaufman one more time, with his most affecting work. While the complexity of Being John Malkovich, Adaptation and his other work is extremely innovative, Eternal Sunshine brought a layer of emotion and true metaphysical attachment. Starring Jim Carrey and Kate Winslet, Eternal Sunshine is a dramatic and comedic look at the value of memory and how even the bad ones may be worth preserving. After Joel (Carrey) and Clementine (Winslet) break up, he learns she has removed the memories of him from her psyche using a new scientific process. Enraged, he decides to return the favor, only to reconsider partway through the process. Toss in a subplot involving the staff of the medical clinic offering this service (Tom Wilkinson, Kirsten Dunst, Mark Ruffalo, Elijah Wood), and the film could get bogged down in detail. Instead, the film is trip through Joel's mind, self-aware that nothing is real, while he and Clementine run through Joel's memories, trying to preserve the moments that defined their doomed courtship. It's a beautiful meditation on the necessity of pain, love, and loss, with top-of-their-game performances from the two leads. Most relationships end in pain. Doesn't mean they shouldn't happen. Without them, the successful ones would have nothing to be compared to.
8. Do the Right Thing (1989)
Written by Spike Lee
One day you're gonna be nice to me. We may both be dead and buried, but you're gonna be nice – at least civil.
He's done better work from the director's chair. He's written more deeper, engaging, more intelligent scripts. But Spike Lee's magnum opus was and will probably always be Do the Right Thing, a visceral story of race relations in Brooklyn, New York. Starring an epic list of talented performers, the film is essentially a black neighborhood's rebellion against an Italian-American pizzeria owner's racist belief structure in a hotbed of ethnicity. The entire film takes place over one day, as Mookie (Lee) interacts with dozens of interesting characters, none of which creates more tension than Sal (Danny Aiello), the pizzeria owner. Slowly, on the hottest August day on record, it all boils over, resulting in extreme violence. Most of the side characters are relatively two-dimensional, but the core group enacts a powerful parable about hatred and injustice in the world of late 80's/early 90's New York City. Spike Lee has never been subtle; in Do the Right Thing, he finds the most success by throwing subtlety out the window, shining a light on the plight of those who have been marginalized by society and the media.
7. Pulp Fiction (1994)
Written by Quentin Tarantino and Roger Avary
If my answers frighten you, then you should cease asking scary questions.
After winning over Sundance audiences with Reservoir Dogs, Quentin Tarantino stepped up his writing with the definitive film of the 90's, 1994's Pulp Fiction. An anthology film told with broken narrative, the film juxtaposes a bevy of colorful characters in the Los Angeles area, from John Travolta's Vincent to Samuel L. Jackson's Jules to Bruce Willis' Butch. They weave in and out of situations, from an accidental shooting to a story of a priceless watch to a boss' girlfriend overdosing. Too many characters, moments, and talented actors to list, Tarantino delivered one of his finest works as a director and, by extension, a writer. With this storm of witty dialogue, expletives, and violence, Quentin Tarantino paved a course for the next 20-30 years of film, giving birth to a litter of imitators and forever forcing his subsequent works to be shouldered with their comparisons to this masterful piece of screenwriting. He has done fine work since (e.g. Inglourious Basterds, Jackie Brown), but it always comes back to this one.
6. Sullivan's Travels (1941)
Written by Preston Sturges
Poverty is not the lack of anything, but a positive plague, virulent in itself, contagious as cholera, with filth, criminality, vice and despair as only a few of its symptoms. It is to be stayed away from, even for purposes of study. It is to be shunned.
Before Tropic Thunder criticized Hollywood's narcissism, before The Player discussed rejection in the studios; even before Singin' in the Rain took you behind the curtain, Preston Sturges handed the world the first real satire about the machine that is Hollywood. Sullivan's Travels was written and directed by Sturges, a comedy about a director named John Sullivan (Joel McCrea) who strives to make a meaningful drama after years of success in comedy. After a falling out with his studio boss, Sullivan sets out to learn what it really takes to feel the pain of a social existence by posing as a homeless man and going on a road trip. But, despite his best efforts, he always ends up back in Hollywood, only finding success when running into The Girl (Veronica Lake), who becomes his friend on the road. Unlike any other studio film of the era, Sullivan's Travels takes a hard look at the system and the way it suffocates the artists at its core. Even after all that, it still finds a way back to happy ending, demonstrating how important even those flighty comedies can be to the world (perhaps it's not as cynical as it pretends to be). Struges' clever premise and McCrea's delivery create an under-appreciated gem of the 40's that is criminally underseen.
5. Taxi Driver (1976)
Written by Paul Schrader
Loneliness has followed me my whole life, everywhere. In bars, in cars, sidewalks, stores, everywhere. There's no escape. I'm God's lonely man.
While Tarantino found a way to mix dry comedy and stylized violence, Paul Schrader and director Martin Scorsese used the darkness of New York City to create the template for the gritty hero/villain amalgam with 1976's Taxi Driver. "Comedic" and "stylized" certainly are not fitting adjectives for this script. Starring Robert De Niro as disaffected veteran taxi driver Travis Bickle, Taxi Driver is an early example of the vigilante justice film turned on its head. While today's action heroes "take the law into their own hands" and have justifiable reasons, their style-centered films don't approach the true questions behind such reckless actions. Travis Bickle is disgusted with his world – a place and city that has all but abandoned him, which child prostitutes walk the streets, pimps and twisted politicians have the power, and nobody bats an eye. In Bickle's mind, the heroes are those who work against the establishment. Unfortunately, his decisions stem from a place much darker than the people he is trying to rescue, motivated less by seeing the good in people and more by erasing the bad, by whatever means necessary. Schrader's script may have given the world the iconic "You talkin' to me?" speech, but Taxi Driver is more than big talk into a mirror – it's about our broken society and the impossible steps we take to try to fix it.
4. Network (1976)
Written by Paddy Chayefsky
Well Max, here we are: Middle-aged man reaffirming his middle-aged manhood, and a terrified young woman with a father complex. What sort of script do you think we can make out of this?
If Sullivan's Travels is cynical in its view of Hollywood, Network is an atomic bomb of negativity toward television news. A satire of the most aggressive variety, Paddy Chayefsky's story of a fictional network called UBS is an eye-opening saga of insanity. After Howard Beale (Peter Finch) is told he will be fired from the evening news for poor ratings, he tells his viewing audience he will commit suicide on the following week's show. After Beale is fired,  division president Max (William Holden) steps in to save his job, preventing his suicide, only to have him burst into an on-air tirade the following week. After the incident, network programming head Diana (Faye Dunaway) manages to get Beale's program moved into the entertainment division, allowing her to control the delivery of the show, as she watches Beale continuously break down on screen, topping out in the ratings. This is what television journalism has become: sensationalist reports overreaching and drumming up as much drama as possible to pull in the viewer. Before there was 24-hour news networks, a World Wide Web of meaningless "news" stories, and the TMZs of the world, there was UBS, Howard Beale, and Paddy Chayefsky's gripping, almost psychic Oscar-winning screenplay.
3. Sunset Boulevard (1950)
Written by Charles Brackett, Billy Wilder, and D.M. Marshman Jr.
Audiences don't know somebody sits down and writes a picture; they think the actors make it up as they go along.
Two satires about the media in the top ten; now we're adding a film noir that could play a little like a satire. The master of the happy American film, Billy Wilder shifted gears in 1950 with Sunset Boulevard, a story told by its protagonist postmortem – the film is told completely in flashback by Joe Gillis (William Holden) as he floats, dead in a pool. Joe was a failing screenwriter who, after blowing a tire, pulls into the driveway of a huge mansion that looks deserted. He hides the car in the garage, only to find that the house is inhabited by silent film legend Norma Desmond (Gloria Swanson). When she learns he is a writer, she hires him as a script doctor on a screenplay she has written which she claims will revitalize her career. From there, it warps into a story of a frustrated woman who believes the world owes her something, reveling with her youthful, handsome new toy in her mammoth home. Brackett, Wilder, and Marshman's screenplay is a gripping trip into the human psyche, cleverly peeling layers of Norma's hysterical personality away as Joe watches, powerless to stop it (in his mind). If Sullivan's Travels is a somewhat lighthearted story of what Hollywood can do to a person, Sunset Boulevard is a dark, paranoid nightmare of how Hollywood can destroy you and the people around you.
2. Citizen Kane (1941)
Written by Herman J. Mankiewicz, Orson Welles, John Houseman (uncredited), Roger Q. Denny (uncredited), and Mollie Kent (uncredited)
You can't buy a bag of peanuts in this town without someone writing a song about you.
The film as a whole speaks for itself, solidified for years as the best thing American cinema has given the world. That's up for debate, but it can't be argued how much impact Citizen Kane made in the middle of the studio era. Told entirely in flashback, Orson Welles' masterpiece is a veiled biography of newspaper magnate William Randolph Hearst, replaced with the iconic Charles Foster Kane, portrayed by Welles. While Citizen Kane is universally praised for its innovative camerawork, music, and lighting, the script also blazed a trail for future films by defining a new approach to narrative structure. Rather than tell a linear story, Welles and Mankiewicz break the film into moments, jumping to important points in Kane's life through the eyes of reporters and witnesses as they try to find out what Kane's final words meant. It's Welles' tour-de-force – a character study of the most intricate variety, slowly revealing the jigsaw puzzle that was Kane's life. There have been hundreds of films made since that borrow this story structure, all paying tribute in one way or another to this American cinematic institute. It's the definitive story of absolute power corrupting absolutely, a man so obsessed with having it all that he loses everything, forever longing for the memories that brought him his greatest joy.
1. Chinatown (1974)
Written by Robert Towne
He passed away two weeks ago and one week ago he bought the land. That's unusual.
Speaking of power and corruption, we've reached the apex of screenwriting – a film noir/psychological drama with a script that is a testament to quality writing. Roman Polanski's Chinatown was nominated for 11 Oscars but only won one: Original Screenplay for Robert Towne for his legendary script (it was up against The Godfather Part II in most categories).  The film follows Jack Nicholson (who Towne had in mind when writing it) as private detective Jake Gittes through seedy Los Angeles, originally hired to do surveillance work on the chief engineer of water and power. This leads to his discovery of a web of conspiracy and murder involving a local reservoir, all surrounding the chief engineer's wife Evelyn (Faye Dunaway) and her husband's former business partner Noah Cross (John Huston). To detail the rest of the plot would be a disservice to this masterpiece – never has a script so quickly moved from place to place and defined characters so realistically in a noir. Most films simply have moments that stick your memory; Chinatown has moments beyond moments and the connective tissue to match them. Towne was originally asked to write an adaptation of F. Scott Fitzgerald's The Great Gatsby, but didn't think he could write a script that improved upon the book. In exchange, he asked for about 15% of what he was offered to instead write his own screenplay, which became Chinatown. Originally planned as a trilogy, Towne did write the sequel (The Two Jakes – directed by Nicholson) that was met with middling reviews in 1990, but has yet to write a third film. It's influenced basically every crime film ever since and, while plenty are admirable, none have approached the brilliance of this one. Forget it…it's Chinatown.
–Joshua Gaul