New cast in Kervorkian film:
The cast of the new film about the high profile doctor, Dr. Jack Kervorkian, who fought "…to establish the right to die for terminally ill patients…" has announced an expansion of its cast. The made-for-TV film is entitled "You Don't Know Jack," and it will be directed by Barry Levinson. As announced "back in May" the title role will be filled by Al Pacino. Recently, "Susan Sarandon and John Goodman have also joined…"
I think this is some brilliant and solid casting. Who can think of a better person to play Dr. Kervorkian than Pacino; who can play everything from intense caricatures of evil from a coke-fuelled gangster in "Scarface" to the Devil himself in "The Devil's Rejects." He can also show incredible humanity like in "Scent of a Woman." Both Sarandon and Goodman are solid actors who I feel are underrated talents. As great examples of their skills as supporting actors, watch Goodman in "The Big Lebowski," and watch Sarandon in "The Client."
http://www.slashfilm.com/2009/07/13/john-goodman-and-susan-sarandon-join-jack-kevorkian-biopic/
http://www.imdb.com/name/nm0000199/
http://www.imdb.com/title/tt1132623/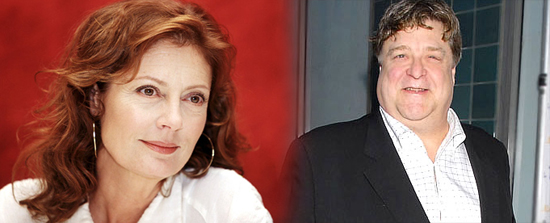 Is Sacha Baron Cohen in danger?
Cohen's brother "Erran Baron Cohen – who has produced the music for his younger sibling's films…" is concerned for Sacha's safety when performing the stunts in his films. Erran has been quoted as saying: "I do worry that it may all end horribly and I think it would be good if he did some less dangerous movies in the future. There are some scenes in 'Bruno' where the danger factor is completely nuts…"
The two brothers got started together by playing comedy shows together; "…we ended up performing it (their act) in some comedy clubs around London, all dressed up as Hassidics (a conservative Jewish sect). Then some BBC late-night comedy show actually recorded it, but then banned it immediately because we'd insulted three religions within three minutes. And after that Sacha's comedy career really started."
Are stories like this just part of the image? How many of Cohen's risque stunts are pre-planned. I haven't seen "Bruno" yet, but plenty of the stunts in "Borat" looked staged. I wonder if stories like this are planted in an attempt to cement the image of his extreme edginess, which verges on personal danger.
http://ca.lifestyle.yahoo.com/fashion-beauty/articles/archive/bang/sacha-baron-cohen-s-family-s-fears-2009-07-11
A Broken Film??
The terrific and eccentric Toronto band Broken Social Scene "is teaming up with director Bruce McDonald and screenwriter Don McKellar to produce a concert film that will include amateur footage shot by fans." The "feature-length project, tentatively titled, "This Movie Is Broken," says the experimental film will be anchored by a love story written by McKellar." The plot "follows a lovestruck boy who goes to a Broken Social Scene show with his romantic crush, but things don't turn out as he planned." The performance footage has already been shot, but McDonald solicited fans to "Turn your cameras on the city (Toronto), turn it on your friends. We like faces, we like kissing … and any format — Super 8, 16-millimetre, digital, cellphone footage." The amateurs have been urged to "Experiment. Have fun. Our hope is that by integrating your footage with ours, we'll be able to create a visual mosaic that captures the city and the summer."
I am very excited for this film. The live performance of BSS are an incredible synergy of music and scenery. McDonald has shown his flair for visual and narrative experimentation in the recent films "Pontypool" and the terrific avant-garde "The Tracey Fragments." McKellar has written films that challenge the intellect, among the best being "Last Night," about a group of people dealing with the end of the world. The best known is probably "Thirty Two Short Films About Glenn Gould," a wild and diverse collection of films inspired by the beloved Canadian pianist. A film combining amateur and multi-platform footage, a concert film, and a cohesive plot is an ambitious project that, to my knowledge, has never been attempted before.
Canadian film offers many wonderful opportunities for creativity.
http://www.imdb.com/name/nm0001528/
http://www.ctv.ca/servlet/ArticleNews/story/CTVNews/20090713/broken_movie_090713/20090713?hub=Entertainment
http://www.thismovieisbroken.com/home
RIP Walter Cronkite
Although it does not strictly qualify as film news, we would be remiss not to acknowledge the death of an American news icon, Walter Cronkite, who died at 92. "He delivered the news with care and consideration and humanity, never far removed from his declarative sentence, wire service and radio announcing roots…He never ceased to promote the need for solid, well-sourced news, nor was he quiet when he felt that trust was being eroded." It is rare that we see a person as respected as Cronkite pass away. I wish I had lived through the Cronkite era; it seems that there is no news anchor today that brought to news the integrity that he did. Maybe there never will be.
"…That man was called — without irony — "the most trusted man in America." RIP Walter.
http://www.cnn.com/2009/US/07/17/cronkite.leopold.appreciation/index.html
[wpchatai]