Directed by David O. Russell
Written by David O. Russell
USA, 2012
Sometimes, it's OK if you know the destination as long as the journey is plenty of fun. That's the basic underlying principle of Silver Linings Playbook, a massively enjoyable crowd-pleaser that presents an off-kilter brand of romantic comedy, where most of the zigs and zags can be predicted during the first act. What the plot may lack in genuine shock, the film makes up for with a feisty, sharp ensemble cast and clever, rat-a-tat dialogue from writer-director David O. Russell.
Based on the novel by Matthew Quick, Silver Linings Playbook opens as Pat (Bradley Cooper) leaves a Baltimore psychiatric facility after a court-ordered eight-month stint to recover following an incident where he left a man clinging to life after a vicious beating. Pat, who suffers from bipolar disorder, goes back to Philadelphia to live with his doting mother (Jacki Weaver) and Eagles-obsessed father (Robert De Niro), but has a laser-like focus: to get his wife back, to convince her that he's changed and is a better, healthier man. Pat's progress is derailed when he meets Tiffany (Jennifer Lawrence), an equally socially awkward and spiky widow with whom he quickly falls into a snappy if antagonistic patter. As they grow closer, Pat becomes more interested in getting better without his wife, but with Tiffany.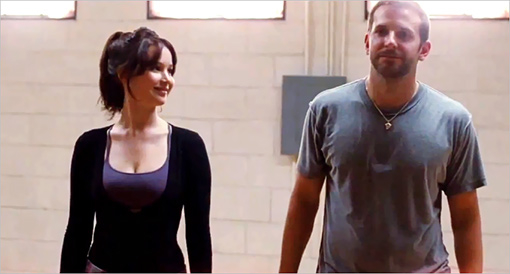 Ever since I Heart Huckabees came out, leaving most audiences flummoxed, David O. Russell has firmly embraced a bighearted, intentionally messy, but realistic tone in his filmmaking. The Fighter was flawed in presenting its family dynamic, which may have been based in real life but felt awfully cartoonish. In Silver Linings Playbook, however, the tight-knit but fractious relationships between Pat and Pat, Sr., or Pat and his more put-together brother Jay (Shea Whigham), actually seem authentic. What's more, Russell's almost uncomfortably close directing style, complemented by the work of cinematographer Masanobu Takayanagi, emphasizes how much we have to, and how easily we do, relate to these people for the film to work.
Silver Linings Playbook, though, is a movie that lives or dies by its actors, and it has a bevy of exceptionally funny, lively, and honest performances from people who either haven't proven themselves at all or haven't gotten a chance to do so in a while. Bradley Cooper, best known these days for being the slick, amoral lead of The Hangover films, gets to employ his self-destructive gift of gab to better use as Pat, whose psychological issues are immediately obvious. Even if we didn't know he was walking out of a psychiatric facility, we'd be able to pinpoint his problems. It's not really hyperbole to say Cooper's doing career-best work here. What's worth noting is that the actor in this film seems like the polar opposite of the bland and unemotive lead of The Words, a drama that opened two months ago and was forgotten instantly.
As his counterpart, Jennifer Lawrence solidifies her status as the next big movie star. Sure, she can run and jump and shoot arrows in The Hunger Games, but Lawrence's work as Tiffany, an outspoken, aggressive, and shrewd young woman, is proof that, unlike most stars, she deserves that status because she's one of the better actors of her generation. Silver Linings Playbook is also a welcome reminder that, hey, Robert De Niro can still act! Yes, it's true: as Pat, Sr., a ridiculously dedicated and superstitious Eagles fan, De Niro brings the right blend of bluster and honesty to the role. Weaver, so fierce and fearful in the Australian crime drama Animal Kingdom, is fine but far less showy than you might expect. Though he's outside the core of the story, Chris Tucker, making his first non-Rush Hour film appearance in nearly 15 years, is charming. He only has a few scenes as one of Pat's fellow psychiatric patients; still, in those short minutes, Tucker is affable and surprisingly low-key.
Silver Linings Playbook is a twitchy, jittery take on the most conventional of modern movie genres. It hits a lot of familiar beats, from the not-really-cute Meet Cute to the would-be lovers getting their messages mixed to a show-stopping finale. (Here, the latter takes the form of a dancing competition Tiffany ropes Pat into being part of in exchange for her helping him get closer to his wife again.) It's often said that there are only about twelve stories in existence, and everything else is a variation on those themes. If that's the case, then what matters isn't the concept, but how that concept is pulled off. As such, Silver Linings Playbook is a wonderfully executed romantic comedy, anchored by two prickly but endearing actors with excellent chemistry. Silver Linings Playbook doesn't reinvent the wheel, but offers a damn smooth ride.
— Josh Spiegel
[wpchatai]