NBC, at one time a bastion of network comedy, is now down to one two-hour comedy block each week, and with The Office now off the air, they're hoping at least one of these new sitcoms will find an audience, or at least the critical buzz of Parks and Recreation. The first to premiere will be the much-anticipated return to weekly network TV of Michael J. Fox.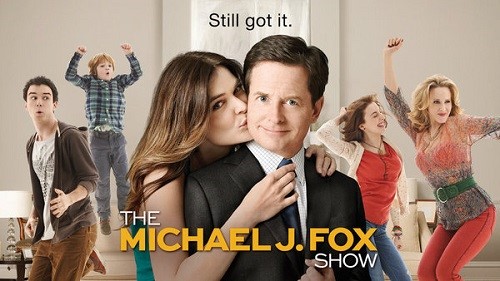 The Michael J. Fox Show, "Pilot"
Written and Created by Sam Laybourne and Will Gluck
Directed by Will Gluck
Airs Thursdays at 9pm EST on NBC
One of the most buzzed about new series this fall is The Michael J. Fox Show, premiering with two episodes on Sept. 26th and starring Michael J. Fox as a beloved former New York newscaster who returns to work after retiring to focus on his health after being diagnosed with Parkinson's Disease. The show was ordered straight to series without a pilot and has an automatic 22 episode pickup (unlike the usual 13), and just knowing it'll be around for a while may be enough of a reason for some to tune in. The majority will undoubtedly be watching for Fox though, and he doesn't disappoint. He's likeable, fun, and very at ease. Unfortunately, the writing lets him, and the rest of this strong ensemble cast, down.
There's great chemistry between Fox and Besty Brandt, co-starring as his wife, and supporting players Wendell Pierce and Katie Finneran are, as always, welcome additions. However there's very little that surprises, few if any laugh out loud moments, and an annoying plot device invoked to allow the characters to break the fourth wall and speak directly to camera (Fox and Brandt's daughter's school video project, profiling her dad). The quasi-documentary approach continues after the pilot (when the project is finished), and these heavy-handed moments suck the energy out of the episode each time they pop up. This cast almost can't help being wholesome and relatable- the "heartwarming" beat does not need extra goosing via interview and unlike Modern Family, where they're usually played for humor, these moments are painfully sincere and saccharine. The show has "endearing" down. Hopefully it starts trying for "funny" as well. Nevertheless, with most critics positive towards the series and an all but guaranteed audience, at least to start, The Michael J. Fox Show will likely do well for NBC and viewers could certainly do worse this fall.
Welcome to the Family, "Pilot"
Written and Created by Mike Sikowitz
Directed by Michael Engler
Airs Thursdays at 8:30pm EST on NBC
Premiering the week after The Michael J. Fox Show, on Oct. 3rd, Welcome to the Family is a sitcom about a pair of families working through a culture clash after their just-graduated high school teenagers, who are secretly dating and wind up pregnant, decide to get married. The families come from different racial and socio-economic backgrounds and the teens have very different futures planned for themselves, but as can often happen on television, life has other plans, forcing these various odd couples into each other's lives.
Utterly wasted in this at times trite, at times forgettable pilot are Mike O'Malley and Mary McCormack as Ella Rae Peck's parents and Ricardo Chavira and Justina Machado as Joey Haro's parents. It doesn't even approach the worst of the fall, but there's nothing to recommend this pilot and the contrast between these actors' material here and in some of their previous work is downright painful. If the show can get away from the frustratingly familiar story and character beats that litter the pilot and instead tell a specific and truthful story, Welcome to the Family has the potential to grow into an interesting show. Given the priorities on display in this pilot however, that seems very unlikely.
Sean Saves the World, "Pilot"
Written and Created by Victor Fresco
Directed by James Burrows
Airs Thursdays at 9:30pm EST on NBC
Premiering as well on Oct. 3rd and starring Sean Hayes as the gay father of a teenaged daughter (whose mother has recently moved away for work), Sean Saves the World has an interesting show at its core. Unfortunately, that core is surrounded by the trappings of a '90s sitcom. From the transitional music to the way too big apartment to the work scenes where no one ever seems to be working, this pilot has an odd number of dated elements its creator, Victor Fresco, should know better than to incorporate.
Hayes is a strong lead, selling lines that really shouldn't work, and some of the supporting cast work incredibly well, including Echo Kellum and, in particular, Tom Lennon. Sami Isler is likeable enough as Hayes' daughter and Linda Lavin has a nice report with Hayes as his mother, but Lavin and Megan Hilty are utterly grating in their scenes together and the decision to rework Hilty's character (from the initial pilot) into a bitchy best friend is a poor choice. Lavin and Hilty spend most of the pilot butting heads for no discernible reason and even more than the groan-worthy jokes or tired tropes, their phony conflict gives the show its stagey feel. These problems do not improve over the first few episodes, but if the show is given more time, the strength of the workplace cast could bring the series around, making it the best of the new NBC comedies. More likely though is a doubling down on the broader elements of the series, rather than a rethinking of the series' tone, leaving Parks and Recreation as the sole reliable NBC Thursday night comedy, at least for now.
Kate Kulzick
[wpchatai]