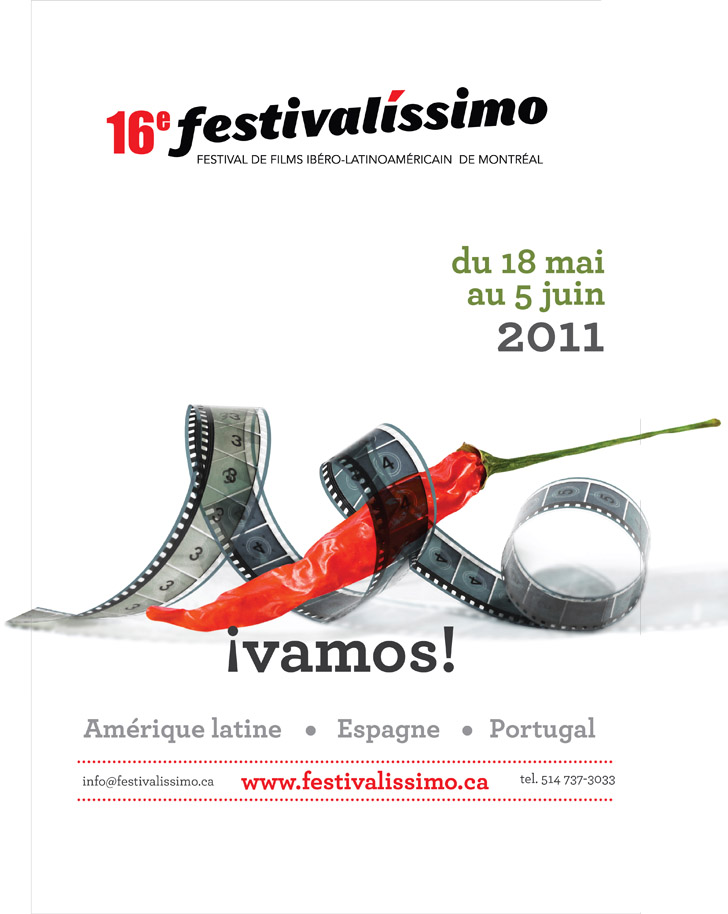 The 16th annual Festivalissimo, the Ibero-Latin-American film festival of Montreal, opens May 18th and runs until June 5 with a selection of thirty films culled from the international festival circuit. The competition for the EL SOL prize for best feature film, best actor and actress will open with Matías Bize's LA VIDA DE LOS PECES (The Life of Fish, and closes with Federico Vieroj's LA VIDA UTIL (A Useful Life). In addition to the Official Selection films in competition, Festivalissimo also presents a series of films out of competition which represent Latin-American society of the past and present, and a selection of the most commercially successful films at the Latin American box office.
A few must-see films from this year's lineup:
LA VIDA UTIL (A Useful Life) Federico Vieroj, Uruguay-Spain, 2010
–
Synopsis:
After twenty-five years, Cinemateca Uruguaya's most devoted employee, Jorge (real-life Uruguayan film critic Jorge Jellinek), still finds his inspiration in caring for the films and audiences that grace the seats and screen of his beloved arthouse cinema. But when dwindling attendance and diminishing support force the theater to close its doors, Jorge is sent into a world he knows only through the lens of art – and suddenly forced to discover a new passion that transcends his once-celluloid reality.
The closing film for this year's festival, LA VIDA UTIL has made the rounds on the 2010 festival circuit, playing to rave reviews at TIFF, Rotterdam, and BAFICI. Drawing comparisons to Tsai Ming-liang (Goodbye, Dragon Inn) and Lisandro Alonso (Fantasma) Federico Vieroj's elegy to cinephilia in the digital age is not to be missed. (See this great interview with Vieroj on MUBI's The Daily Notebook: http://mubi.com/notebook/posts/2274)
–
–
POST MORTEM Pablo Larrain, Chile, 2010
Synopsis:
Santiago, 1973. Mario Cornejo works at a morgue, typing out reports on autopsies performed by the coroners. On the days surrounding the military coup, he gets involved in a love affair with a dancer from the cabaret Bim Bam Bum.
The latest from Tony Manero director Pablo Larrain, POST MORTEM promises to be a similarly riveting examination of the increasingly unstable male ego under Pinochet's horrific military rule. With three films completed in the last four years, Larrain is proving himself to be a master of subtly evocative framing through his profound awareness of filmic space. Previously screened at the Venice, Rotterdam, San Sebastian and BAFICI festivals, be sure to see POST MORTEM in Montreal while you have the chance.
–
–
PEQUEÑAS VOCES (Little Voices) Jairo Carrillo/Oscar Andrade, Colombia, 2010
Synopsis:
"In Colombia, more than one million children are victims of war." These words open one of the most touching animated fiction-documentaries since Waltz with Bashir. In the Colombian countryside, four children share their everyday stories: child games, the love of their parents and other simple pleasures – until one day armed men come and disrupt their childhood.
An official selection at this year's Hot Docs Festival, the stories and artwork of a group of Colombian children provided the basis for this animated documentary. Visually compelling and heartbreakingly optimistic in the face of war, PEQUEÑAS VOCES brings the Colombian conflict to life in a way that informs and enlightens.
–
–
GATOS VIEJOS (Old Cats) Sebastián Silva/Pedro Peirano, Chile/United States, 2010
Synopsis:
Isadora and Enrique, an elderly couple, live a comfortable life with their two cats in a handsome high-rise apartment overlooking the park. Isadora is struggling with bouts of dementia when her daughter, Rosario, and her female lover Hugo drop in for a coked-up visit to pitch their latest get-rich scheme – an attempt to snatch the flat right out from Isadora. The tug of war between mother and daughter escalates until Isadora does something quite unexpected for a woman with a busted hip.
GATOS VIEJOS is yet another example of Chile's increasingly expansive film industry with its blend of social realism and familial melodrama. An official selection of the 2010 New York Film Festival, GATOS VIEJOS is a minimalist take on contemporary Chilean life in the vein of Silva and Peirano's critically lauded The Maid (2009).
LOS LABIOS (The Lips) Iván Fund/Santiago Loza, Argentina, 2010
Synopsis:
Three women travel to a distant place to do welfare work. They assist, listen, stay with the unprotected. An old hospital in ruins accommodates them. The imposed group life gets more complex as they start to know each other. The relationship with the others, the community is also difficult. But, as days go by, the will start to melt into that human landscape surrounding them. To be part of the mystery of otherness.
Awarded the Best Actress prize by a Claire Denis-led jury for Cannes' 2010 Un Certain Regard section, LOS LABIOS alternates between scripted scenes and improvised exchanges between the lead actresses and real-life patients. Directing duo Iván Fund and Santiago Loza make the most of their limited resources to craft a slow-paced, realistic portrait of South American poverty.
–
[wpchatai]