We all would like to believe that we have that someone special to look up to for guidance and direction. From time to time we practice the art of worship for the mentor that appears larger than life to us. Whether our designated mentors that we choose to follow are inspirational or insidious it does not matter because that yearning to follow in their footsteps are so great that we blindly give anything to replicate that original blueprint.
Maybe if one dreams of being a famous astronaut you designate Neii Armstrong or John Glenn as your mentoring heroes? Perhaps your foray into film criticism was ignited by Judith Crist, Vincent Canby or Siskel & Ebert? How about emulating your favorite actor or singer and following their paths to success?
In Follow My Lead: Top Ten Mentors in the Movies we will look at some movie characters that served as mentors to their charges regardless of intentional or unintentional motivations. These movie mentors could be protectors, parents, pariahs of society or professional personalities, Sure, one can come up with their particular listings of movie mentors and incidentally feel free to do so if it compels you. Nevertheless the selections in Follow My Lead: Top Ten Mentors in the Movies is not too shabby in terms of the film figureheads showcased here to act as heralded and inspired leaders of their admirers.
The selections for Follow My Lead: Top Ten Mentors in the Movies are: (in alphabetical order):
1.) Travis Bickle from Taxi Driver (1976)
Filmmaker Martin Scorsese's intense psychological crime drama Taxi Driver provided a disturbed movie mentor in the unhinged Travis Bickle (Robert De Niro) trying to make sense out of the urban degradation that he is ominously saddled in on a daily basis. Crime, corruption and corrosion is the harsh reality for ex-Vietnam vet Bickle as he drives his nighttime taxi through New York's sleazy cement jungle. The disillusioned Bickle, tired of the mounting decadence, would soon make it his personal mission to save the lost virtue of a pre-teen prostitute Iris :Easy" Steensma (Jodie Foster) as he tries to steer her away from the deteriorating mean streets and the opportunistic pimps that exploit her underage sexuality. Taxi Driver delivered one of cinema's most self-appointed cynical and misguided rescuers ever to tackle the conflicted soul in the name of orderly disorder.
2.) Atticus Finch from To Kill A Mockingbird (1962)
To Kill A Mockingbird's southern idealistic lawyer Atticus Finch (Gregory Peck) is a heroic cinema renegade for his brave stance in defending a falsely accused black man Tom (Brock Peters) from raping an abused lying white woman in Richard Mulligan's classic early 60's social melodrama. But to Jean Louis "Scout" Finch the conscious-minded counselor was just plain daddy. And what a father Atticus was to Scout–a reflective parental mentor whose ethical sense of right and wrong in hostile race relations in the deep South was radical yet righteous. Atticus's convictions about doing what is reasonably humanistic in the cutthroat courtroom against his antagonistic peers showed an impressionable Scout about being curious and an independent thinker about the unstable world around her. Atticus taught Scout that even in the sleepy hamlet of Maycomb, Alabama that injustice prevails in the poisonous minds of destructive, narrow-minded men.
3.) Billy Flynn from The Champ (1979)
Some could cite the King Vidor-directed 1931 Academy Award-winning The Champ but let's reference instead the more contemporary remake in Franco Zeffirelli's 1079 tale of former boxer-turned low-paying horse trainer Billy Flynn (Jon Voight) whose financial struggles weigh heavily in caring for his young son T.J. (Ricky Schroder). Clearly, T.J. idolizes his dad Billy very much especially in light of the abandonment of his mother Annie (Faye Dunaway). Billy even trains to reconsider getting back in the ring to fight and risk getting hurt as a sacrificial lamb to better care for his offspring. When Annie decides to come back and claim T.J. after a lengthy absence then Billy goes into overdrive in the interest of his boy. The Champ suspiciously follows the same formula of the better received Kramer vs. Kramer, another 1979 film about the dynamic set-up of father-son adversity. Billy Flynn was the ultimate mentor for a needy son that needed his undivided love, attention and respect.
4.) Russell Hammond from Almost Famous (2000)
Talented high school journalist William Miller (Patrick Fugit) from writer-director Cameron Crowe's Almost Famous gets the ultimate job assignment of a lifetime: he is asked to write for Rolling Stone Magazine about the emerging presence of rock band Stillwater and its conflicted lead singer Russell Hammond (Billy Crudrup). Essentially, the young reporter's coverage of this rising musical act could make or break the bickering Stillwater. Hammond and his concert cohorts chase fame and notoriety as well as juggle groupies from city to city. Russell lets a young William into his inner circle on the road as they erratically balance sold out gigs. In fact, Russell is the big brother and musical mentor that William is at first smitten with abundant enthusiasm and anticipation. However, Russell Hammond's self-destruction and dismissal towards Stillwater's Number One groupie Penny Lane (an Oscar-nominated Kate Hudson) will effect William soundly (Penny is in love with a reckless Hammond while William takes an affectionate fancy to Penny). Russell will eventually break both William and Penny's heart until Mommy Dearest Elaine Miller (Frances McDormand) reminds the self-absorbed rock star how much he shattered her son whose faith in him was seriously tarnished.
5.) Obi-Wan Kenobi from Star Wars (1977)
Star Wars' Obi-Wan Kenobi (Alec Guinness) is perhaps film's greatest mentor as he had under his tutelage Jedi knight-in-training Luke Skywalker (Mark Hamill). The dark side, as led by Luke's soon-to-be discovered dastardly daddy Darth Vader, needed to be defeated and by fresh young blood willing to fight for the cause of galactic goodness. Kenobi's now legendary catchphrase "May the force be with you" became the rallying cry for Star Wars fanatics worldwide. Under the elder Obi-Wan's guidance he produced an untapped talent in Luke Skywalker whose unique skills and abilities in causing havoc for Darth Vader and the evil-minded Empire would remain one of cinema's taunted movie-related mythologies. Both Darths–the aforementioned Vader and Maul–knew that Obi-Wan was a bothersome obstacle to reckon with as the Hooded Silver-Bearded One represented philosophical hope to his charge Skywalker as well as the millions of Star Wars fans believing in a higher power of Good triumphing over Evil.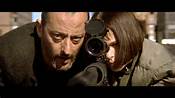 6.) Leon from Leon: The Professional (1994)
Future Academy Award-winning actress Natalie Portman first made her notable mark as 12-year old Mathilda in Luc Besson's Leon: The Professional. The backstory involves Mathilda's abduction by Leon (Jean Reno), a professional assassin. In the aftermath of Mathilda's family being slaughtered, the pre-teen of the perished drug dealer is schooled by the professional killer Leon on how to become a top-notched assassin in her own right. The murdering mentor, in his own kind of off-kilter chivalrous intent, teaches the dejected girl the art of assassination so that she ca exact her revenge on the crooked characters that eradicated her loved ones. In essence, Leon is the "replacement" shifty father figure/mentor for a little girl used to being nurtured my unethical older men as her signature role models.
7.) Moses Pray from Paper Moon (1973)
Filmmaker Peter Bogdanovich's Great Depression-era dramedy Paper Moon teamed real-life father and daughter Ryan O'Neal and Tatum O'Neal (in her Oscar-winning role) as a con man and wise-cracking underage accomplice traveling the Midwestern region with scamming as their main ticket to their day-to-day livelihood. Ryan's Moses Pray and Tatum's Addie Loggins are a contentious tandem in each other's company. Addie, recently orphaned courtesy of her mother's passing, is asked to go along with the Bible-toting representative Moses Pray en route to her aunt's homestead. The running mystery between the fraudulent Moses and petulant Addie is that they may in fact be related courtesy of an uncanny resemblance and an animated verbal exchange. Whatever the scenario is concerning the conniving Moses he is the only wayward mentor and current guide/companion that the garrulous Addie has to rely on for support and survival. Paper Moon is based upon novelist Joe David Brown's 1971 Addie Pray tome.
8.) John Allen Muhummad from Blue Caprice (2013)
Independent filmmaker Alexandre Moors's vastly underrated crime caper Blue Caprice details the chilling account of a menacing mentor in John Allen Muhummad (Isaiah Washington) who takes under his wing the abandoned foreign-born Lee Boyd Malvo (Tequan Richmond) and introduces his young charge to the life of unthinkable outrage when the duo go on a killing spree targeting innocent bystanders with sniper fire emerging from their blue caprice as the mobile center of their inhumanity. Muhummad is the dangerous and disturbed "father figure' that exploited the hopelessness of one youngster that already psychologically felt empty and betrayed and needed that validation of male presence. Unfortunately, John Allen Muhummad answered the call and filled that regrettable void in the process.
9.) Shane from Shane (1953)
The George Stevens-directed western Shane certainly played into the manly belief that the cowboy is larger-than-life out in the spacious range where the unknown dangers lurk. Well, for the mysterious drifting gunslinger Shane (Alan Ladd) this sentiment is apparent as he agrees to work for the Starrett family as a farmhand. However. Shane discovers an on-going tumultuous tug-of-war between the territory's disenchanted homesteaders (such as the Staretts) and the local duplicitous cattle baron Ryker (Emile Meyer) and his men. This puts Shane in the middle of the fracas as he is forced to bring his gun-toting talents to the turbulent table. Of course one tyke whose limitless admiration for the rugged Shane is undying is the Starrett's young son Joey (Brandon deWilde). Shane pays attention to Joey and shows him how to shoot guns and wear a holster. Joey has invested his intrigue, identity and imagination in the adventurous Shane and even regards him as high on the pedestal more so than his own father Joe (Van Heflin). Shane is the imposing and fearless mentor that lonely and isolated youngsters such as Joey Starrett dream about in rescuing them from their nagging growing pains. Who can forget Joey's plea for screeching. "Shane! Come back!" as his visiting hero rides off into the search of a new challenge out yonder.
10.) Gloria Swenson from Gloria (1980)
Brassy broad Gloria Swenson (Gena Rowlands) clearly demonstrated her tough-minded motherly instincts in the action-packed drama Gloria. Rowlands (as directed by her husband John Cassavetes) oversees the safety of a neighboring young boy when the mob offs his entire family. Now Gloria and the tyke she is protecting is on the run with New York City as the hectic background for ducking and dodging the criminal cretins that want their necks badly. Gloria, it is revealed, holds some interesting evidence that the mob will gladly kill for in a New York moment. As a mentor and protector, Gloria's safety precautions for not having the young kid's hair ruffed is not exactly in line with the PG-rated mothering tactics of a June Cleaver or Donna Stone. In actuality, Gloria Swenson is a aging badass babe out for blood as she ensures that her endangered charge is destined to draw breath another day. Gloria demonstrates that strong women with an edge could be just as essential to a boy's impending manhood as if he was being reared by male influence.
HONORABLE MENTION:
Ted Kramer from Kramer vs. Kramer (1979)
Walt Kowalski from Gran Torino (2009)
–Frank Ochieng
[wpchatai]