Debbie Rochon, often described as a scream queen herself, wrote in an article originally published in GC Magazine that "a true Scream Queen isn't The Perfect Woman. She's sexy, seductive, but most importantly 'attainable' to the average guy. Or so it would seem."
Nastassja Kinski
Films:
To the Devil a Daughter (1976)
The Day the World Ended (2001)
Kinski will always be remembered for the iconic photograph shot by Richard Avedon (with a snake coiled around her body) and her role in Paul Schrader's (not so good) remake of Cat People. Needless to say, it was a hit at the box office and Kinski deservingly received a Saturn Award for Best Actress.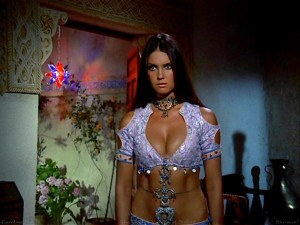 Caroline Munro
Films:
The Abominable Dr. Phibes (1971)
Caroline Munro seduced audiences in her Hammer roles in films like Dracula A.D. 1972, but for gore hounds, she will be best remembered as the co-star of Maniac.
Barbara Crampton
Films:
Any 1980s horror aficionado knows who Barbara Crampton is and why she stacks up as one of the most gorgeous and talented horror movie icons. She is best known for her role in Re-Animator (one of my personal favorites) and its follow-up, From Beyond.
Barbara Steele
Films:
The Pit and the Pendulum (1961)
The Horrible Dr. Hitchcock (1962)
Curse of the Crimson Altar (1968)
Barbara Steele is one of the most hauntingly beautiful women (usually playing against type) to grace horror celluloid. Most moviegoers remember her from Fellinni's 8 ½, but her true fans admire her work in the fear films of the 1960s, working with directors like Mario Bava, Anthony Johnson and Michel Reeve. She continued making horror into the '70s, starring in Joe Dante's Piranha, Cronenberg's Shviers and the 1980 slasher film Silent Scream.
Rose McGowan
Films:
Rose McGowan may only have starred in one of these titles above, but she gets to brag about working with Quentin Tarantino, Wes Craven and Robert Rodriguez. The double feature Grindhouse made for one of the most enjoyable cinematic experiences of the last decade, while Scream let the whole planet know just how well Rose McGowan can work in the genre. After some smaller, unmemorable roles, she finally became the icon she deserved to be, playing Cherry Darling in the Planet Terror segment of the mashed-up Grindhouse romp
Amber Heard
Films:
Side FX (2005)
All the Boys Love Mandy Lane (2008)
It could be possible that I am prematurely adding Ms. Heard to the list of Scream Queens, but given her four upcoming projects, her beauty, and her performance in Mandy Lane, this young and talented actress is racing to the top to take the crown of the current scream queen.
Heather Langenkamp
Films:
A Nightmare on Elm Street (1984)
A Nightmare on Elm Street 3: Dream Warriors (1987)
Wes Craven's New Nightmare (1994)
Heather Langenkamp was the heart of the Nightmare on Elm Street series, playing the lead role of Nancy Thompson and later returning for the third and seventh film. All three films are considered to be the only three really good ones in the series of seven. She also appeared in Wes Craven's Shocker and was set to star in Cursed, a film cursed with re-shoots and re-writtes, forcing her to leave the set due to scheduling conflicts.
Sarah Michelle Gellar
Films:
I Know What You Did Last Summer (1997)
I may not be the biggest fan of Sarah Michelle Gellar but I can't dismiss her fimogrpahy. The lady has appeared in three of the biggest franchises to come out since the mid 90's. Most memorable his her performance as Buffy in the Golden Globe-nominated TV show Buffy the Vampire Slayer.
Shawnee Smith

Films:
Shawnee Smith may not be a household name, but her face will register with thousands of sci-fi and horror aficionados thanks to her supporting turns in the big-screen remakes of The Blob (1988) and Carnival of Souls (1998). Smith's recurring role as Amanda Young in the popular Saw series broadened her exposure, even as it threatened to further typecast her as a woman in peril and fix her reputation as a horror queen.
Asia Argento
Films:
The Phantom of The Opera (1998)
Daughter of Dario Argento. the master of Giallo, Asia Argento started acting at the age of nine with a small part in a film by Sergio Citti. From there she went on to act in a film written and produced by Dario Argento, The Church, and at the age of 18 starred in Trauma in her first nude role. She has since received the David di Donatello (Italy's version of Hollywood's Academy Award) for Best Actress in 1994 for her performance in Perdiamoci di vista!, and again in 1996 for Compagna di viaggio, which also earned her a Grolla d'oro award. In 1998, Argento began appearing in English-language movies, such as B. Monkey and New Rose Hotel and more recently George A. Romero's Land of the Dead.
Adrienne Barbeau
Films:
The Darker Side of Terror (1979)
Burial of the Rats (1995)
Ring of Darkness (2004)
The beautiful, multi-talented actress Adrienne Barbeau will forever be known among horror fans for three seminal roles: Stevie Wayne, the sexy DJ in John Carpenter's The Fog, Wilma "Call me Billie" Northrup in George Romero's Creepshow and Alice Cable in Wes Craven's Swamp Thing.
Neve Campbell
Films:
In 1996, Neve appeared in the TV movie The Canterville Ghost, as well as the supernatural thriller The Craft, co-starring Robin Tunney, Fairuza Balk, and Christine Taylor. That same year, she snatched the leading role of Sidney Prescott in a little slasher film called Scream. Made on a budget of $15 million, it went on to gross over ten times that amount at box offices worldwide and went on to be considered one of the fifty greatest horror movies of all time.
Fay Wray
Films:
Mystery of the Wax Museum (1933)
The Most Dangerous Game (1932)
Canadian-born Fay Wray was the first actress to be labeled as a scream queen. Before starring alongside the giant ape King Kong, she made several technicolor horrors in the early thirties, including Doctor X and The Vampire Bat.
Janet Leigh
Films:
Blonde and calmly beautiful, Janet Leigh was one of the biggest movie stars of the 1950s. Her marriage with Tony Curtis made them the Angelina Jolie and Brad Pitt of their day. She only had a few notable dramatic roles including Orson Welles' Touch of Evil, Alfred Hitchcock's Psycho and John Frankenheimer's The Manchurian Candidate. Yet her deadly shower scene in Psycho has long been considered a classic moment in American movies and the first true iconic slasher scene. Her daughter, Jamie Lee Curtis, went on to take the crown has the greatest scream queen of all, but Leigh set the bar. Her acting career declined from the mid 1960s, however she continued to appear occasionally in films, including two performances with her daughter in Carpenter's The Fog and Halloween H20: 20 Years Later.
Linnea Quigley
Films:
Post Mortem, America 2021 (2009)
Curse of the Lesbian Love Goddess
Mari-Cookie and the Killer Tarantula in 8 Legs to Love You (1998)
Beach Babes from Beyond (1993)
Pumpkinhead II: Blood Wings (1993)
A Nightmare on Elm Street 4: The Dream Master (1988)
Hollywood Chainsaw Hookers (1988)
Sorority Babes in the Slimeball Bowl-O-Rama
The Return of the Living Dead (1985)
Silent Night, Deadly Night (1984) …. Denise
Savage Streets (1984) …. Heather
In the late 1970s, the short, blond, petite-sized Linnea began getting work in B-movies, starting with small parts in such films as Stone Cold Dead and Psycho from Texas. She really garnered attention in 1985 with her part in The Return of the Living Dead, which has become a cult classic and helped make her the current "Queen of the Bs". Her reign was supreme in the late 1980s with such films as Sorority Babes in the Slimeball Bowl-O-Rama, Night of the Demons and Hollywood Chainsaw Hookers.
Jamie Lee Curtis
Films:
Halloween H20: 20 Years Later (1998)
Halloween: Resurrection (2002)
The queen of all scream queens and the daughter of Janet Leigh, Jamie Lee Curtis starred in what was once the highest grossing independent film of all time, John Carpenter's modern horror masterpiece Halloween. Its inventive groundbreaking style helped launch the video nasty boom of the late Seventies/early Eighties. Heavy on suspense, rather than buckets of blood Halloween set a standard for horror films years to come. For Jamie, it was the start of something big. "Halloween really gave me a platform in show business, a launch. I only stopped (doing horror movies) because clearly there was a point when it would become a detriment if they were the only thing I did."
[wpchatai]