High Moon
Written by Bryan Fuller and Jim Danger Gray
Directed by Adam Kane
Aired September 15, 2014 on Syfy
While Bryan Fuller's style may be a bit too quirky, macabre, or esoteric for some audiences, there's no denying that the man knows how to give good pilot. The first episode of Wonderfalls was an endearing, fast-talking affair that gradually injected fantasy into early 20s/retail ennui. The first episode of Pushing Daisies was nothing less than a storybook brought to life, a vibrant spin on the matters of life, death, and what happens when the order of the two reverses. And the first episode of Hannibal was a visceral, otherworldly affair that made it clear from the outset it wasn't your parents' Hannibal Lecter.
Chat Box - Go ahead, make my day and ask me questions about movies and TV shows...

That track record leads to a lot of high expectations for High Moon, even though unlike those previous shows the pilot is (likely) all there's going to be. Syfy ordered the pilot but didn't order it to series, opting to rebrand it as an original movie (a refreshing sign that they can still do that without putting "shark" in the title). It turns out they made the right call doing so, as High Moon is every bit as imaginative and vivid an episode of television as one would expect from Fuller's mind. It's a world where, on a daily basis, hands detach from wrists and open ventilation shafts, ninjas channel Mortal Kombat to defend blue roots before exploding into goo, and a giant green robot T-Rex stomps across the moon in a manner infinitely more engaging than any Grimlock moment in Transformers: Age of Extinction.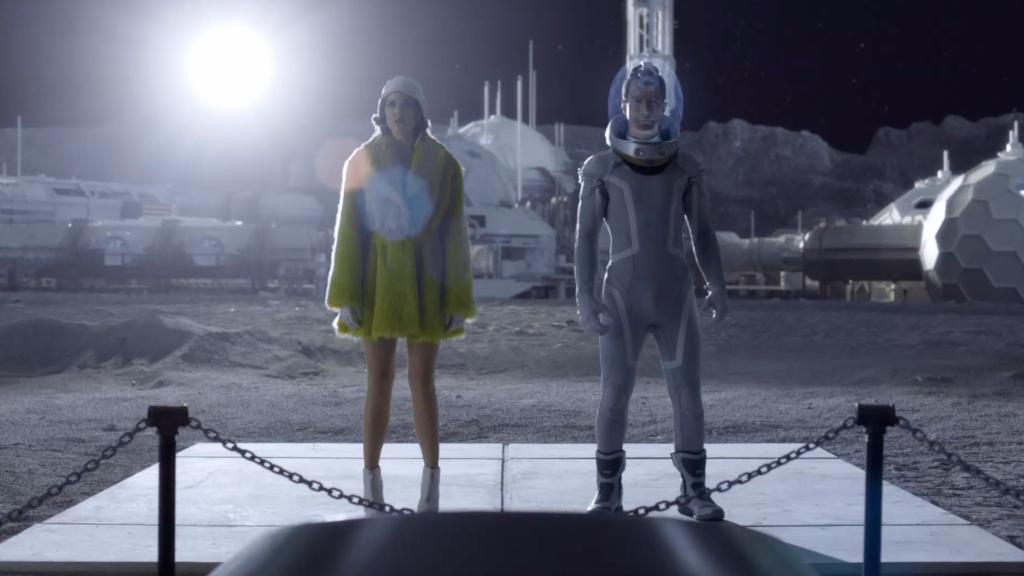 Based on The Lotus Caves, a 1969 young adult novel by The Tripods author John Christopher, High Moon takes place in a future where the moon has been identified as a source of alternate energy. Various Earth nations have set up mining operations across the planet and exist in an uneasy truce with each other, a truce that shows signs of falling apart when an explosion of unknown origin kills an American work team. Air Force investigator Ian Thurgood (Chris Diamantopoulos), the brother of one of the missing workers, shows up to investigate, only to learn that there might be unexpected life teeming below the moon's surface.
Fuller got his start writing on Star Trek: Voyager and Star Trek: Deep Space Nine and it's clear that he (along with co-creator and Hannibal alum Jim Danger Gray) relishes the opportunity to return to his science fiction roots. There's a marvelous attention to detail on the world of High Moon, a tone set early on when a perfectly rounded white shuttle gives way to a '50s art deco interior, where a woman literally floats down the aisle carrying a tumbler on a tray. The vibe continues throughout the design of the moon bases, space suits, and vehicles, evoking comparisons to such classic films as 2001: A Space Odyssey and Logan's Run while establishing its own aesthetic. It's a world that simultaneously feels new and familiar, an important thing for sci-fi. And it takes advantage of the somewhat placid feel of those worlds to peel things back for third act horrors, dozens of floating eyes, and an alien monstrosity resembling a box of wax figurines allowed to melt together in the sun.
The film manages to create a sense of wonder, but the more important quality it has is a sense of humor. There's the clever dialogue that comes along with a Fuller project, particularly as Ian argues with General Gale (Peter Macon): "My job is to separate the wheat of truth from the chaff of lies, and that man is a bushel." "Even if he does have some bacon on the side, that doesn't make him Eggs Benedict Arnold." There are immediate visual gags such as oxygen tycoon Eve St. John-Smith (Charity Wakefield) having a green fur coat instead of a space suit, and a recurring joke of Ian being on hold with his superiors just long enough for things to get awkward. And of course, the aforementioned T-Rex that comes out of nowhere in the third act, which has the same explanation in the show's universe that the writers likely gave: the idea of a robot dinosaur on the moon is awesome.
Where High Moon falls short is in the story department, though it's the good kind of failure: they're trying too hard instead of not at all. There's a lot of different elements going on in the story—political intrigue, lunar biology, forbidden love—that the pilot has to juggle, and even with 90 minutes of run time it still feels rushed. There are various plot points that drive the characters forward, with both the matter of helium-3 shortages and a mysterious red flower, but neither one graduates from the role of MacGuffin. The latter is particularly bothersome, as the general's daughter Yama (Dana Davis) fixates on the idea of life in the vacuum in a way that makes sense—as the only human born on the moon she's looking for connection—but fails to resonate as immediately as it should.
The narrative is strongest when it's focusing on individual concerns: While the cast isn't as instantly colorful as other Fuller ensembles, there are a few standouts. Jonathan Tucker as Russian double agent Stavin has the best material of the pilot, both thanks to his Addams Family-style cyborg hands and his close relationship with a commanding officer (the latter of which is handled with an exceptional amount of grace and cleverness). The character only gets more interesting as the plot progresses, as his allegiances and motivations become clearer and murkier at the same time. Similarly, Eve outshines the Thurgoods and the military with her ruthless commitment to her family legacy, first and foremost, and her vision that the promise of the moon outweighs national concerns.
High Moon shows similar promise, which makes it all the more disappointing that this will be our only visit to this world. It makes sense that Syfy chose not to go ahead with the project—like Fuller's recent Mockingbird Lane it's a project that might be too ambitious and too niche to support a weekly series—but there's a lot of potential under the surface, waiting to be discovered much as Yama discovers what lies beneath in the film's final moments. As its own thing though, it's an entertaining jaunt through an intriguing universe, and one full of images guaranteed to linger in the mind's eye.
Chat Box - Go ahead, make my day and ask me questions about movies and TV shows...