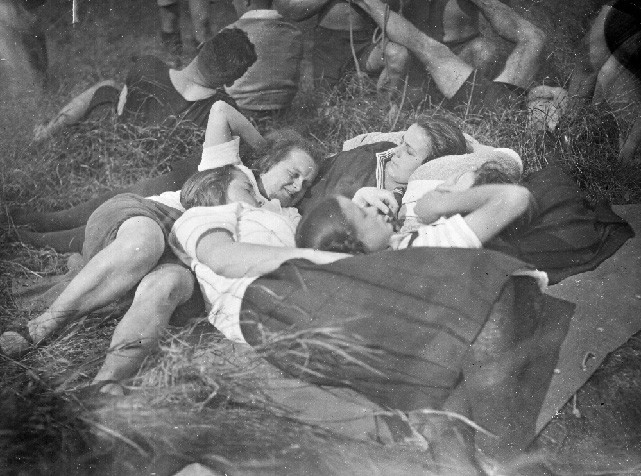 Teenage
Directed by Matt Wolf
Written by Matt Wolf & John Savage
USA, 2013
Adolescence was the greatest demographic discovery and invention of the mid-20th century. Armed with adult-sized interests and freed by a child's leisurely schedule to explore them to the fullest, teenagers have been dictating pop culture policy since the advent of rock and roll. That much we know. But these new gods of the mall and the dance hall did not simply spring from the swiveling hips of Elvis Presley. In fact, the concept of the teenager was decades in the making.
Director Matt Wolf brings cinematic life to this thesis, derived from British writer John Savage's book Teenage: The Creation of Youth Culture, 1875-1945. Mixing telling narration culled from youthful diaries, audaciously anachronistic sound design, found footage, advertising images, film clips and extraordinarily authentic recreations of period 16mm home movies, Wolf's sociological collage explores the parallel and permutative pre-histories of adolescence in the U.S., England and Germany.
As the call to end child labour practices in Western Europe and North America intensified during the late 19th and early 20th centuries, these societies soon found themselves dealing with new and unexpected concerns. The pastoral dream of "letting children be children" gave way to bitterly contested terrain when the children themselves began using their new freedoms to redefine what it means to be young. Unable to close Pandora's box and faced with rising "hooliganism" and unprecedented idealism, the forces of reaction did their best to contain and channel the anarchic energies they had unleashed. Wolf relies upon an array of visual/sonic flourishes and cogent cuts, rather than outright editorializing, to comment upon these developments; establishing, for example, clear links between the perhaps innocuous-seeming Scouting movement in England and America (which began just prior to World War One) and the Hitler Youth Movement that put steel in the backbone of the Nazi Wehrmacht.
At once scattershot and brilliantly focused, Teenage zeroes in on the protean élan exuded by the members of this potentially revolutionary class-that-crosses-class-boundaries, highlighting the similar existential concerns that preoccupy its carefully chosen cast of characters – and exploring some of the myriad trails that adolescents have already blazed. Far from an antiquarian enterprise, Wolf's film helps viewers to gain some perspective on the choices that confront today's teenagers – a group that, for better or for worse, will have much to say about determining whether the privilege of adolescence will someday expand beyond the charmed confines of the "developed" world.
Teenage made its international premiere at the TIFF Lightbox theatre on May 1. It will show again at the Lightbox on May 4 (6:30 pm).
Consult the complete Hot Docs Festival schedule here.