The Black Cauldron
Written by David Jonas, Vance Gerry, Ted Berman, Richard Rich, Al Wilson, Roy Morita, Peter Young, Art Stevens, Joe Hale, Rosemary Anne Sisson, Roy Edward Disney, Tony Marino, Steve Hulett, Melvin Shaw, Burny Mattinson, John Musker, Ron Clements, and Doug Lefler
Directed by Ted Berman and Richard Rich
USA, 1985
If there is one movie, Disney would like to delete from its animation library, it's The Black Cauldron. What began as another feather in their animation cap became a perfect storm of misfortune that lead to a box office bomb that put Disney on the edge of disaster. They waited 13 years before releasing the film on VHS, and only because enough fans requested the film be made available. Although The Black Cauldron isn't considered a Disney classic, it has established itself as a cult classic.
Those looking beyond mainstream animation will find a hidden gem within The Black Cauldron because it deviates so severely from the typical Disney formula. The film borrows plot points from the first two novels in Lloyd Alexander's Chronicles of Prydain series, The Book of Three and The Black Cauldron. Considered a valuable contribution to children's literature, it is little wonder that Disney wanted to animate such a notable collection of stories.
In the movie, we meet Taran, Assistant Pig-Keeper to the oracular pig Hen Wen, who dreams of becoming a mighty warrior. One day, his dreams come true. After coming face to face with the Horned King, Taran is determined to find and destroy the black cauldron before the evil inside destroys the world. Along the way he is accompanied by Princess Eilonwy, a young enchantress; Fflewddur Fflam, a bard; and Gurgi, a half-man, half-beast who also happens to be the most annoying character on screen.
While the film's storytelling and character development are undoubtedly lacking a bit of Disney magic found in its predecessors, in large part due to troubles in the animation department and hasty last-second editing, it wasn't afraid to experiment. Classic 2D animation, computer-generated animation, and live-action effects all work together to create an ambitious project that intrigued many.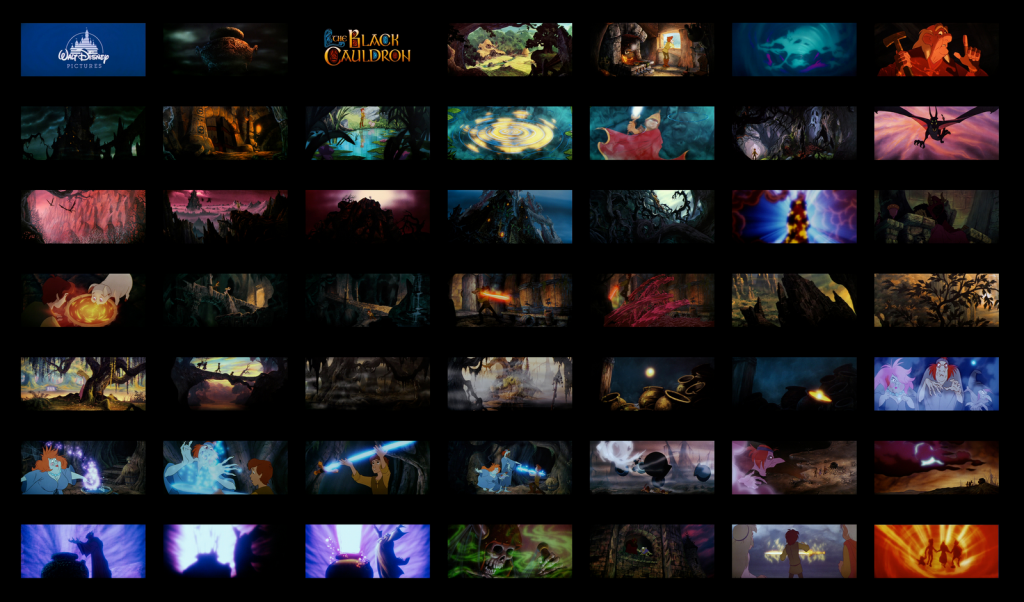 Fans also embrace the film's underdog status due to its dark nature, which some critics peg as the main pitfall. Contrary to the typical happy-go-lucky spirit found in numerous Disney classics, The Black Cauldron attempted to grab the attention of teenage audience members. Disney duplicated this tactic with Atlantis: The Lost Empire and Treasure Planet, but met with similar failure. Finally, The Black Cauldron is a film of firsts. It's the first Disney film to receive a PG rating due to significantly darker tone, the first to use computer-generated graphics, the first to utilize Animation Photo Transfer process, and first without a single character breaking into song. Those who are musically inclined may notice that the soundtrack carries a familiar tune. Elmer Bernstein, who composed the Ghostbusters soundtrack among others, lent his musical talents to The Black Cauldron and successfully added an eerie mood worthy of the Horned King and his minions.
Although it was a box office disaster, The Black Cauldron has inspired fan art, cos-play, Disney fashion, and even celebrated its 25th anniversary in style.
The Black Cauldron will never truly be a Disney classic, but that's okay. This peculiar piece of Disney history has become a cult classic, finding its way into the hearts of those who enjoy breaking the mold.
— Elizabeth Rico