If I Stay
Written for the screen by Shauna Cross
Directed by R.J. Cutler
USA, 2014
Based on the novel of the same name by Gayle Forman, If I Stay tells the story of Mia Hall (Chloë Grace Moretz). An overachiever, cello enthusiast, and overall good-egg of a daughter, Mia has paved a finite future for herself with Julliard on her horizon. When involved in a head on collision, killing her entire family and leaving her in a coma, she goes through an out-of-body experience and has to decide if she will stay with her rocker boyfriend (Jamie Blackley) and live with her grandparents, or depart with her family and leave everything she's aspiring to behind. What seems like the same tiresome supernatural melodrama found in YA franchises like Twilight, in actuality, holds up nicely for both the tween dragging their parent and the parent initially being dragged into the theater. All in all, both parties will leave the theater satisfied, but for equally variant reasons.
If I Stay falls comfortably in the safe zone of movie watching happily suitable for all ages. In fact it does so with such self-aware restraint, the film avoids anything particularly shocking one would expect from a near death experience. By going so far left and right of the parent-child relationship, somewhere in between Mia's parents (Mireille Enos and Joshua Leonard) urging her to stay out late and Mia choosing to play cello over having sex, the film manages to circle itself around and wind up in mediocre territory. Although all actors perform great, with Chloë Grace Moretz stealing dramatic hospital scenes and proving that she is more than the foulmouthed girl from Kick Ass, role reversals are obnoxiously too on the nose. Mireille Enos and Joshua Leonard play go-with-the-flow parents who gave up their punk rocker lifestyle for their children. Mia, finding her passion in playing cello and listening to classical music, is everything her parents were not: a model student and obedient daughter. In a scene where Mia gets stung by a bee, the parents joke and laugh over her new boyfriend sucking the stinger off her hand. What comes across as blatant expository to show how leftwing and hip these X-generation parents are, will surely raise eyebrows for the actual parents in the crowd: which is precisely why the film is quite refreshing.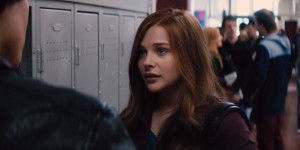 In a world dominated by silver screen sex and violence, it's nice to see conflict arise by a protagonist making good decisions. Some may argue, on the other hand, that good decision-making does not fair well for suspenseful filmmaking. For a long time, the motif behind the film's conflict is "Will Mia get into Julliard?", spelling out boredom for teens and adults alike. Despite facing death, the tone of the film secures the audience for a happy ending. Never do we feel Mia will not make it out of her coma. She is just too good, too righteous, and the conflict never makes us believe that the good die young.
— Christopher Clemente
[wpchatai]