Directed by Negar Azarbayjani
Written by Negar Azarbayjani and Fereshteh Taerpoor
Iran, 2011
For time immemorial, Iran has been synonymous for many things – most of them pejorative, none of which has to do with cinema. However, Iran's cinematic reputation has reached a prestige that was hitherto unprecedented in 2011, with films like Circumstance winning the Audience Award at the Sundance Film Festival and A Separation winning the Best Foreign Language Film at the Oscars. Negar Azarbayjani's Facing Mirrors, which tells the story of a gender-transitioning woman in Tehran, further cements 2011 as Iran's golden age of cinema by creating a film of visceral and emotionally stirring gravitas.
The film is about two people; each with their individual stories. Firstly we have Adineh (Shayesteh Irani), a transgendered man living with his despotic father and his acquiescent brother. Adineh (whom prefers being called Eddie) is desperate to go to Germany to fulfill the sexual reassignment process he started prior to his unintended return home, which culminated with his father orchestrating an unwanted forced marriage between him and his male cousin.
Secondly, there's Rana (Ghazal Shakeri), the paradigm of a good housewife. When her husband is incarcerated in prison, Rana tries to alleviate her family's destitution by driving a taxi for cash.
When Eddie's mounting frustrations eventually leads to him running away from home, he jumps into Rana's cab to escape, but when his gender identity is revealed, Eddie's journey with Rana goes down a route of prejudice, friendship, and redemption.
Although Rana and Adineh are both fully realized, fleshed out characters (thanks in large part to the brilliant acting of the leads), they are both metaphors for Iran's contemporary perception of class, faith, sexuality, and gender identity.
Rana is the conservative, dutiful woman that represents the country's status quo. Adineh represents the new Iran, one that's rebellious, determined, but still searching for its true identity. Rana's initial horror and abjection of Eddie is meant to reflect Iran's reactionary attitude towards the alternative, Western-influenced identity embodied in the latter, with her eventual acceptance of Adineh serving as the film's optimistic appraisal of the country's social and political climate.
With plenty of dexterity, Azarbayjani is able to deftly weave this political commentary into the relationship between Rana and Adineh, which is undoubtedly the heart of the movie. Like in A Separation, the story's tension and conflict is insidious, gradually building to a volatile climax built on sharp writing and piercing dialogue.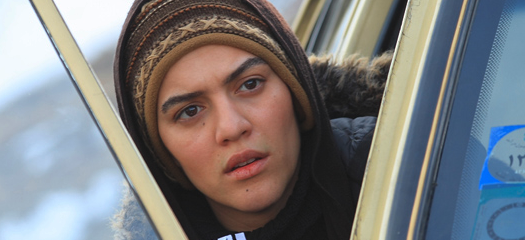 At times, however, the film can be sanctimonious and heavy-handed in its storytelling, but considering the insular context of its intended audience, this is more than forgivable. At its core, the film is a heart-rending study of friendship amongst discrimination. With acting of fierce and resolute power, and a narrative of touching, yet assertive, impression, Facing Mirrors is a picture that solidifies Iran as a cinematic powerhouse.
– Justin Li
Visit the official website for Inside Out

Chat Box - Go ahead, make my day and ask me questions about movies and TV shows...