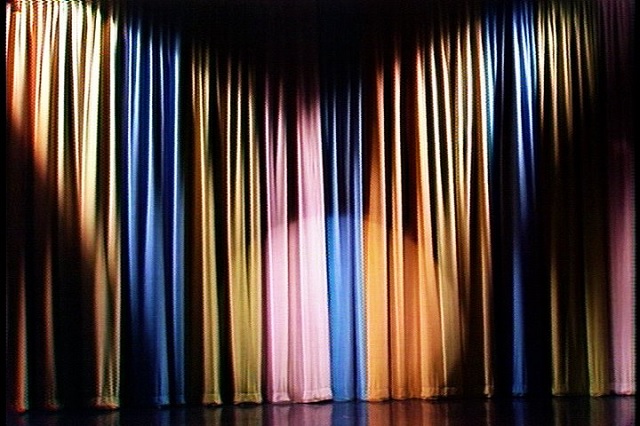 Real comedy still happens on late night, we can prove it. If you like Conan comedy gold, Fallon friendliness, cutesy Corden, list-making Letterman, kneedy Kimmel, and all the rest, I hope you'll enjoy this column too.
Last night on late night, Late Show's streak of awesome continued with Tina Fey, Matthew Weiner showed a "sneak peak" of the Mad Men finale to Conan, and Jane Fonda and Diddy kept it real with Jimmy Fallon.
Late Show with David Letterman 
In the monologue, Dave jokes about Big Bird, pin numbers, and Osama bin Laden.
A replay of the amazing Letterman origin story, "The Dave Letterman Story".
"Dehydration or something".
Best friend Donnie Osmand.
Tina Fey is never wearing a dress after the Late Show ends, and she gives Dave the final dress.
"What, am I gonna put a dress on for Jimmy? That's creepy, he's like my brother".
"The next time you see me I will be playing charades in a Slanket".
Tina Fey has hilarious ideas about the Met Gala, or "Jerk Parade".
Dave will be attending his first Met Gala next year.
"Every jerk from every walk of life is there wearing some stupid thing".
Which fashion designer "dealt it"?
---
The Tonight Show Starring Jimmy Fallon 
Sean "Diddy" Combs is on the show, promoting a new tequila and fragrance. He gives a pretty funny interview, if only because it's funny to see Diddy in this context.
A pretty natural interview. He even humbly explained what "Sean Jean" is, and didn't just expect everyone to know.
Speaking of good interviews, Jane Fonda.
"I got motor in my booty".
Jane Fonda is friends with Big Boi from Outkast, Ludacris, and overall loves hip-hop.
There's now a DVD re-issue of Jane's original workout tapes.
Awesome story about Dolly, Lily, and Jane in 9 to 5. And the origin of that amazing song!
---
Conan
Matthew Weiner stops by to talk Mad Men, the finale, and even brings a clip!
Weiner's kids don't watch his TV show, and they're old enough to.
Semi-Freudian talk about Matthew Weiner's son Marten Weiner's role as Glen Bishop on the show.
Chris Hardwick talks about sneaking onto The Price is Right set and spinning the wheel.
"Television is all a lie". The wheel doesn't make the noise, is very heavy and clunky.
Hardwick shares his thoughts on the upcoming Star Wars.
---
Jimmy Kimmel Live!
Hailee Steinfeld from Pitch Perfect 2 talks about being home schooled, and not going to prom, but the Met Gala instead.
Joe Jonas tweeted a sonogram picture of a fetus on Hailee's behalf for April Fools Day.
The hilarious and awesome Jason Schwartzman makes cookies that only he likes.
Jason talks about his new movie The Overnight with Adam Scott. There will be nakedness.
He'll show you the 101 and the 405.
---
The Late Late Show with James Corden
Fire alarm forces The Late Late Show to film on the roof.
This clip is mostly included for the hilarious YouTube comments of people asking "isn't this late late? Why is it daytime outside?"