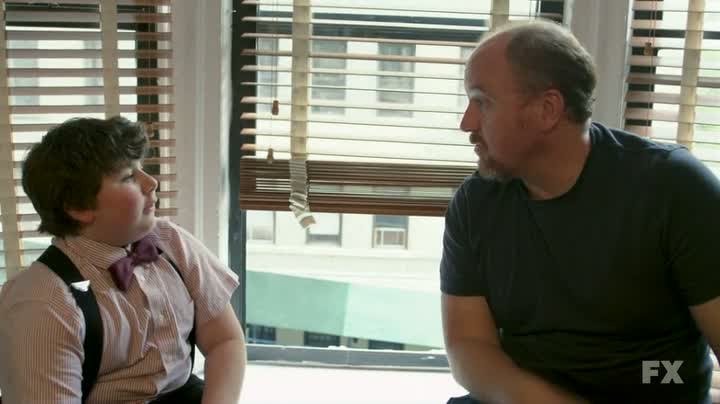 Louie, Season 3, Episode 6: "Barney/Never"
Written by Louis C.K.
Directed by Louis C.K.
Airs hursdays at 10:30pm ET
After a few especially sober, dry outings, Louie dips back into ouright comedic territory with "Berney/Never," a bipartite episode with a pretty clear theme: shitty people, and the people who love and hate them unconditionally.
In the first part, Robin Williams guests as Robin (no relation), the only other mourner besides Louie at the burial of Barney, a shared acquaintance. After exchanging a few pleasantries, they're relieved to discover they both absolutely hated the guy, a funny-voiced thief and cad who seemingly never did a good turn for anyone. Their morbid curiosity leads them to a strip club he frequented, and when they arrive there to announce Barney's passing, the strippers and the rest of the staff break down in a mass orgy of tears set to Night Ranger's "Sister Christian." I imagine this segment to have been reverse-engineered from that concept. I want to see a roomful of strippers crying to "Sister Christian." Regardless, it's a very funny visual, and Williams is notably low-key throughout, given that he's probably the most famous guest star the show's had yet. (He made a similarly muss-free appearance on Wilfred in its second-season premiere.)
A little more of the episode is taken up with Louie's adventures with Never (Jeremy Shinder), an overindulged little twerp who delights in causing panic and discord wherever possible, and whose mother forbids him to eat anything containing "carbon," seemingly unaware that carbon is a basic building block for most of the world's matter. (Shades of the "Level 5 vegan" on The Simpsons who won't eat anything that casts a shadow.) Never is as good a conduit as any for CK to dive back into the topic of parenting, which hasn't been nearly as present this season, having taken a backseat to the troubles of adult dating. Inasmuch as "Never" has a thesis, it seems to be that assholes like Barney can only crop up when their parents are too busy scheduling vagina-removal procedures to properly discipline the little demons that they've set loose on the world.
The episode is noteworthy not just for its unusually straightforward comic tone, but for a few other divergences that are Louie firsts. The intro is gone this week, replaced by a simple credit overlay accompanying the opening shot of Louie entering the graveyard. There's also absolutely no standup material, which I can't recall ever happening in any of the show's 30 previous episodes. "Barney/Never" might also hold the distinction of featuring the most guest stars of any Louie – besides Williams, Artie Lange turns in a brief cameo, as well as JB Smoove (in a very funny end-credits bit) and CK's radio pals Opie and Anthony, who make vocal apprearances for a spot-on parody of the sort of obnoxious hi-five radio hosting work they themselves occasionally dip into. (The stony silence that follows Louie's honest takedown of Kansas City is a familiar bait-and-switch as far as punchlines go, but it's still funny as hell.)
On the week that we heard of Louie's renewal for a fourth season (not exactly a surprise given that it's likely the cheapest scripted show on TV to produce, as well as FX's best Emmy magnet), "Barney/Never" is a consistently funny, if not earth-shattering, reminder that Louie has more range than anything else on TV by a very wide margin. Long may its reign over that title continue.
Simon Howell
[wpchatai]