Written by Linda Woolverton
Directed by Robert Stromberg
USA, 2014
Every year or so, apropos of very little, the Walt Disney Company will showcase a new series of ads courtesy of acclaimed photographer Annie Leibovitz, in which a celebrity plays one of the company's iconic human characters, whether it's Jessica Chastain as Princess Merida from Brave, Russell Brand as Captain Hook, or Taylor Swift as the Tangled version of Rapunzel. Now, filling a need that was not exactly desired, Disney has made Maleficent, a feature film with the visual flair and creative hollowness of one of Leibovitz's so-called "Disney Dream Portraits." Ostensibly a retelling of Sleeping Beauty, both the original fairy tale by Charles Perrault as well as the 1959 take from Disney's animation arm, Maleficent is boosted by its impressive lead performer, and little else.
Angelina Jolie, after a few years away from live-action filmmaking, stars as the horned villain known as the Mistress of All Evil. Of course, following in the footsteps of films like Oz the Great and Powerful and the massively popular Broadway adaptation of Gregory Maguire's Wicked, it's soon evident that Maleficent, in spite of her unfortunately fearsome-sounding name, isn't really all that bad, but more misunderstood. Before she casts a spell on the daughter of the king (Sharlto Copley with a painful attempt at a Scottish accent), Maleficent lives peacefully in the Moors, the kingdom adjoining that of the humans. When she's younger, she and that future king, Stefan, have a friendship that turns to romance until he gives in to his apparent lust for power, cutting off her wings and gaining the kingdom in the process. Thus, Maleficent vows revenge against Stefan, choosing to make him suffer by promising that his daughter, Aurora (Elle Fanning), will die by her 16th birthday by getting too touchy near a spinning wheel.
That much, at least, is the same in Maleficent as it was in the animated version of Sleeping Beauty. (The scene where Jolie's Maleficent delivers the curse not only uses much of the older film's dialogue, but is easily the highlight of this picture; she clearly relishes the chance to be bad.) And, as in the older film, Aurora's father is King Stefan and he does entrust her care until her 16th birthday to three fairies (Imelda Staunton, Lesley Manville, and Juno Temple, all collecting hefty paychecks, if nothing else). And Maleficent does have a seemingly omnipotent crow on her shoulder. But aside from these superficial touches, the script by Linda Woolverton makes a vast amount of changes to the story that's familiar, and often, they're totally unnecessary. The Maleficent of the animated version seemed to be villainous less because of a specific motivation and more because…well, she just was villainous. Learning about why she got to a point of villainy—and in this film, it's just one terrible act as opposed to purely consistent evil—is inherently uninspired.
This, in spite of the fact that Angelina Jolie turned out to be an extremely smart bit of casting. Though the CG-heavy movie surrounding her is muddled, Jolie's performance is fierce and enjoyable, especially when Maleficent turns nasty or even when she's watching how badly Aurora is raised by the three fairies. (Kudos to this film for making those fairies even more obnoxious as live-action creations than they were as animated sprites.) Even from the sidelines, Jolie's take on Maleficent is strong enough to understand why she'd want to play this iconic baddie. And Fanning is fine, about as good as anyone can be with a character who's arguably as weakly developed here as in the animated film. Copley, however, continues to ride whatever goodwill he accrued from his breakout role in District 9, squandering it almost as quickly. The little boy who meets a young Maleficent is charming, but it's difficult to reconcile how he grows up into such a paranoid, power-mad lunatic. To be fair, though, while Copley's work isn't great, Woolverton's script does him no favors.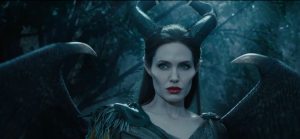 Visually, Maleficent feels very much like Alice in Wonderland, Oz the Great and Powerful, or even Avatar; conveniently, the first-time director, Robert Stromberg, was the production designer on those films. On one hand, it might've been folly for Maleficent to ape the striking visual style of the 1959 film, one of the most exquisitely animated features ever made. But by now, for a big-budget fantasy to look like Avatar or Alice in Wonderland, both among the highest-grossing films of all time, is to essentially avoid any true innovation or creativity. (The design of the fairies, as an example, recalls the hideous-looking Martians from Mars Needs Moms, of all things.) No doubt, there was a lot of care and attention put in to making Jolie look as much like Maleficent as possible; very little else around her displays as much dedication.
Watching Maleficent, it's hard not to think of films as varied as The Dark Knight or even How The Grinch Stole Christmas. In the former, Christopher Nolan chose to avoid an origin story for The Joker; Heath Ledger's villain had scars on his face, but we never know exactly what caused them. Not knowing what made him evil, in effect, emphasized how terrifying he was. In Ron Howard's worst film to date, though, we learn exactly why the Grinch is so Grinch-like. It's not enough for him to be bad, this movie argues. We need reasons. In doing so, so much of the character's appeal is removed, almost as if its agency is taken away rudely. We don't need to know why Maleficent is so vengeful towards King Stefan or Aurora or the human race, or why she's so evil at all. In spite of Angelina Jolie's stellar work as the title character, Maleficent does a weak job of justifying its existence.
— Josh Spiegel
[wpchatai]