For some of the oldsters out there they may recall the 1973 Gamble & Huff-produced R&B hit single "I'll Always Love My Mama" by the musical group The Intruders. This musical anthem was certainly a lyrical tribute to caring mothers and how their sacrifices shaped our childhood and adulthood. This finger-snapping song definitely captured the spirit of motherly guidance.
Naturally film has had its share of depicting motherhood over the decades. In fact, mothers of all types are presented before our eyes in packages of being nurturing, notorious, nutty, naive and nonsensical. However, there is something so special about the mother-son relationship that rivals the father-daughter dynamic. We have our share of proud Mama's boys out there roaming about in society.
In Mama's Boy: The Top 10 Mother-Son Combos in Movies we will examine some of the big screen bonds that have been celebrated between the Mommy Dearests and their boys through the camera lens. As one will see it is not always a cozy existence between mothers and their sons as torment and trepidation are sometimes the harsh realities at stake.
The selections for Mama's Boy: The Top 10 Mother-Son Combos in Movies are (in alphabetical order according to film title):
1.) Juanita and Joseph "Jodi" Summers from Baby Boy (2001)
Writer-producer-director John Singleton's coming-of-age urban dramedy Baby Boy was an observational eye-opener about the stilted growth of a young man that refuses to depart his man-child development.
Joseph "Jodi" Summers (Tyrese Gibson) is a 20-year old South Central LA-based unemployed bicycle mechanic that still lives at home with his youngish 36-year old mother Juanita (Adrienne-Joi Johnson). Jodi simply refuses to grow up and be responsible despite having two children from a couple of different women. The penniless Jodi does what he pleases and does not hesitate in messing around with other women and hanging out with an equally stunted pal Sweetpea (Omar Gooding). Jodi even travels about town on a bicycle as if he is some overgrown schoolboy.
Jodi and Juanita's son-mother relationship is tested when Juanita's ex-con boyfriend Melvin (Ving Rhames) moves into the household. This presents a threat to Jodi as he fears that Melvin's presence may ease him out of his mother's place and force him to be accountable for his stagnant livelihood. Melvin tries to show Juanita that it is a disservice to have Jodi lounging around and not doing anything constructive with his life as he cramps her style in being independent woman and enjoying her life. Singleton's Baby Boy was grossly underrated and an impressive character study of idle youthful black manhood and all its ominous uncertainty.
2.) Joanna and Billy Kramer from Kramer vs. Kramer (1979)
Divorce is tough on any child of a certain age. Thankfully for Billy Kramer (Justin Henry) he had the support of devoted father Ted (Dustin Hoffman) in the aftermath of his mother Joanna (Meryl Streep) needing to take off which clearly resembles her abandoning her young son. And so it is Ted and Billy alone trying to make ends meet without a wife or mother around to offer emotional support. Clearly, Ted is crazy about his boy and will do what it takes to ensure his son's welfare. After all it is a lonely father and son against a hectic world.
When Joanna decides to re-enter Billy's life after her lengthy absence and takes Ted to court in order to gain custody the fight is on to claim their precious son. Should Billy remain with the father that has looked after him so faithfully while his mother took off? Or should a young boy be with his mother and benefit from her nurturing needs? Despite Joanna's absence it is clear that Billy still loves his mother Joanna unconditionally. Ultimately, Billy is the main Kramer that counts in this courtroom tug-of-war.
3.) Mrs. Eleanor Shaw Iselin and Raymond Shaw from The Manchurian Candidate (1962)
A mother's influence and encouragement is crucial in the development of her son's value system. However, what would you do if your dear mother badgered you into doing something ill-advised…say urging you to become a political assassin? It is safe that The Manchurian Candidate's Eleanor Shaw Iselin (Angela Landsbury) is not your typical PTA mother handing out brownies. Poor son Raymond (Laurence Harvey) probably wishes she was in hindsight.
Raymond is a former Korean POW targeted by the Communists to do their dirty work in pulling the trigger. Raymond's mother Eleanor (married to Senator John Y. Iselin played by James Gregory) is actually a member of the Communist Party and her agenda is to apply the pressure on her son to eradicate her husband's competition. The U.S. presidency is at stake and the Communists can take control should Eleanor's brainwashing tactics work on her adult son that does not tolerate his mother and despises his oafish high-power stepfather looking to seek the highest office in the land. The intense and controversial The Manchurian Candidate was directed by John Frankenheimer and based upon Richard Condon's novel. Eleanor Shaw Iselin and Raymond Shaw are one of the most disturbing mother-son tandems to ever grace the big screen.
4.) Mrs. Piletti and Marty Piletti from Marty (1955)
Every mother wants her son to find that special woman to settle down and raise a family. Is that asking too much for a mother to hope that her son finds happiness and make her a grandmother someday? Well this may not seem so clear cut for Marty Piletti (Ernest Borgnine in his Oscar-winning role) in Delbert Mann's Marty.
Marty Piletti is a middle-aged, husky-built butcher sporting non-existent movie star looks. Marty's mother (Esther Minciotti) is pushing Marty to find a woman or at least try to date someone. But Marty insists that no woman would want to bother with him as he feels his physical attributes are not much to be desired by any female. It is so sad that Marty's low self-esteem is demonstrated in front of his mother as his frustration to find a love interest seemed profoundly remote. Eventually Marty finds romance in a plain-looking schoolteacher Clara (Betsy Blair).
5.) Beatrice and John Henderson from Mother (1996)
Co-writer/director/star Albert Brooks and Debbie Reynolds portray son and mother John and Beatrice Henderson in the dramedy Mother. Brooks's John is a whiz at his career as a science fiction writer. However, John suffers from writer's block when it comes to women and marriage. In fact he is about to undergo his second divorce. Just what is John's problem anyway with the female species?
To search for answers John heads home to stay with his mother Beatrice as he ponders his failure in marriage and wonders about his immediate future. Thus, John and Beatrice engage in some quirky give-and-take as regressive memories and exasperating moments begin to dictate the living arrangement for the twosome.
6.) Judith "Jude" Madigan and Kes, Michael and Ben Madigan from Mother's Boys (1994)
The Yves Simoneau-directed maternal thriller Mother's Boys finds Jamie Lee Curtis at her wicked best as unstable Jude Madigan who abandons her husband Michael (Peter Gallagher) and three boys Kes, Michael and Ben (Luke Edwards, Colin Ward and Joey Zimmerman). So Michael is left holding the bag and raising his motherless sons. Thankfully, Michael finds a new love in educator Callie Harland (Joanne Walley-Kilmer). Jude is the thing of the past for Michael and the boys.
Three years later the diabolical Jude decides to come back into the lives of Micheal and their sons. and is determined to win them all back. Jude is not too thrilled with Michael's new love interest Callie and wants to sink her hooks into her boys with a special fixation on her eldest son Kes. Basically, Jude plays mind games with Kes as she psychologically messes with his emotions in order to sabotage Michael's connection with Callie and the boys. Jude Madigan is one crazed and calculating mother.
7.) Mother and Son from Mother and Son a.k.a. Mat i Syn (1997)
Russian filmmaker Aleksandr Sokurov's Mother and Son is a poignant and probing case study of a caring son (Alexei Ananishnov) whose commitment to taking care of his severely sick mother (Gudrun Geyer) is a spiritual and introspective look at true love and devotion that transpires between two people that are united at the hip.
The illness is never disclosed for the dying mother but the point emphasizes how much time is of the essence for her son to give his limp and weak mother as much tender treatment and other reassuring comforting that he can spare her until she knocks on heaven's door. There is a lot of soul-searching in Mother and Son so the pathos factor is definitely at a premium high in Sokurov's heartfelt drama.
8.) Beth and Conrad Jarrett from Ordinary People (1980)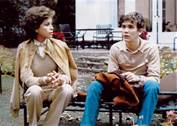 Ordinary People is the tragic familial drama that won Oscars for director Robert Redford and best supporting actor Timothy Hutton. It also scored television veteran Mary Tyler Moore her first Academy Award nomination as well.
The Jarretts are a wealthy clan but tragedy strikes when the older son dies accidentally. This creates some serious dysfunction among the family unit. Mother Beth (Moore) is downright bitter as her favorite son is gone which is something that she has trouble coping with in her embedded misery. The trouble is that Beth's bitterness is having a major effect on other son Conrad (Hutton) whose suicidal tendencies and lumps of guilt have placed a tremendous strain on him. Beth and Conrad are lost and detached as mother and son and head of household Calvin (Donald Sutherland) has to deal with his own grief while trying to play referee between Beth and Conrad's eroding bond.
9.) Norma and Norman Bates from Psycho (1960)
Norma and Norman Bates…the ultimate mother-son team from hell. They make The Manchurian Candidate's Eleanor Shaw Iselin and Raymond Shaw look like innocent Christmastime snow flakes. Alfred Hitchcock's classic creepfest Psycho has presented the prototype of a disturbed and dangerous young man in Norman (Anthony Perkins), the perverse proprietor of the cinema's infamous Bates Motel.
Of course the audience realizes that Norman's penchant for deviant behavior derives from the constant dominance of his demanding unseen mother Norma (voiced by Virginia Gregg, Jeanette Nolan and Paul Jasmin). When detailing how some overbearing mothers can drive their nervous sons with controlling craziness one does not have to look any further than referencing Hitchcock's antagonistic mommy-sonny act in the nefarious Norma and Norman. So you say you want to skip your shower now, huh?
10.) Owen Lift and Momma Lift from Throw Momma From the Train (1987)
Director and star Danny DeVito's black comedy Throw Momma From the Train visits the naughty angle where a pain-in-the-neck mother takes its toll on the flustered son that wants to silence her permanently.
Owen Lift (DeVito) is a student of writing professor and author Larry Donner (Billy Crystal). Larry is distraught over his ex-wife deception in stealing his literary work and becoming wealthy over it. Owen is more than willing to kill off Larry's former spouse but his offer comes with a stipulation–Larry must promise to terminate his nagging and noxious Momma (Anne Ramsey). The sound of Momma's gravel voice and excessive needling inspires the opportunistic Owen to off his old lady at the expense of Larry's hands.
Ramsey earned an Academy Award nomination for best supporting actress playing the irritable mother that playfully grates on the nerves and DeVito's Owen is the sinister son that has reached his patience with the menacing mother.
Honorable Mention:
Mama Fratelli and sons from The Goonies
Mrs. Gump and Forrest Gump from Forrest Gump
Tutti Bromowski and Sgt. Joe Bromowski from Stop! Or My Mom Will Shoot (1992)
–Frank Ochieng
[wpchatai]