Mr Butter Fingers allowed the Urn [Anderson] to hit the floor just as soon as it arrived back in his hands. "I am not just any other man," he said, juggling the trophy around his legs. "I am CM Punk and there is nobody in the world that is better than me." He professed that Taker could ably crush any other wrestler at Wrestlemania… except him. The crowd shared his convcition in spite of their booing. Punk has spent the better part of the last few years carrying the company's flagship show on his back and although – narratively speaking – it doesn't seem as if he's capable of ending the Undertaker's undefeated streak, he truly deserves to.
So when Undertaker emerged from the darkness to rain down a right hook on Punk, the Best in the World neglected to quiver and shake like a conventional heel is wont to do. He retreated yet remained expectedly brash, brandishing the urn from a safe distance; it's a noticeable contrast to previous Taker-Mania opponents who froze on the spot, traumatised that the lights dimmed for even a second. Such is Punk's braggadocio.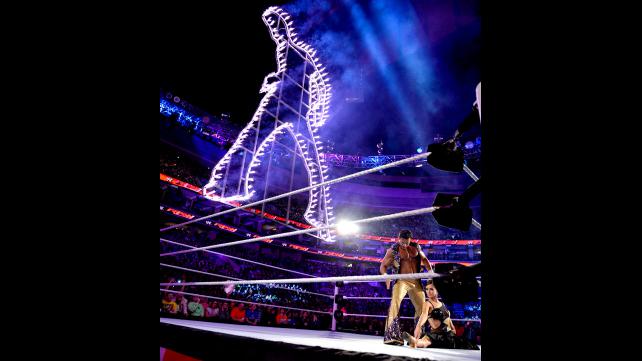 Fandango's failure to compete led to a watchable showdown between Jericho and Ziggler. Fandango is akin to the roadkill you encounter en route to your favourite restaurant. Everyone's collectively geared up, full speed ahead on the road to Wrestlemania and amped to see our favoured feuds escalate.  Then along comes this guy. This is not the best time of year to build new stars, and the crowd definitively agree: "You can't wrestle!" These chants constituted the first signs of life from the Philadelphia crowd thus far. This sort of response is a double-edged sword, as Vince will interpret it as 'incredible heat' and fast-track Fandango to the upper mid-card. To make matters worse, Jericho's Wrestlemania match is wasted on this guy. Besides any question of his talent, the gimmick itself is another head-scratcher in the great lineage of Funkasaurus, Heidenreich and Matt Striker where you simply can't envision the character eventually becoming World Champion. Then again, I said that about Bully Ray….
The thrown-together Wrestlemania Rejects team of Orton, Sheamus and Big Show proved this week that they're not just thrown together. In the most unintentionally hilarious moment of the night, all three lined up in the centre of the ring, post-Shield beatdown, to collectively stare in awe at the Wrestlemania sign. There's just something about that sign…
Their ex-partner Ryback withdrew abruptly from the team last week to instead focus on being angry at Mark Henry for no discernible reason.  The World's Strongest Man 'sent a message' last night by singlehandedly squashing the Usos – remember those guys? After that beating, I don't think even they do. Ryback did much the same to 3MB, because a) anything Henry can do, he can do better, and b) a 3-hour Raw needs padding, naturally.
The fundamental problem is, every angry heel or 'badass' face appears comparatively tame when you have Brock Lesnar squawking and seething with a steel chair. Many viewers are tuning in primarily to see the stars of the three big feuds hype up their respective matches; as a result, everything else seems as though it's getting the short shrift. Seems is the key word here. We see a few variations of the same set-up: wrestler has a match, his foe interrupts and costs him victory/attacks his manager. See: Del Rio/Swagger, Ziggler/Kane/Bryan. It's standard build-up procedure and would ordinarily pass muster, except at this time of year there are a number of elephants in the room ie. Rocky and Brocky. "I hope Dolph and Big E are taking notes!" said Michael Cole, watching Kane and Bryan in action. I am, Michael, but they may not make my final draft.
Triple H delivered a succinct promo and statement of intent before next week's go-home instalment. This is clearly Brock's Monday off; if he and Rock are in the same arena at the same time, Yellowstone is in danger of erupting. "I am not coming to Wrestlemania to wrestle," said Trips, allaying any doubts that their bout in two weeks would be anything but chairs and tables and sledgehammers. At this point my brother asked me, "Does Brock Lesnar still do… the F5?" "Yes," I replied, "You've had, uh, a few of those, haven't you?" He looked to the ground and nodded silently, solemnly. Never forget.
The three big feuds are thankfully varied in tone. Cena/Rock is a mighty civilised affair as evidenced by this week's Q&A attended by panellists Mick Foley, Bret Hart, Dusty Rhodes and Booker T. A hospitalised Ric Flair was absent from proceedings, though Rock paid him a tribute by telling Cena, "To be the man you've got to beat the man." Answering a question from Foley, Cena said his probable victory would "change the landscape of the WWE forever". No, John, it wouldn't. It would likely resemble the last ten years.
The crowd were getting visibly antsy as the Q&A slogged on through all four of the panelists' questions. Nights like this encapsulate just how drawn-out the Road to Wrestlemania can be. With seven weeks between Elimination Chamber and the Grandest Stage of Them All, slow feud-building, alternate appearances by marquee attractions, three-hour Raw episodes and generic build-up for the undercard make it increasingly clear that the big night can't come soon enough. The fans want Wrestlemania already.
Ed Doyle