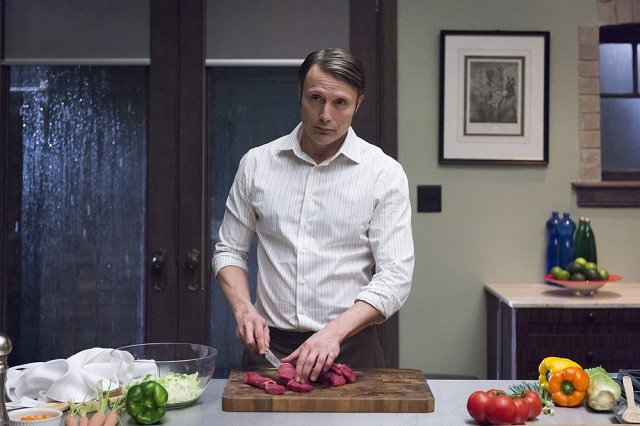 Among the more critically acclaimed network shows over the past few seasons has been the NBC series Hannibal. Developed by Pushing Daisies and Wonderfalls creator Bryan Fuller, the series, which follows the titular character of Dr. Hannibal Lecter, played by Mads Mikkelsen, began its third season roughly three weeks ago, to the excitement of many. Now news has emerged from NBC, however, that this ongoing third season will be the show's last, as the network has cancelled the series, with the third season finale to serve as the series finale.
The decision appears to be an amicable one, as Fuller had this to say as part of NBC's press release.
NBC has allowed us to craft a television series that no other broadcast network would have dared, and kept us on the air for three seasons despite Cancellation Bear Chow ratings and images that would have shredded the eyeballs of lesser Standards & Practices enforcers. Jen Salke and her team have been fantastic partners and creatively supportive beyond measure. HANNIBAL is finishing his last course at NBC's table this summer, but a hungry cannibal can always dine again. And personally, I look forward to my next meal with NBC.
The end of the show does not mean the end of Bryan Fuller's time on television, however, as his adaptation of the Neil Gaiman novel American Gods has already received a series order from Starz. There's no word yet on the subsequent projects of show leads Mikkelsen or Hugh Dancy.