We here at Sound On Sight like to release our list as late as possible in the year. The way I look at it, the list is meant to represent what our writers have watched and championed throughout the year, and so we allow our writers until the 28th of December to submit votes for their 15 favourite films in the hope of coming up with a list that truly represents the wide spectrum of movies we cover year-round. This late in the game, it is safe to assume that just about every other website has released their top picks, but we believe our list holds value, if only because it is comprised of over 50 hardcore cinephiles worldwide. That said, since our writers are spread out across the globe, it makes it difficult for a movie like Inherent Vice (which was released in only two North American cities during 2014 itself) to crack our year-end list. Chances are, once the film is released wide in January, it will sneak into our best of 2015 catalogue, but for now Paul Thomas Anderson's latest will not be making an appearance this year.
And so here it is – a mix of arthouse flicks, genre films, Hollywood blockbusters, and a couple of documentaries, because we here at Sound On Sight love movies, no matter how big or small, or mainstream or underground. A couple of mentions worth noting: Stranger by the Lake made our list last year as well. If you were to combine the number of votes from both years, it would have surely cracked our top 10. Also, only one of our writers was lucky enough to see The Strange Little Cat, a first-time feature by German filmmaker Ramon Zürcher. While he did place it at number one, it remains the most unseen film from our entire staff. All that being said, here is the list of our 50 favourite films of 2014.
****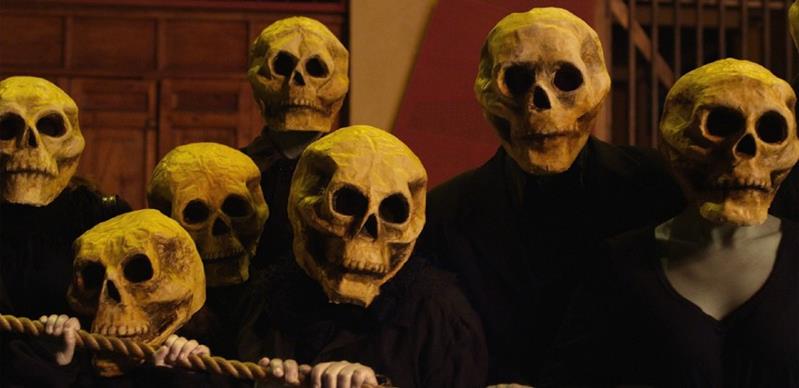 50. The Dance of Reality
If Alejandro Jodorowsky's name has been in the news as of late, it's largely thanks to Frank Pavich's excellent documentary Jodorowsky's Dune. While this is a fascinating and tantalizing examination of what might have been a stunning feature in the filmmaker's rather limited body of work, it should not distract from the films Jodorowsky actually made since the Dune debacle. This includes the 85-year-old's latest feature (which is teased at the end of the documentary), the autobiographical The Dance of Reality. This Fellini-esque chronicle of occasionally inflated childhood reminisces and the sociopolitical factors that form one's identity is a beautiful film, lovingly crafted, episodic though at times meandering, and certainly a passion project for its director. Jodorowsky calls The Dance of Reality, "A picture made with soul. My soul." And he was not alone. Accompanying him in the creation of this special work was his wife, Pascale, who did the costumes, and his two other sons, Adan and Axel, appear in the film as well; Adan also worked on the score. For anyone who has seen Jodorowsky speak passionately (like in Jodorowsky's Dune), it is clear that when he has great enthusiasm for something the results can be extraordinary. The Dance of Reality may not exactly be extraordinary, but for a filmmaker like Alejandro Jodorowsky, even a less than perfect movie is going to be unique and always at least worth watching.
– Jeremy Carr
49. Life Itself
Perhaps an even greater tearjerker than The Fault in Our Stars, Steve James' Life Itself is a celebration of the life of everyone's favorite film critic, Roger Ebert. James is unafraid to show Ebert at his worst, both in his behavior as a competitive and caustic journalist and former alcoholic, and in his physical condition undergoing suction from his throat as treatment for his cancer. While loosely based on Ebert's autobiography of the same name, Life Itself finds depth as a documentary exploring movies, film criticism, and, most notably, the people Ebert's life touched. Everyone from Errol Morris to Werner Herzog to Ramin Bahrani and Richard Corliss are on hand to pay their respects, and it's a touching remembrance whether you're a cinephile or not. But it's most importantly a film about Roger the man more so than just the critic, and James finds room for sweet stories about Ebert's Chicago Sun Times colleague Bill Nack and how Ebert came to be a father figure for his wife Chaz's children and grandchildren.Life Itself is the perfect tribute to Ebert's memory because it doesn't just fawn over him but it feels as though it is him. It's warm, loving and funny but also deep, critical and flawed. It's hard to say if Ebert would've loved this movie, but he would have known it all too well. – Brian Welk
48. Starry Eyes
The often told tale of a struggling actress seeking her first big break gets a new spin in Starry Eyes, from writing-directing duo Kevin Kolsch and Dennis Widmyer. This supernatural mood piece is equally influenced by the arthouse psycho-dramas of David Lynch and Roman Polanski, along with the Satanic panic movies of the 1970s and the body horror films of David Cronenberg. The 'starry eyes' in question belong to Sarah Walker, played by Alex Essoe who gives one of the year's best performances as the aspiring actress who pays a serious price for stardom. After a series of strange auditions with famed production company Astraeus Pictures, Sarah Walker finally lands the leading role in their newest film. The producer thinks she has a bright future ahead of her, but this once in a lifetime opportunity comes with bizarre ramifications. Kolsch and Widmyer's screenplay sends Sarah into a severe physical and emotional decline wherein success comes with an extreme personal sacrifice. The imagery is striking, underlying themes of transformation and reinvention all the way to the very gruesome and extremely bloody climax. Powered by by a tour-de-force performance from Essoe, sharp editing, and an 80s-style synth score by Jonathan Snipes, Starry Eyes is one of the best films of 2014, horror or otherwise. – Ricky D
47. The Rover
One of the most memorable moments in The Rover, a dystopian quasi-revenge thriller set in rural Australia, comes late in the movie, just before the climax. Rey (Robert Pattinson) sits in a car by himself, listening to Keri Hilson's "Pretty Girl Rock" as it plays over the stereo, even singing a few lines of the chorus in an unsteady falsetto. It's a ridiculous juxtaposition, shoving a pristine pop-song into a minimal, dirty and violent setting, but it works because the film takes it seriously, and so does Rey. He's trying to escape from this world he's in, a world that hurts and confuses him, a world where he feels lost and alone, but there is no escape for him. Nor, for that matter, is there any escape for Eric (Guy Pearce), a loner whose backstory unfolds slowly and without fanfare or even a character arc. They're just two desperate men in a terrible situation, trying to find some sort of peace that they know isn't out there. It's not a cynical film exactly, but it is a deeply melancholy one, and it finds its grace in the sad beauty of those small moments where the two men navigate a world that they find uncaringly hostile and overwhelming. – Michelle Arf
46. Jodorowsky's Dune
Director Frank Pavich doesn't just pay tribute to director Alejandro Jodorowsky's lunacy, but to the general lunacy that comes with the artist and his pursuit to create the ultimate masterwork he'd envisioned. Long before David Lynch gave the world his version of the novel Dune, Jodorowsky set out to create his own unique adaptation. It would embrace the inherent madness of the world conceived by Frank Herbert, but also change the way we looked at science fiction cinema.
Jodorowsky, who'd blown minds with his method of subversive and reality-altering cinema for years before hitting his stride with El Topo, took on the epic series of Dune in the hopes of molding the world's mindset regarding science fiction. He didn't want to make a movie, he wanted to build an experience that would warp us into a distant galaxy built upon decadent clothing, ideas way ahead of their time, and a slew of artists and actors Jodorowsky called his "spiritual warriors." He assembled an impressive crack motley crew of amazing visionaries, including Mick Jagger, Moebius, Pink Floyd, Salvador Dali, and H.R. Giger, to name a few, all of whom would contribute to the legacy of a film Jodorowsky was so passionate about that he even put his own son through torturous sessions of fight training and survival to master his role in the movie.
Jodorowsky is never shy about recounting his experiences creating his vision of Dune, explaining how his film would change the world forever, and recalls wonderful anecdotes. Among them are his chance meeting with artist Moebius and his angry shouting at the band Pink Floyd when, during a recruitment session with him, they chose to snack on McDonald's Big Macs. You garner a true sense of respect for Jodorowsky, who views his film as the one movie that would change the world, and was halted by shortsighted Hollywood producers. It's a fun and often mesmerizing look at a man whose vision likely would have transformed science fiction entirely, whether it succeeded or failed in theaters. If you're a filmmaker of any kind, Jodorowky's Dune is a must watch, if only for its insight into production and collaboration. – Felix Vasquez Jr.
45. Locke

Forget about superheroes, vampires, or countless other high-concept setups found in mainstream cinema; Locke is a film that reminds you how powerful the everyday world can be. In real life, even the smallest action can bring about devastating consequences. And if you are like most people, you have a preferred method for dealing with these unforeseen bumps in the road.
Ivan Locke (Tom Hardy) is a man who handles his problems one way: he likes to do what he believes is right. And when he says he's going to do something, he's going to do it. So when a woman whom he had a one night stand with calls and tells him she is going into labour with their baby, he puts everything else on hold—his family, his job, and his entire reputation—and decides to take responsibility for his actions.
As a film, the success or failure of Locke rests solely on Hardy's shoulders. Taking place entirely inside of a car, director Steven Knight does what he can to make the aesthetic somewhat stylish—lens flares, an emphasis on reflections—but in the end, it is Hardy's performance that engages our attention. From his controlled delivery to his subtle tics, Hardy sells us on a character who follows through on his word, and the more we learn about him, the more we realize how even the most disciplined of individuals can make mistakes.
44. The Guest
From the director of
You're Next
comes
The Guest,
a pretty crafty genre pastiche of 70s and 80s sci-fi/thrillers. There has been a bit of a debate here at Sound On Sight as to whether or not we should classify
The Guest
as a horror film. For my money,
The Guest
is a pulpy home-invasion thriller that transposes clichés from old movies about deranged Vietnam veterans to the post-traumatic fallout of the Iraq and Afghanistan conflicts. Like all the great thrillers before it,
The Guest
features a memorable movie villain, played to perfection by Dan Stevens who turns a soldier with PTSD into a compelling movie monster. Director Adam Wingard's previous genre entry,
You're Next,
was a traditional yet innovative home invasion slasher film.
The Guest
has bigger, broader ambitions and works hard to keep audiences guessing.
The Guest
delivers on everything — sharp dialogue, black humour, visual flair, a superb cast, a great 80′s soundtrack, the eerie synthesizer sounds of Steve Moore – and so much more.
– Ricky D
43. Borgman
The Dutch import Borgman is easily described as the latest entry in the increasingly popular sub-genre of the home-invasion thrillers – a cautionary tale that serves as a reminder of the often deeply rooted hatred that has grown between rich and poor. The film stars Jan Bijvoet as the titular character, a hermit who lives underground in the woods. The opening of the film hints that he may be the devil, but his cryptic motives tell us otherwise. Aided by a quartet of crooked companions, the drifter invites himself into a picture-perfect upperclass home, where he begins to slowly cast a spell on a family of five.
Alex van Warmerdam, an actor and director with almost no international profile, was put into the spotlight at Cannes last summer with the premiere of this hypnotic little thriller and its easy to see why. Borgman certainly has the makings of a cult film – its disturbing twists make it such a singular and unique experience. This is a fairytale in the vein of the Brothers Grimm, but it also belongs to the recent tradition of strange, allegorical European horror films such as the Greek arthouse hit Dogtooth. Some have even compared it to Pier Paulo Pasolini's 1968 classic Teorema, about a beautiful Christ-like figure who is welcomed into the house of a wealthy family, only to destroy it from within by seducing everybody, male and female alike. Van Warmerdam doesn't spell out an agenda in Borgman, preferring to keep things mysterious and ambiguous. The film constantly hovers on the edge of the fantastic and van Warmerdam deliberately gives us no answers. As things unfold, he slowly terrorizes the family using surgically etched tattoos, poison, and buckets of concrete. Clearly allegorical, but what it all means is left up to viewers to decide. – Ricky D
42. Our Sunhi
Hong Sang-soo's Our Sunhi is his fifteenth film since he began directing in 1996, and is about a young woman named Sunhi asking for a letter of recommendation from a film school professor so she can go to graduate school in America. From this banal starting point Hong weaves an intricate and deceptively simple narrative about male desire.
Sunhi is played by Jung Yumi, Professor Choi Donghyun is played by Kim Sang-joong, Munsu is played by Lee Sun-kyun and is a film director and Sunhi's ex-boyfriend. Jaehak is played by Jung Jae-young and is an acquaintance of Sunhi, he also knows Munsu but does not really like him, and is good friends with Professor Choi. Jaehak is also separated from his wife at the moment. Jaehak, like everyone else is the film is also a filmmaker but appears to be more established than Munsu. Jaehak is fairly dismissive of Munsu (maybe because he knows Munsu dated Sunhi) and is more friendly and generous to Professor Choi (maybe because he does not know Choi is infatuated with Sunhi). Hong interweaves several conversations between the four characters, repeating lines of dialogue, actions, and scenarios with subtle changes, challenging the spectator's memory of what they saw from earlier scenes as we learn about how these three men desire Sunhi.
What begins as a film about a reference letter on Sunhi's character opens up a male discourse on Sunhi. The title Our Sunhi perfectly captures what this film is about: three men continuously describing a woman but never fully comprehending her. – Cody Lang
41. Calvary
A close spiritual companion to Calvary could be found in Martin Scorsese's The Last Temptation of Christ. Neither film could be considered a faithful Biblical adaptation, but they offer more emotional charge and understanding than something that is straight from the good book. An institution as large as The Catholic Church cannot make penance, but one man can. And when that man is played by Brendan Gleeson, a film doesn't get much finer than that. – Colin Biggs
[wpchatai]