NCIS, Season 10, Episode 5: "The Namesake"
Written by George Schenck and Frank Cardea
Directed by Arvin Brown
Airs Tuesdays at 8pm (ET) on CBS
NCIS has given its audience numerous glances into the make-up of Agent Leroy Jethro Gibbs, each one brief but hefty with emotional detail ("Heartland" still ranks high on the list). In fact, most viewers can all but read his mind by now. Despite the many episodes that have worked to fill out what started as a blank slate, "The Namesake" offers even more insight with another genuine look into the past. Serving as more than a simple explanation for Gibbs' name, it steps away from the present to personalize a lifetime of grief and elaborate on the dividing effects of love.
The death of a petty officer in a stolen Ferrari takes center stage as the case of the week. Discovering the murder weapon at the crime scene, Tony treats Ziva to a reference to The Godfather in a scene that jump-starts a constant stream of lively team moments, from Tony's disappointing take-out order to Ziva's scrutiny of American college life.
Tony and Gibbs drop by a pawn shop to track down the previous owner of the gun used to shoot the victim. In a subtly amusing instant, Tony embraces his inner has-been rocker in his admiration for a guitar while Gibbs finds a Congressional Medal of Honor that was awarded to a man named Leroy Jethro Moore, Gibbs' namesake and his father's former business partner and childhood friend. Concerned by the unusual misplacement of the medal, Gibbs attempts to track down Moore.
Billy Dee Williams enters the picture as Moore, a person whom Gibbs knows only by their shared name as a man whom his father associates with painful memories. Upon meeting for the first time, Gibbs and Moore relate not only in their name, but also in their multiple marriages, honorable military careers, and a tragedy that lies at the root of the feud between Moore and the elder Gibbs.
Ralph Waite (The Waltons) returns as Jackson Gibbs, who reluctantly gives his side of the story after his son phones him for answers. Mark Harmon and Waite always do well on screen together, but their performances here are especially devastating. Jackson Gibbs tells the real story of his wife's death, which his son reveals to already have known for some time. The real blow comes when elder Gibbs blames Moore for the death of his wife; she had confided in Moore about her suicidal urges but he never used the knowledge to try to prevent her from acting upon them. Jackson feels betrayed by his friend, his wife's chosen confidante, and his wife, whose death raised several questions concerning the legitimacy of their relationship. Moore tells Gibbs that he loved his mother but returned from the war in time to see Jackson marry her instead. After Ann Gibbs' death, both men not only lost the love of their life, but a friend in each other. As surprised as Gibbs is by the unfolding truth, he still pushes for reconciliation between his father and Moore, even going so far as to set up a confrontation in his basement (anywhere else would have been sacrilegious).
Moore's character is made all the more interesting when the team researches him and discovers he served as a Montford Point Marine and was awarded a medal of honor fourty years after he ended his military duty. Though the character is fictional, this aspect of his life is based on fact. The episode ends with a captioned tribute to the real-life Montford Point Marines whose service was left unacknowledged for years before they were eventually honored for their contributions to American military efforts. The end credits are bound to leave many viewers with a new-found appreciation for the group of patriots whose unrewarded sacrifice was eventually honored by their country.
The team checks in with Gibbs, but concentrates on the case at hand. Further inquiries lead to a billionaire entrepreneur, the owner of the Ferrari and the former employer of an intellectual genius named Alec Dell (Jake Thomas). Dell originally intended to kill his ex-boss, but ended up shooting the petty officer, who was joyriding in the sports car belonging to the business mogul at the time. Case closed.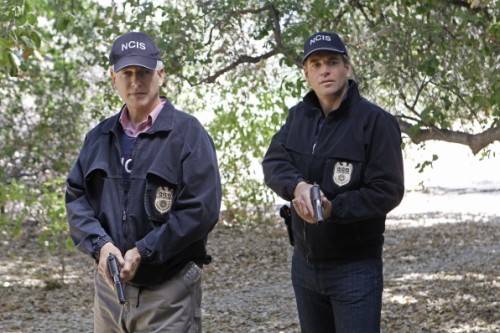 A few issues that could be made of the murder plot are its irrelevance to Gibbs' story and sudden resolution. The genius, Alec Dell, taking revenge on his former employer for taking credit for an idea would have fit more seamlessly with a McGee episode. Similar to the Criminal Minds episode in which Matthew Gray Gubler's brilliant-minded character struggles with his sense of worth, the comparison between McGee and Dell could have built upon a mutual frustration. NCIS' 200th episode, "Life Before His Eyes", also included an awkward parallel plot to Gibbs' shooting with a sidestory about McGee's potential transfer. Even though some episodes could use a subplot switch, "The Namesake" plays out the best it can with the material.
In order to humanize an ensemble cast of characters, television shows frequently delve into the personal lives of their leads, whether it's through a "filler episode" that stands alone in its story or one of many episodes that create a seasonal arc or that continue to build upon a recurring subject. In this case, the writing duo of George Schenck and Frank Cardea have managed to both add to the complicated history of the show as well as create a self-contained episode that gives each character a time and a place to shine brighter than they have all season. The ties the show has to the Navy and other military branches are evident in its attention to detail. The time it takes to pay tribute to a generation deserving of respect and admiration is in itself admirable.
Amanda Williams