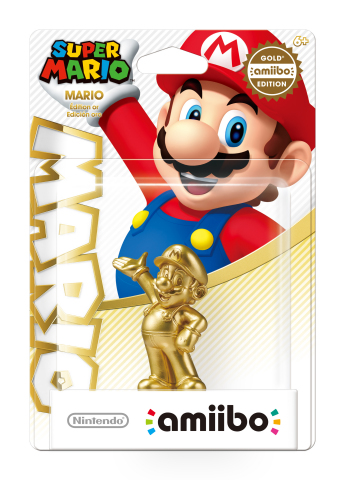 A few weeks ago, an image for a Gold Mario amiibo advertised in a Walmart flyer popped up online and had Nintendo fans speculating a release of the new amiibo exclusive to Wallmart. Now, Nintendo of America has issued a press release confirming the toy will be exclusive to the retailer and will be bundled with copies of Mario Party 10 on 20th March for a limited time. Amiibos have quickly become the hottest selling toy world-wide, with scalpers selling individual figures for outrageous pricing as high as $150 each. So if you are a collector, be sure to get your hands on Mario Party 10 right away, since it is sure to sell out.
The press release below has further information:
Nintendo News: Nintendo Gives Fans a Golden Opportunity to Own a Cool New Mario amiibo

Super Mario amiibo – Gold Edition available on March 20 exclusively at Walmart

Mario has always been golden in the minds of his fans. On March 20, Nintendo will launch the Super Mario amiibo—Gold Edition, a shiny gold-colored Mario figure that arrives on the same day as the Mario Party 10 game for the Wii U console. The Super Mario amiibo—Gold Edition will be sold exclusively at 3,000 Walmart stores in the U.S. at launch at a retail price of $12.96.

Super Mario amiibo – Gold Edition will be available on March 20exclusively at Walmart (Photo: Business Wire)

Nintendo's amiibo are interactive toys that come to life in compatible games in different ways. This new golden figure represents the third Mario amiibo. The other two Mario amiibo are:

The original 'fireball' Mario from the Super Smash Bros. series.
A new 'wave' Mario from the Super Mario series available on March 20, for a limited time bundled only with Mario Party 10.

The new gold-colored Mario amiibo is compatible with multiple games that support amiibo. For example, Mario Party 10 features a new amiibo Party mode that players can only access by tapping their compatible amiibo figures on the Wii U GamePad controller to customize them and bring them into the game as board pieces. Players can also save items to their amiibo, then use them strategically. Or players can train their amiibo to supercharge its stats and expand its abilities in Super Smash Bros. for Wii U orSuper Smash Bros. for Nintendo 3DS. The full list of compatible games and amiibo can be found at http://www.nintendo.com/amiibo/compatibility.

For more information about amiibo, visithttp://www.nintendo.com/amiibo.
Chat Box - Go ahead, make my day and ask me questions about movies and TV shows...