Mr. Turner
Written and directed by Mike Leigh
UK, 2014
The oft-down on his luck Benjamin Hayden (Martin Savage) argues against his fellow artists at the Royal Academy when his portrait of a donkey is placed in the "Anti-Room", a nevertheless prestigious place to view some great work that just missed the cuff of masterpiece. For him, it's the room where the bastard children of artists go, unworthy of being presented with the rest of the masters in the main room, which, when not plastered wall to wall with frames tightly packed in side by side, is painted red with the passion that Hayden and his colleague Turner have. But he shouts at them, his peers seeing the portrait of a donkey, of all things, as unworthy of their time. He bellows, "What does it do to elevate the art?"
He is referring to portraits of people, which it is implied that Hayden was more favored for than his renderings of different animals (horses, donkeys, etc). Hayden's intentions were to juxtapose these supposed beasts against the humans, both, presumably, capable of similar depths of humanity. But he seemed to be bored with portraits of humans. And Mike Leigh is seemingly bored with conventional biopics of humans as well, they themselves portraits in a different medium.
Leigh has noted that the work of famed English painter J.M.W. Turner (Timothy Spall) was "cinematic" and his life had yet to be brought to the screen. It's ironic, then, that Mr. Turner is un-cinematic, arguably in a deliberate sense. Turner's paintings bring a sense of epic scale and breathtaking size to them, and Leigh's film, in comparison, is small, intimate, painterly. Though Turner's palette is recreated aesthetically, tonally and narratively, there is a closeness that is created. It's almost like the bond between painter and the work he produces. While other biopics feel the need to walk the same narrative line, every single beat predictable (rise and fall and rise again), Mr. Turner is comfortable with a meandering style and pace. We get to follow the painter's life as if we were living it. It's calm, but not inert. There is a presentness to every moment.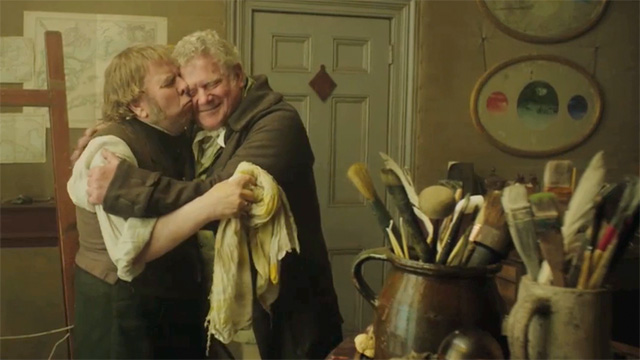 Leigh is arguably perfectly aware of his mild subversion of the biopic. Though it's not as experimental as something like Paul Schrader's Mishima: A Life in Four Chapters or Todd Haynes' I'm Not There, there's a consciousness to the framing. Everything is a frame. There are frames within frames, often being viewed from the perspective of Turner himself. Every door frame, window pane, etc. gives us another painting within a painting. As Martin Scorsese said, "Cinema is a matter of what's in the frame and what's out."
And each frame of the film is gorgeous, imbued with amber glow and soft but penetrating light. Cinematographer Dick Pope seems to basically recreate that pure evocation that Turner's paintings were capable of. (Some of the film might remind one of Stanley Kubrick's Barry Lyndon, with its low lighting but perfectly orchestrated tableaus.) So it's interesting that Leigh should have two different mediums existing almost pleasantly with one another. The title sequence, which has paint enter and blend with water, works as an articulation of that: art and film are not water and oil, but water and ink, things that can blend and meld and become something new and inform one another.
There's an expansiveness to the emotionality of Spall's performance, similar again to his paintings. His gruff, guttural line readings, his carefully naturalistic mannerisms and idiosyncrasies, and the tears he sheds are a work of art in and of themselves, allowing Leigh and Spall to create a portrait of a man that does seem to elevate the art in some way. Leigh isn't bent on building up Turner, tearing him down, and building him up again as so many biopics are prone to do; J.M.W Turner just is. Flawed, powerful, generous, and one hell of an artist.
– Kyle Turner
Visit the official website of the New York Film Festival.
[wpchatai]