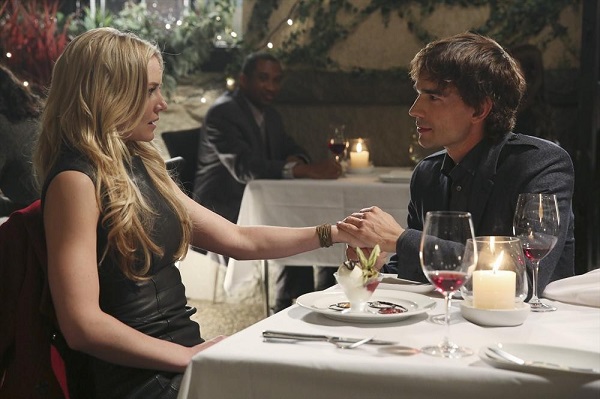 Once Upon A Time, Season 3, Episode 12: "New York City Serenade"
Written by Edward Kitsis & Adam Horowitz
Directed by Bill Gierhart
Airs Sundays at 8pm (ET) on ABC
After an almost three month hiatus, Once Upon A Time returns with a wicked vengeance. We pick up a year after the last events, in which Regina had sent everyone back to the Enchanted Forest and given Emma and Henry a new life.
"New York City Serenade" shows us that the writers still have several tricks up their sleeves and are ready to redeem themselves for the first half of season three. The episode mostly focuses on Hook coming to New York in attempt to jog Emma's memories. Aside from the backstory in the Enchanted Forest, Jennifer Morrison has to carry this episode herself, and she does so extremely well. Looking back from season one to now, Morrison has come quite a long way in her portrayal of Emma. It is exciting to see Morrison and Jared Gilmore play off of one another, especially since they did not have very many scenes together in the first half of season three.
The writers have to be commended for their work on "New York City Serenade". The first half of season three suffered from bad pacing and drawn out storylines, and got flat out boring in Neverland. In taking us back to the place that was once the center of the show, Storybrooke, the writers are attempting to recapture the magic of season one.
Props also need to be given to the CGI department as well as the makeup department. The flying monkeys look creepier than ever, scarier than any Oz production so far and the reveal of the Wicked Witch at the end of the episode is fantastic. Once has been in need of a new challenging foe for the characters, especially now that Regina has mostly become a bad-good guy. Hopefully the writers will handle the storyline of the Wicked Witch delicately and actually set her up to become a worthy opponent to our heroes.
The episode, of course, ends with a cliffhanger. Emma, after drinking a potion, returns to Storybrooke and discovers her parents are still there, not remembering anything that has happened within the last year. It is also revealed that Snow is pregnant with another child. And even though Emma remembers everything, Hook only got his hand on one potion; Henry really has no idea what is going on. It'll be a nice reversal of season one, with Emma now trying to convince Henry of the truth.
All in all, "New York City Serenade" kicks off the second part of season three with a bang. If the writers can keep up the pace and suspense that this episode brings, then it has the makings to be a perfectly wicked second half.
Josh Bouye