You probably recognize Ali Skovbye from Netflix's Firefly Lane, but she appeared on many TV series before her Young Tully character. She has made guest-starring roles on numerous shows and played a supporting role in a major movie. This Canadian actress already has more than a decade of experience under her belt, but this young actress is just getting started.
1. Her birth name is Alissa Skovbye.
She registered with SAG/AFTRA using her nickname Ali and her family name of Skovbye.
2. Ali developed a close friendship with actress Roan Curtis while working together on the set of the Netflix series Firefly Lane.
On the show, the duo plays best friends with Skovbye in the recurring role of young Tully Hart. Actress Catherine Heigl plays adult Tully.
3. She began acting at aged four, inspired by her older sister, Tiera Skovbye of the TV show Nurses.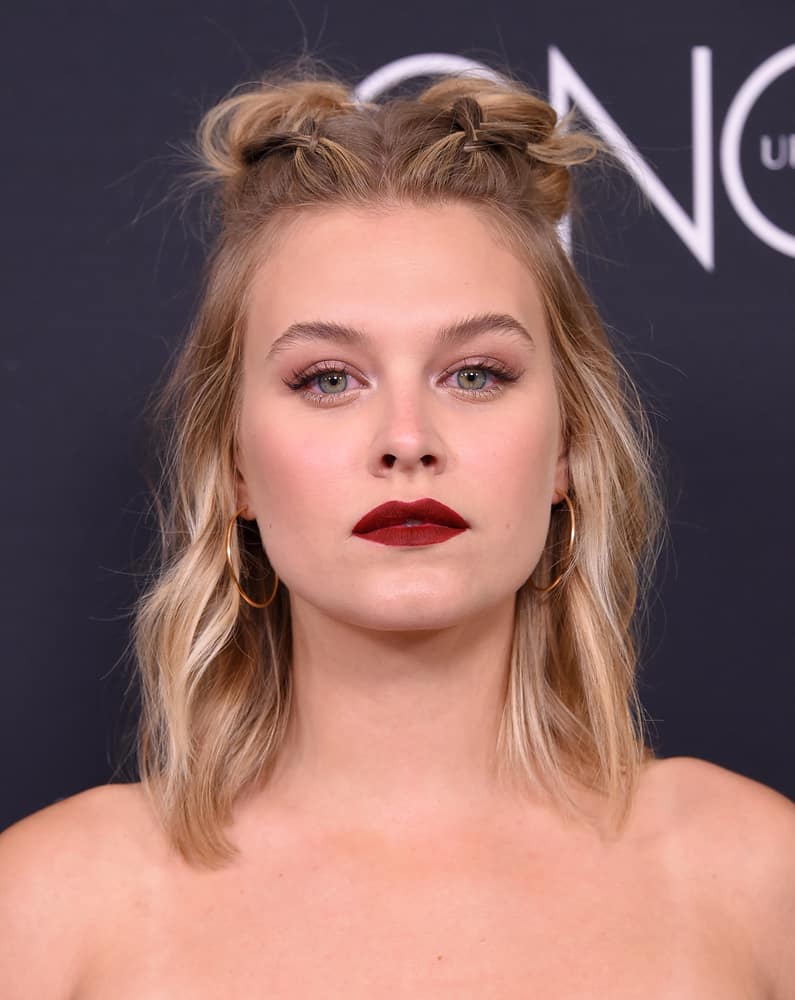 Ali, shy as a child, wasn't interested in acting. She went on auditions because she "wanted to be just like [her] older sister," she told Hollywood North Magazine. Ali Skovbye's first role was in a television commercial.
4. The actress made her big-screen debut the following year.
In 2009, she appeared in the Ashton Kutcher and Michelle Pfeiffer film Personal Effects. The five-year-old then moved to TV.
5. The younger Skovbye actress has landed roles on the television shows Supernatural, Smallville, Fringe, Falling Skies, and Once Upon a Time.
6. She has appeared in many Hallmark Channel productions including network series and movies.
Many people consider her role of Becky in Hallmark's When Calls the Heart as her breakout performance.
7. In the 2017 Lifetime film, Secrets of My Stepdaughter, Ali and Tiera Skovbye played sisters.
Although not much of an acting stretch, it did give the sisters the opportunity to work together. Since they are seven years apart in age, those opportunities remain rare.
8. Both of the Skovbye sisters played characters on the show Once Upon a Time, but they appeared on the show at different times.
9. Ali had to color her hair for her role in Firefly Lane.
Young Tully has dark brown hair. Ali is a natural blonde. She posted to her Instagram about the vast change and discussed it in interviews.
10. Ali prioritizes her education, so despite landing a starring role in a TV show, she remained enrolled in high school.
She graduated on time in June 2020 from King George Secondary School in Vancouver at age 18. She also made it to her high school prom.
11. Her birthday is May 16, 2002. She's a Taurus who was born on a Thursday.
That's the same day in 1920 that Joan of Arc has canonized a saint.
12. She was born in Vancouver, British Columbia, Canada, where she still makes her home.
She has resided with her parents for most of her career.
13. At present, Skovbye stands at 5'8″, but the human body continues to grow until age 20 to 21, so she could become taller. Her sister is 5′ 10″.
14. Ali is a martial artist.
She earned a yellow belt in Karate. Actors and actresses often learn a sport or extra talent to use in roles. Casting directors look for actors who already know the special skills needed for a film, so Ali has an edge when auditioning for any action movies or films with fight scenes.
15. She and Tiera's uncle is musician Kim Skovbye, who scores films as well as recording his own work independently.
He lives in Copenhagen, Denmark, where much of the sisters' family still resides.
16. She has dark brown eyes.
That's the most common eye color, but also makes people the hardest to read.
17. Her mom's name is Tine Skovbye.
The sisters do not reveal their father's name. Both actresses speak positively about their parents if asked but neither sister volunteers information.
18. As Ali grew taller, she also entered modeling.
You can see her photoshoots in many magazines, but her first was with her older sister when she was only eight and big sis was 15. It was for Germany's My Style magazine.
19. She does not count on on-the-job training as an actress.
On top of her high school classes and a full-time shooting schedule, she also took acting classes. She still studies acting although she graduated from high school.
20. She has three agencies representing her — Vancouver's Play Management, Inc. and Los Angeles's Primary Wave Entertainment for acting, plus Toronto's NEXT Models for modeling.
Actors and models must list these types of body modification as well as tattoos on their resumes, the back of their headshots, and their composite cards also called comp cards.
22. She loves to play volleyball.
It's her team sport while karate is her favorite individual sport. Ali is very athletic.
23. Despite playing dark characters, she loves Disney movies.
Her love of comedy does not extend to the roles she plays though. In her off time, she watches what everyone else her age does.
24. She's stated she is straight.
After some international websites intimated that there was a question about her sexual preference, she openly stated that she is straight.
She seems to favor her Instagram and posts to it most frequently. She's also an active commenter on her friends' Instagram accounts.
For now, catch Skovbye on Firefly Lane. Also, look for her to make films in the future since this talented young lady is only just getting started in her career.