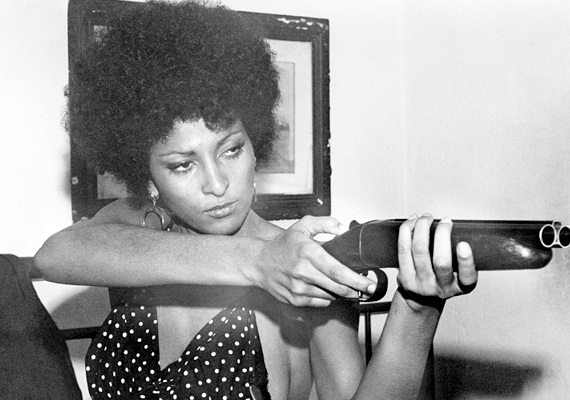 Pam Grier: Blaxploitation's Queen Supreme
NEVER FEAR, PAM GRIER IS HERE! Pam Grier started her career in a number of women-in-prison films which lead to a fruitful stint of starring roles in Blaxploitation cinema. Grier created an intelligent, sensual, and tough on-screen persona with her starring roles, the likes to which few actresses are comparable. She has since gone from Blaxploitation to a forty-year career spanning film and television. She has worked with such great filmmakers as John Carpenter, Tim Burton, Jack Hill, and Quentin Tarantino – whose own film Jackie Brown is a love letter to both Grier and Blaxploitation cinema. Here is a look at the top five films of Grier's early seventies work: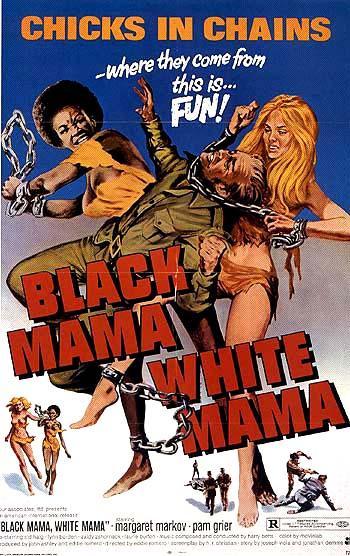 # 5 Black Mama, White Mama 1973
Written by H.R. Christian, Joe Viola, and Jonathan Demme
Directed by Eddie Romero
"A terrorist and a hooker…you two should have a lot to talk about."
This is a women-in-prison film (WIP) aimed at a racially diverse audience. Most WIP films are, but this film is intentionally titled for such appeal. Grier stars as Lee Daniels, a tough, cynical woman locked up on a tropical island for being involved with her drug-dealing boyfriend. Daniels breaks out with fellow prisoner, Karen Brent (Margaret Markov), a guerrilla terrorist on the island. The two women have opposing political ideas and spend majority of the film chained to one another as they trek across the humid Filipino terrain.
Black Mama, White Mama is more of a jailbreak film than an WIP film, all the prison scenes are in the first act. The story focuses on the unlikely pairing of Daniels and Brent as they become partners on the run. The film's most memorable scenes come from Sid Haig's Ruben, a sleazy cowboy bounty hunter.
The film does however make its social comments, albeit late in the run time and in a single conversation where the two women discuss their revolutions. Brent's is for the island. Daniels' is for her race. Black Mama, White Mama is more accessible than most WIP films, emphasizing the characters more than wasting time between nude shots.
#4 Friday Foster 1975
Written by Orville H. Hampton and Arthur Macks
Directed by Arthur Macks
"You treat a person like a person… and a woman like a woman. "
The tender, softer side of Grier shines as she stars as the ex-model photo journalist Friday Foster. Gone is all of the bold, tough swagger and attitude of her previous films. Foster is gentler and less aggressive, but by all means this does not hurt Grier's on-screen persona. She's still smart, witty, and solves the cases at the end of the day. Most of the action goes to Grier's co-star Yaphet Kotto, whose most memorable stand-off is as he goes toe-to-toe with a young Carl Weathers.
#3 Foxy Brown 1974
Written and Directed by Jack Hill
"You tell me who you want done and I'll do the hell outta 'em."
Grier and Jack Hill worked on four films together and this reworked Coffy sequel was their last collaboration. Grier graces the screen in a different outfit in every scene and has shows no mercy to her antagonists. The revenge film is the staple of Grier's blaxploitation career and this film delivers plenty of brutal retaliation. Often chastised as being a lesser film than Coffy, but is by this point in history more famous of the two having gone on to influence the film Jackie Brown and the character of Foxxy Cleopatra in Austin Powers in Goldmember is a tribute to both Foxy and Cleopatra Jones.
Ultraviolent and slim on story, Foxy Brown pays off with some great character acting from Grier and two of her finest co-stars Sid Haig and Antonio Fargas. Haig is at his comedic height as a low-end pilot and Fargas is as slippery as ever as Foxy's brother Link. Fargas delivering a monologue about him being too unskilled, untalented, and unattractive to make it in a white world is some of Hill's best dialogue, as well as some of his most on-point social commentary.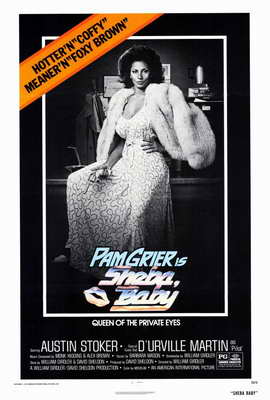 #2 Sheba, Baby 1975
Written by William Girdler and David Sheldon
Directed by William Girdler
"Now, what's that done to your masculinity?"
Grier's final film in the Blaxploitation canon is, as always, action-packed. Private detective Sheba Shane returns home to assist her father in his struggle against a mob take over. The film is another revenge-themed star-vehicle for Grier and it borrows a lot from Coffy and Foxy Brown (how many times do Grier's characters disguise themselves as prostitutes?) but this film holds the action over everything else. In two action scenes–the carnival and boat chases–that show off Grier's physical capabilities, she is on a par with any male action star to date. She's as tough as ever as Sheba – whether holding someone's head over a roller coaster track or out the car window in a drive-thru car wash – Grier does not let the audience forget that she is one of cinema's ultimate badasses.
#1 Coffy 1973
Written and Directed by Jack Hill
"This is the end of your rotten life, you motherfucking dope pusher."
Coffy is one of the meanest, grittiest revenge films to come out of the 1970s, Blaxploitation or otherwise. Less than ten minutes in, Grier is already blasting pushers away with a sawed-off shotgun. She reveals a tremendous amount of vulnerability in Coffy's character as she explains herself and her situation to a pusher before she vengefully injects him with smack, claiming "You're gonna fly through them pearly gates with the biggest fuckin' smile Saint Peter ever seen!"
Coffy is the highest point of the Hill/Grier collaboration. As in all of these films, Hill also collaborated with the great Sid Haig. His character of Omar is heavy gold. The scene in which he drags King George behind his car through the streets is cinematic violence at it's most brutal.
Roy Ayers's score is set apart from all other soulful Blaxploitation scores as Ayers reaches back to his jazz roots as well as using contemporary funk styling. Listen to the vibraphone solo in the title track to hear Ayers' talent or Aragon a contemporary funk track that starts the film's quick pace.
As with most of Grier's top-billed roles, Coffy is a strong and independent woman. She obtains information by using her resources and sees all of her goals to the end, never answering society's calls for "traditional" gender roles. Grier's characters rival those of Charles Bronson or Clint Eastwood for the right to be hailed as cinema's most badass personas.