Film scores are pretty ephemeral to a large chunk of the movie-going populace, where music isn't noticeable unless a triumphant fanfare or sweeping ballad draws enough attention to itself. So if scoring is already the film industry's unappreciated middle child, how silly is a list about ones that haven't been released yet? Very silly. Oftentimes, composers don't even sign with a project until well into production, so speculating on the best film music of 2015, like any year, forces one to work with what's known. Sound on Sight will offer more in-depth analysis on the most buzzed about music as the year rolls on but for now, here are the ten movie scores I'm most excited to hear in 2015.
10. The Walk — Alan Silvestri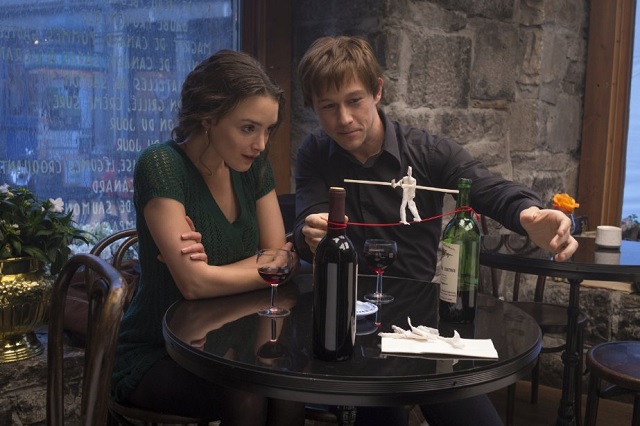 Alan Silvestri's last great score was for a TV show, and his last great film score was for one of the more forgettable Marvel entries. But this year, he's working once again with longtime collaborator Robert Zemeckis, who extends his streak of projects nobody asked for with a dramatization of
Man on Wire
starring Joseph Gordon-Levitt as Philippe Petit. We'll have to wait and see whether Zemeckis' whimsical tendencies play well with a man's 1974 high-wire walk between World Trade Center towers. At the very least, a re-teaming of the geniuses who gave us the
Back to the Future
team might be the only ones who can save us from the onslaught of "30 years later" think pieces.
9. Carol — Carter Burwell
The longtime Coen Brothers muse has kept a low profile since 2012, providing original music for Olive Kitteridge and a scant three films. The Coens' next project, Hail Caesar!, isn't due for over a year still but Burwell's wasting no time getting back into things including scoring Todd Haynes' Carol. Haynes has made a name for himself telling stories about the overlooked and misunderstood so the symmetry with Burwell's own disappearing act seems poetically appropriate.
8. The Light Between Oceans — Alexandre Desplat
You couldn't pay me to listen to Faith No More, but Mike Patton's elongated compositions in The Place Beyond the Pines are beautiful and storied in all the ways the movie isn't. So when Patton didn't return to score Derek Cianfrance's next picture, an adaptation of M.L. Stedman's novel about a couple who find a newborn and a dead man in a stranded tugboat, nobody sighed longer or harder than me. Then again, when your consolation prize is the hottest composer in Hollywood, everything is probably going to be okay.
7. St. James Place — John Williams
Look, we're all excited for new Star Wars music. All of us. My dad's excited for new Star Wars music, and he still thinks American Graffiti is the only worthwhile thing George Lucas ever did. Besides, a little Cold War espionage never hurt anyone. Except maybe Tom Hanks, who stars as an American lawyer tasked with negotiating the release of a spy from Soviet control. The Maestro has turned in great period scores before with the likes of Amistad and Memoirs of a Geisha, and even if Williams' umpteenth collaboration with Steven Spielberg looks like it's more Munich than Catch Me If You Can, it's not like either of those are bad outcomes.
6. The Little Prince — Hans Zimmer

Zimmer's work on The Lion King channels the better angels of his impulses, and his collaborations with John Powell are hands down the best thing the Kung Fu Panda franchise has going for it. Gloomy efforts with Warner Bros. have given him an unfair stereotype, but Hans Zimmer is no slouch when it comes to animation, so it's going to be fun seeing what he devises for Antoine de Saint-Exupéry's timeless novella about a stranded pilot and the boy who fell from the sky. The Amazing Spider-man 2 proved The King of Bombast is still willing to take risks, and Interstellar showed those risks can pay off.
5. Spectre — Thomas Newman

Skyfall brilliantly deconstructs the Bond character without betraying his alternately sexy and goofy roots — and that's in no small part thanks to Thomas Newman. His score combines nostalgia with an attention to action and exoticism to form one of the best scores in a franchise built on the shoulders of John Barry (and that's saying a lot). Newman hasn't been himself as of late — his score for Saving Mr. Banks is more like a parody of the composer's fanciful inclinations — but perhaps these rumors of 007's longtime nemesis returning to the series will be a rallying cry for the man who gave us the essential winter doldrums soundtrack in Road to Perdition.
4. Inside Out — Michael Giacchino
Some of the best work in Giacchino's filmography has a "Pixar" label attached to it: an Incredibles here, an Up there. Inside Out, a colorful literalizing of the abstract emotions in a little girl's brain, is shaping up to be the animation juggernaut's most ambitious project in sometime. Regardless of whether we get a Cars or a Ratatouille, Giacchino has shown he can transcend even the sketchiest of blockbuster material with an A-grade score and C-grade track names. Oh, just imagine the puns!
3. Ex Machina — Geoff Barrow & Ben Salisbury

Alex Garland's already penned fanboy-friendly scripts in 28 Days Later, Sunshine, and Dredd. Now Danny Boyle's confidant is striking out on his own to direct this pet project where Domhnall Gleeson shares a retreat with his company's reclusive CEO (Oscar Isaac) to perform a "Turing Test" on a lifelike cyborg. The premise already sounds promising, and sweetening the deal are composer Ben Salisbury and Portishead's Geoff Barrow. The two already have a collaboration in their epileptic tribute to Dredd's Mega-City One, and Intrada Records' Bandcamp teaser promises a chilly, hypnotic blend of instrumentals.
2. Z for Zachariah — Heather McIntosh
One of Sundance's undisputed crowd-pleasers this year, Craig Zobel's post-apocalyptic tale throws out skyscraper rubble and dreary skies for vast landscapes and New Zealand's lush greenery. That the guy behind Compliance is once again treading his own path should be no surprise — and that goes double for bringing back Heather McIntosh. One of the most under-the-radar composers in the game today, McIntosh's demented chamber music gives Compliance an unnerving, skin-crawling uncertainty and with any luck, Z for Zachariah's human drama between survivors Margot Robbie, Chiwetel Ejiofor, and Chris Pine will be anything but a cookie-cutter love triangle on the fringes of civilization.
1. Fantastic Four — Marco Beltrami & Philip Glass
When the announcement hit that Philip Glass would be joining Marco Beltrami on scoring duties, Fox should have followed their news bomb by re-titling Josh Trank's reboot of Marvel's First Family to "Fantastic Two." Glass's dependably minimalist work ranks up there with the best in modern film music, and Beltrami reminded us he has a dexterity of his own
with one of the best scores of last year
. The rest of this movie could be absolutely abysmal but there's so much promise in this duo alone that anything on the horizon pales in comparison. Okay, except new
Star Wars
music.
Chat Box - Go ahead, make my day and ask me questions about movies and TV shows...