Peaky Blinders
Created by Steven Knight
Season 1 premiered on Sept. 12th, 2013 on BBC Two
Season 2 premiered on Oct. 2nd, 2014 on BBC Two
Seasons 1 and 2 released by Netflix in Sept. and Nov., 2014
"Thomas, you're a book maker, a robber, a fighting man. You're not a fool"
The first time we see Cillian Murphy's gangster Tommy Shelby, he's riding a white horse through a small neighborhood in Birmingham, England. The town is seemingly deserted, with most of its citizens hiding from him, from his reputation. It is one heck of an entrance, not just for the character but for the show. Peaky Blinders has the dirtiest, grittiest, and most enthralling tone of any show of 2014. First premiering in 2013 on BBC Two, the series has since been acquired by Netflix. It's a fitting move, considering Netflix is perfect for binge watching and the best way to watch a show like Peaky Blinders is one episode after another. Beginning just after World War One in 1919, Peaky Blinders follows the family gang of the same name. The Shelby brothers eventually come to the attention of an equally brutal and righteous Chief Inspector Campbell (Sam Neill), who has been sent by Winston Churchill (Andy Nyman) to stop an uprising in Birmingham and recover guns that had been stolen. This Churchill isn't the hero of World War Two yet, he's a man who warns Campbell that if he has to bury bodies in England, he'd better dig the grave deep.
The entire first season, just six episodes, is so rich, so dense that it's absolutely intoxicating, led by an extraordinarily layered performance by Murphy, who gives Tommy much more to do than be a blandly dark anti-hero. When the show first begins, Tommy has returned from the war, struggling with memories of the battlefield, dabbling in drugs, and intentionally cutting himself off from everything besides "work".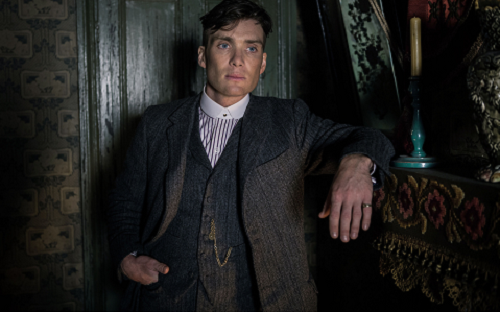 It's clear from that first scene that Tommy is a dangerous man, cold and ambitious. But what's so wonderful about Murphy's portrayal is that he shows the audience why Tommy's so cold, what has driven him to adopt this icy persona. It's not just Murphy; the entire Shelby family is exciting. A prime example is Paul Anderson's portrayal of eldest brother Arthur, the family leader. Arthur is just as tough and brutal as his brother, Tommy, but he doesn't have the latter's ambition and is happy with the business that the family has already created for themselves. His desires for the future seem to be limited to their small neighborhood and the control they have over it. Watch him when the show first begins and you'll see how complex each character is allowed to be. Season two continues the show's strong track record with the introduction of Tom Hardy as fiery rival Alfie Solomons. The series is also aided by exceptional performances by the women of the Peaky Blinders gang, who hold their own in this dark world, including Helen McCroy as the brothers' tough Aunt Polly and Annabelle Wallis as the secretive Grace.
In just a matter of a few years, Netflix has undeniably changed television, not just in the way it delivers programming but with the types of television it produces. From campy horror (Hemlock Grove), to addictive political intrigue (House of Cards), to historical drama (Marco Polo), they seem to have dabbled in just about everything and starting in 2015, that will expand to include a high profile slate of Marvel universe superhero adaptations (Daredevil, Jessica Jones, Iron Fist, Luke Cage, The Defenders). More interesting is Netflix's revival of shows like Arrested Development, The Killing, and Longmire, as well as their acquisition of spectacular British shows like The Fall, Black Mirror, and of course, Peaky Blinders. Netflix has provided a unique platform to explore and discover these types of shows but even among this diverse and memorable field, Peaky Blinders stands alone as something entirely different. While it is a character-driven family drama/gangster epic, settings not unfamiliar to fans of prestige television, it never feels false or clichéd. Through its exceptionally clever writing, great acting, and fierce tone, Peaky Blinders is making an indelible impression on Netflix and television drama in general.
Tressa Eckermann
[wpchatai]