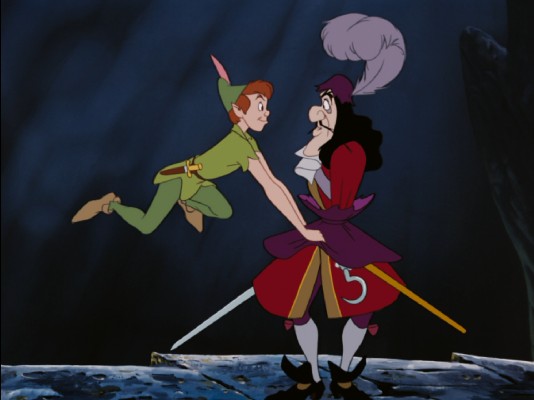 It's been 60 years to the day since Peter Pan, the Walt Disney animated classic, opened in theaters nationwide. So what better way to commemorate the birthday of the boy who wouldn't grow up than by checking the film out on Blu-ray for the very first time? That, at least, is the thinking behind Disney's decision to release the Diamond Edition of Peter Pan today, hoping to remind children of all ages of this iconic animated entry. A few movie-specific issues aside, this is a fully packed home media release, a massive new Blu-ray, overstuffed with special features, even if some of them might be too familiar.
The story of how the always-young Peter Pan takes three British children to the fabled island of Neverland and their exciting adventures against the villainous pirate Captain Hook is one of the most familiar of the last 100 years. Who among us can't immediately recall its classic scenes, from Pan trying to harness his shadow to teaching Wendy, John, and Michael Darling to fly with happy thoughts and pixie dust? Disney's version is filled with some of the company's most memorable songs, as well as a few they'd probably like to forget. (On the latter point, consider how many times you've sung "What Makes the Red Man Red" aloud or had that tune stuck in your head. The answer's likely close to zero. The sing-along option on the Blu-ray offers most of the film's music, but not this song. Hmm…wonder why.) The Diamond Blu-ray release is among Disney's finest, if only because they show the film plenty of love and respect. The problem, really, is that the number of new special features on this release is minimal. It's nice to see Disney fill its home-media releases with supplements, but it's almost as if they used up all the good ideas for the Platinum DVD release, or assumed they did.
If you own that two-disc edition, many of the features here will be old hat, from the audio commentary—not the typical kind, as it's "hosted" by the late Roy Disney and incorporates quotes from animators and critics throughout—to various making-of documentaries like "In Walt's Words: Why I Made Peter Pan" and "Tinker Bell: A Fairy's Tale." The latter supplement posits that Tinker Bell, a character now as iconic as Mickey Mouse, represented an early beacon of feminism. Suffice to say, that's something of an eyebrow-raiser. The biggest, and thankfully new, feature on this Blu-ray is "Growing Up with Nine Old Men," a fascinating if somewhat alienating 40-minute documentary where Ted Thomas, son of the late animator Frank Thomas, drives around the southwestern part of the United States to visit the various children of the other Nine Old Men (well, seven of them, as two of these venerated Disney animators never had kids) and discuss what it was like growing up with these artists as their fathers. While any animation buff will likely find a lot of the footage here—such as the off-the-cuff drawings Ward Kimball would conjure up when there was an animation seminar held at his house—a treasure trove, it's also going to strike anyone not already acquainted with these respected gentlemen as a strange little curio, as it doesn't really educate neophytes on who they were and what their legacy is. (That said, if you don't know about the Nine Old Men, you need to, and fast.)
Aside from the myriad features packed onto the single Blu-ray disc, Peter Pan includes a standard DVD as well as a digital copy. The animation holds up extremely well in the high-definition transfer, among Disney's cleanest, brightest, and crispest work. Once the kids and Pan arrive in Neverland, the unique blended atmosphere and imaginative environments come to life in eye-popping color that's truly awe-inspiring. What does not hold up, unfortunately, is the representation of Native Americans, called, in a lyric of "Follow the Leader," "Injuns," and depicted as having red skin. Princess Tiger Lily, her chieftain father, and the other Native American characters are fairly secondary to the main plot of Peter Pan, but come into play in the second act, to the point where Peter and friends make a sojourn there for an extended sequence. Part of the problem is that the portrayal is, at best, laughably quaint and, at worst, grossly offensive. What really rankles, though, is that Disney is fine releasing Peter Pan on Blu-ray despite the very real and insensitive way in which Native Americans are presented. Something like Song of the South, considered equally racist for how its African American characters are shown, may never see the light of day, yet this will be in stores all around the country. (This issue is, granted, separate from the actual Blu-ray, and will provide much fodder for a future podcast.) It would be nice for Disney to at least acknowledge the thorny issue of race on the Blu-ray, but none of the old features nor do new ones comment on it— the so-called commentary doesn't address the controversy or anything about the Native American characters when said people are on screen.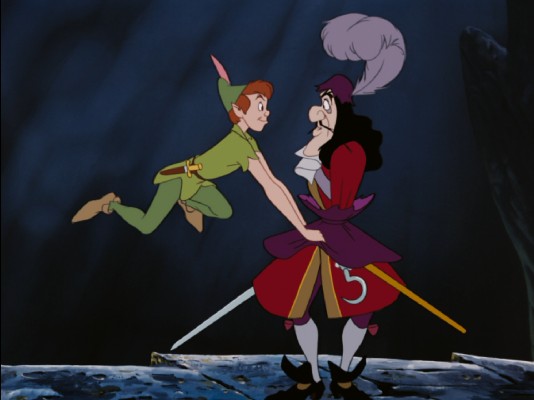 Distressing racial elements aside, Peter Pan has truly fanciful moments, plenty of derring-do to spare, and excellent visuals from top to bottom. If you're a fan of the film—and as it's one of Disney's most well-known and lasting works, you may well be—you'll be thrilled to see that the company has done right by Peter and his crew of Lost Boys in their first time on Blu-ray. If you're hoping, though, for a bevy of brand new features, you may be let down. Still, as Disney continues to release all of its animated-feature canon on Blu-ray, its Peter Pan home-media release is another feather in their cap, if one with an uncomfortable core.