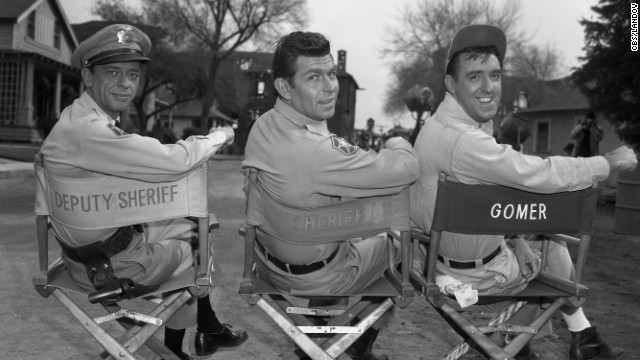 Remember Me: Andy Griffith (1926 – 2012) – The Yokel As Shrewdie
Andy Griffith was understandably defined by his most popular role: Sheriff Andy Taylor on the early 1960s series, The Andy Griffith Show.
Because of that, it sometimes seemed, in the years after – at least to those of us who'd grown up watching Sheriff Andy — Griffith was working awfully hard to show there was more to him than the genial, sage, small-town sheriff on what was easily one of the gentlest and most sweet-natured (without being saccharine) shows in TV history. I remember his racist murderer in the true crime-inspired Murder in Coweta County (1983), still defiant and unapologetic as he's being strapped into an electric chair for execution; his caustic, hard-drinking, and ultimately thieving Hollywood cowboy extra in the overlooked cult favorite, Hearts of the West (1975); his neo-fascist general in the 1979 TV mini-series redo of From Here to Eternity.
This was, in fact, the reason he'd left Andy Griffith with a year left on his contract: "I wanted to prove I could play something else."
The sad irony was that Griffith had proved it long before; it was just that people seemed to have forgotten.
He'd gotten his start as a stand-up comic, had become particularly well-known for his piece, "What It Was, Was Football," an uninformed rube's attempt at deciphering the tangled mess on the field. His rustic naïf persona landed him the lead – and the first of his two Tony nominations – in the 1955 stage play, No Time for Sergeants; a role he repeated first on TV and then in the feature film version.
Director Elia Kazan saw an opportunity for Griffith to put a nightmarish twist on that same cracker barrel yokel character when he cast him in the searing, frighteningly prescient indictment of media manipulation, A Face in the Crowd (1957). Griffith plays "Lonesome Rhodes," a back roads drifter with a gift for spinning homey little homilies which turn him first into a local radio star, and eventually into a media giant. But behind the friendly grin and the small town airs is an arrogant, conscienceless, self-indulgent s.o.b. whose very success, in his own eyes, is a testament to the gullibility and malleability of that mass audience which has embraced him as one of their own.
It's a powerful, disturbing performance in a powerful, disturbing film which seems all the more relevant with each political season…and it stiffed. Maybe it was too on the money. Maybe people just didn't want to see that likable country bumpkin guy who was showing up on talk shows doing that funny bit about football be a prize prick.
In any case, it was the likable picture of Griffith from Sergeants which carried over into The Andy Griffith Show. But even then, the laid back, low-key tone of the show belied just how deft Griffith was.
Spun off from an episode of The Danny Thomas Show, Griffith's character was initially a broad, joke-trawling variant on his No Time for Sergeants character, but, as the series progressed, his Sheriff Andy Taylor became more sophisticated, less caricatured. As Griffith began to exert more creative control over the series, he realized that despite his name in the title, this was an ensemble show, and it wasn't about jokes as much as creating a fully-realized, three dimensional idyll of small town living. Mayberry – inspired by his own North Carolina hometown of Mt. Airy – was a place (to borrow from the Cohen Brothers' Raising Arizona), "Where all parents are strong and wise and capable and all children are happy and beloved."
Griffith was the sane anchor and he deliberately positioned himself as straight man for a constellation of delightfully quirky town characters: Don Knotts' high-strung Deputy Fife, Frances Bavier's meddling Aunt Bee, Howard McNear's off-center Floyd the barber, Jim Nabors' backwoodsy filling station attendant Gomer Pyle (who was spun off into his own hit show), and a host of others. For all their quirks and sometimes small towney parochialism, the tone of the show was always one of affection; not lampoon.
It was not life as it was, but life as it could be. People fumbled with their foibles, sometimes fell victim to their pettiness, but in the end, they atoned, they redeemed, they re-heard the voices of the better angels of their natures. The situations were almost painfully life-sized (like frugal Aunt Bee trying to avoid paying full price for a new refrigerator), and the rhythm of the show almost pastoral. Griffith had deliberately decided against playing the show in front of a live audience; he didn't want the cast playing to the crowd. Some of the funniest moments on the show are the ones that capture a sleepy, warm Mayberry afternoon, with a few of the locals parked in front of Floyd's barbershop, a listless conversation slowly taking an odd turn – a kind of below-the-Mason/Dixon-line version of Paddy Chayefsky's, "Whaddaya wanna do tonight, Marty?" "I dunno, Ang; whaddayou wanna do tonight?"
And Griffith fought hard to maintain the integrity of that show. In real life – and by his own admission – he could be terribly short-tempered. During several episodes of the second season, you can see Sheriff Andy's hand is bandaged – the result of a Griffith tantrum ending with him punching a wall.
He left the show to return to movies but he never gained much traction on the big screen, an returned to TV where he worked steadily. Griffith had a second, late career success with the less substantive Matlock, a one-hour legal drama where the actor chortled and dropped rustic one-liners as a lawyer who played the country bumpkin to camouflage a shrewd courtroom operator. He claimed Matlock was his favorite character, but, popular as it was, it was almost indistinguishable from such geriatric-skewing flyweight mysteries like Murder, She Wrote and Diagnosis Murder.
Like many – maybe most – actors identified with a single success, Andy Griffith was a much better actor than he was often given credit for. Given the chance, he was able to take that Carolina drawl and tweak it for a laugh or adjust it to send a shudder down your spine. And if he had been trapped or restricted by the success of The Andy Griffith Show, it was only because he'd done his job on the show so well.
– William Mesce