One of the true giants passed away this week:  filmmaker Sidney Lumet, dead at 86 of lymphoma.
He was one of an incredibly talented class of directors who graduated from the early days of TV; a group which included such august talents as Arthur Penn (Bonnie and Clyde, 1967), George Roy Hill (Butch Cassidy and the Sundance Kid, 1969), John Frankenheimer (The Manchurian Candidate, 1962), Arthur Hiller (The Hospital, 1971), Franklin J. Schaffner (Patton, 1970), Norman Jewison (In the Heat of the Night, 1967), Robert Mulligan (To Kill a Mockingbird, 1962), Martin Ritt (Hud, 1963), and Sam Peckinpah (The Wild Bunch, 1969). Only Jewison is left, now, and as each has passed, mainstream American moviemaking has gotten a little louder, a little emptier, and a little dumber.
TV drama in the early days was almost like good theater:  it was usually live, smart, provocative, rich with real-world character and sharp dialogue.  Very early on, Lumet was considered one of the more important directors in the new medium, and he worked on many of the milestone shows of the era:  "You Are There," "The U.S. Steel Hour," "Studio One," "Kraft Theatre," and "Playhouse 90" just to name a few.
It was a performance-driven medium then, and Lumet loved actors; always would.  Maybe because he'd been one himself, starting out as a child actor in Yiddish theater, studying acting at Columbia University, working his way up to off-Broadway and film.  He knew how to talk to actors, what was important to them.  Actors appreciated his love of rehearsal, and nailing down the essence of roles, scenes, and the thesis of a film in that process allowed him to move remarkably fast once on the shoot where he rarely called for more than two takes.  Look at his cop drama Prince of the City (1981):  130 roles, 135 locations, yet shot in a breezy 52 days.  "I call him Speedy Gonzales," Paul Newman once said of him, saying Lumet was "…the only man I know who'll double-park in front of a whorehouse."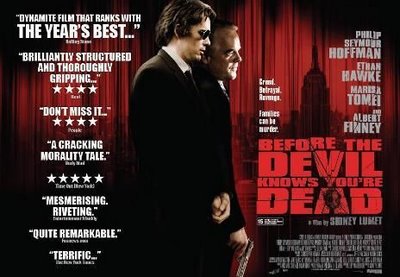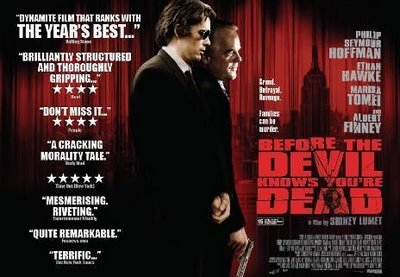 All that pre-shooting prep paid off producing 17 Oscar-nominated performances from among his body of work.
He wasn't afraid of dialogue; big, choking blocks of it, and his movies, as a body, are as textually dense as any in the American canon.  About half of his forty-odd films were adapted from stage plays.  Yet, for all that gab – often, because of that gab — his best movies still crackle.  Lumet could do with great dialogue what lesser directors failed to do with a screen filled with pyrotechnics.  Think Ned Beatty's soliloquy on "the immutable bylaws of business" in Network (1976, written by another TV alum, Paddy Chayefsky); the one, long verbal shootout that is 12 Angry Men (1957) – "You don't really mean you'll kill me, do you?"
He was sometimes faulted for not having a particularly distinctive visual style, but that wasn't quite fair.  Like Arthur Penn, he believed it wasn't the director's job to intrude, to show his hand, but to serve the material.  Ron Fortunato, Lumet's cinematographer on his TV series "100 Centre Street" and on his last film, 2007's  Before the Devil Knows You're Dead, said "Sidney flips if he sees a look that's too artsy."
Not that Lumet didn't know how to give a film a look:  city grit in The Pawnbroker (1964); the harsh black and white cinematography, and smash cuts and brutal close-ups of Fail-Safe (1964); picturing Ned Beatty as the center of a dark corporate universe in Network.
If there was one thing he loved more than actors and a script rich with sparking dialogue, it was New York.  Woody Allen – perhaps the only other American director as culturally embedded in The City as Lumet – called Lumet the "quintessential New York filmmaker." It was his favorite setting, and, unsurprisingly for a filmmaker at his best when his stories were most grounded in the real world, most of his best movies are set in The City:  12 Angry Men, The Pawnbroker, The Anderson Tapes (1971), Serpico (1973), Dog Day Afternoon (1975), Network, Prince of the City, Q & A (1990), Night Falls on Manhattan (1997). "New York is filled with reality," Lumet said, "Hollywood is a fantasyland."
Which explains why, when once asked how he wanted his passing marked, he said, "Burn me up and scatter my ashes over Katz's Delicatessen."
Some of Sidney Lumet's best:
12 Angry Men: Adapted by Reginald Rose from his 1954 teleplay, this was Lumet's feature film debut.  Mostly taking place in a jury room, it should be a drab, boring, tedious slog instead of a classic legal drama.
The Pawnbroker: One of the first American features to deal with the Holocaust, Lumet lifted the idea of flash cuts from Alain Resnais' 1961 Last Year at Marienbad to show the unhealed psychological wounds of a concentration camp survivor (Rod Steiger).
Fail-Safe: Lumet's take on a nuclear nightmare brilliantly played out in just four locations; an exercise in claustrophobic suspense to rival Wolfgang Peterson's Das Boot (1981).
The Anderson Tapes (1971):  Shows just how smart and sophisticated a caper flick can be.
Serpico: One of the all-time great cop stories is Lumet's true-life account of one cop who bucked a tide of corruption in the NYPD.
Murder on the Orient Express (1974):  Normally, Lumet floundered with lightweight material (see 1978's The Wiz or 1980's Tell Me What You Want for proof), but for once he hit the mark turning an Agatha Christie trifle into a showcase of brilliant performances and another demonstration of his ability to work with a story set in confined spaces.
Network: Lumet firing on all cylinders in a bitter black comedy that's even darker today in the way it anticipated TV's descent into reality programming luridness and sleaze.
The Verdict (1982):  Lumet guided Paul Newman to an Oscar nom in what the American Film Institute judges to be among the 10 best courtroom dramas of all time.