The first official photo of Hank Azaria as Gargamel in Sony Pictures Animation/Columbia Pictures' big screen CGI/live action hybrid 3D adaptation of The Smurfs has been released on ComingSoon.net. I think it is pretty hilarious that this film is underway and looks very believable in a sense that this was a cartoon character. The whole synopsis sounds to me like the movie Enchanged meets Alvin and the Chipmunks. I can't wait to see where this film ends up when a trailer hits.
The Smurfs will be released August 3, 2011 with voices and acting from Neil Patrick Harris, Jayma Mays, Sofia Vergara, Anton Yelchin, Jonathan Winters, Katy Perry, Alan Cumming, Fred Armisen, George Lopez, Paul Reubens, John Oliver, Kenan Thompson, B.J. Novak, Jeff Foxworthy, Wolfgang Puck and Gary Basaraba.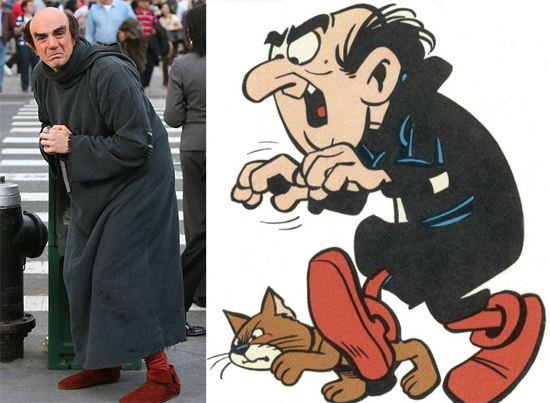 Synopsis:
When the evil wizard Gargamel chases the tiny blue Smurfs out of their village, they tumble from their magical world and into ours – in fact, smack dab in the middle of Central Park. Just three apples high and stuck in the Big Apple, the Smurfs must find a way to get back to their village before Gargamel tracks them down.
Click on the images to enlarge!