Sparkle
Directed by Salim Akil
Written by Mara Brock Akil
USA, 2012
Some films can't help but be defined by elements outside their control. Every so often, those elements help the film or don't re-form whatever legacy it may inspire. (See, for example, The Dark Knight, which was initially colored by the tragic and untimely death of Heath Ledger, who played the Joker.) Sometimes, though, those elements stick out like a sore thumb, as is the case with Sparkle. This remake of the 1976 film starring Irene Cara may always be remembered as Whitney Houston's last film before her death earlier this year. Though fond memories of the singer's history may soothe some, Sparkle is a strangely schizophrenic and familiar movie that never comes together.
American Idol winner Jordin Sparks plays the title character, the youngest daughter of three living in Detroit, circa 1968. She and her sisters, Delores and Sister (Tika Sumpter and Carmen Ejogo), decide to defy their once-wayward and now-religious mother (Houston), and form a musical group that could bring them fame and fortune in Motown. Sparkle, encouraged by her manager and boyfriend, Stix (Derek Luke), grows more confident in her songwriting and singing abilities, but Sister falls into a damaging relationship with a well-known comedian (Mike Epps) that threatens to topple the whole group's chance at stardom.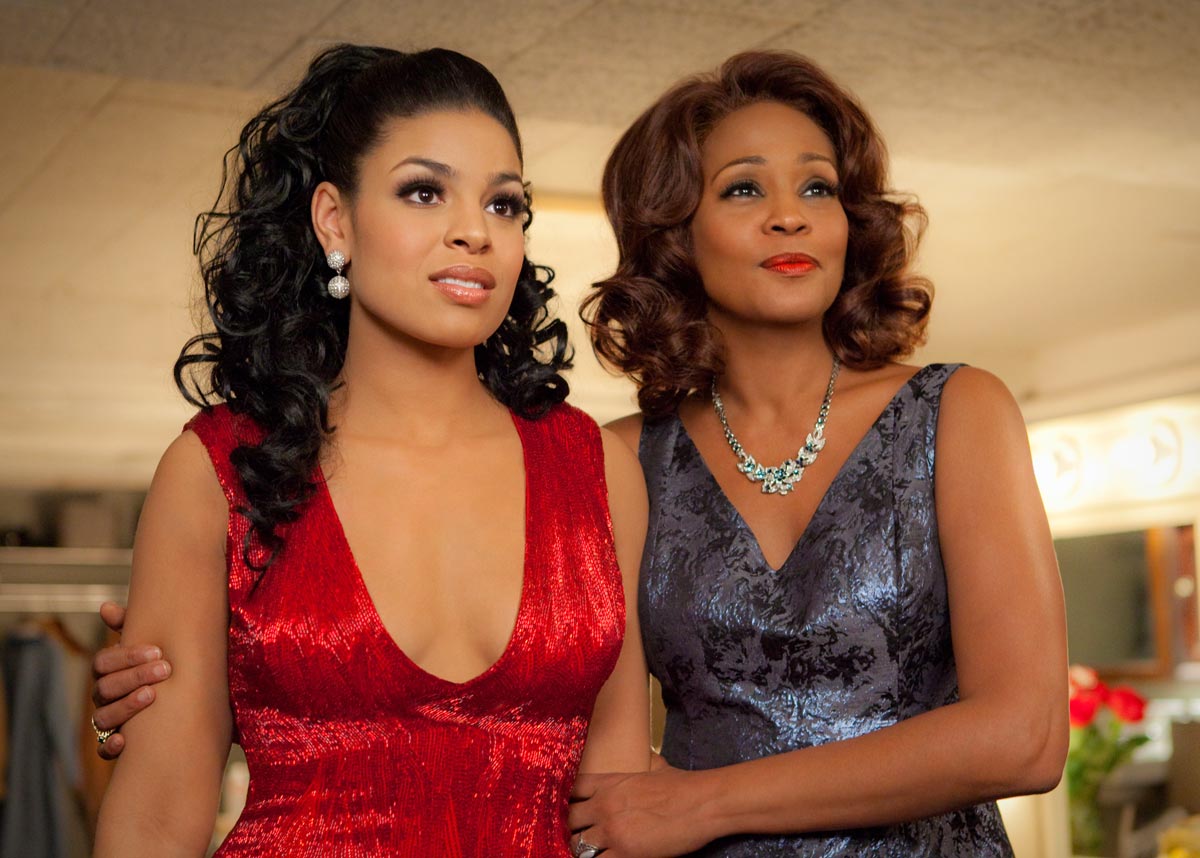 Oddly, in the first two-thirds of Sparkle, the title character has surprisingly little screen time. Sparks is an OK actress; it's not as if the filmmakers were wise to avoid using her as much as they could. But for a long time, Sparkle the character is too one-dimensional and simplistic, not nearly as train-wreck compelling to watch as Sister and her abusive lover, Satin, are. The final act switches gears, and director Salim Akil and screenwriter Mara Brock Akil (working from a story by the original film's screenwriters, Joel Schumacher—yes, Batman and Robin's Joel Schumacher—and Howard Rosenman) unfortunately can't justify the inexplicable shift in tone. As such, we're told things about Sparkle as a person—she's too shy to perform her own music, she doesn't have enough sex appeal to excite audiences—as opposed to seeing them in action.
Another very strange tactic is this film's essential ignorance of the racial struggles of the late 1960s. A phrase that appears in the script more than once is "the riots," referring to the infamous struggles between black citizens and the authorities in places like Detroit, right around 1968. In fact, early on, we see TV footage of Dr. Martin Luther King, Jr. being interviewed, yet we never see any reaction from the characters about his assassination that same year. Though Stix or Emma, Sparkle's mother, may refer to the riots, we see no evidence of strife. The script glosses over any kind of struggle, even Vietnam-related. Name-dropping issues isn't the same as actually confronting them in honest, mature fashion.
The frequent jumps from lighthearted comic relief to soap-opera-level drama are a shame, because when Sparkle works (and for most of the first two-thirds, it kind of does), it's moderately enjoyable. Some early scenes have a nice balance between froth and intelligence. And the actors, especially the always-charming Luke, are happy to wallow in the histrionic melodrama. Epps, in particular, has a ball as the fairly complex villain, Satin, whose violent nature is as much against himself as it is against those he purports to love. He's successful as a TV-friendly, toothless comic, mocking those in his own race for the pleasure of predominantly white viewers; his loathing is borne from that knowledge. Epps is playing the character we're meant to love hating, but he's the film's standout.
About Houston, there's not much to say. In case you're curious, yes, she has an extended singing sequence. ("Extended," mostly because the sequence has literally no reason for existing aside from letting people hear her sing one last time; she still has an impressive set of pipes, to be fair.) She's adequately mulish in being firmly against Sparkle's dreams, but the way her daughters are apparently able to hide what they do on their nights out for so long makes Emma seem like a grade-A dolt. Her character's eventual change of heart doesn't seem too powerful, as her attitude vacillates between down-to-earth shrewdness to cartoonish harshness throughout the film. Also of note is Ejogo, who comes closer to a three-dimensional portrayal than anyone aside from Epps. Sister is nearly 30, and wishes desperately to shake off her unmarried status. The way she throws herself into most public situations is equally shocking, daring, and saddening; Ejogo handles the subtleties nicely.
Sparkle has the ingredients for a low-key but entertaining story of how a small-town girl faces the bright lights of celebrity. And yet the film's writer and director seem hell-bent on never moving beyond surface-level insight and plotlines. At this juncture, the only attention-grabbing element is a terribly sad one, something no one could've begun to imagine during the film's production. Perhaps more people will check out Sparkle to see Whitney Houston's last screen performance. Nevertheless, this is a film whose more minor pleasures are tough to sift through because of a scattershot script.
– Josh Spiegel