Picking 10 titles from a selection of 132 feature films is a bit of an exercise in absurdity, but for those of you looking to add a few more flicks to your ever-expanding list of "must sees" before you head down to the convention center, here are ten titles I personally am excited to see.
In alphabetical order:
Citadel
First up is Citadel, described by Irish director Ciarán Foy as "a psychological horror about an agoraphobic young father who teams up with a vigilante priest in order to save his daughter from a gang of twisted feral children." I wasn't able to find much else on Citadel but the stills are compelling enough and I've had a soft spot for any movie involving a vigilante priest since Peter Jackson's Braindead. Also, keep an ear out for the film's score, which is composed by the experimental duo tomandandy who have in the past collaborated with the likes of David Byrne, Lou Reed, William S. Burroughs and Oliver Stone to name a few.
Midnighters, World Premiere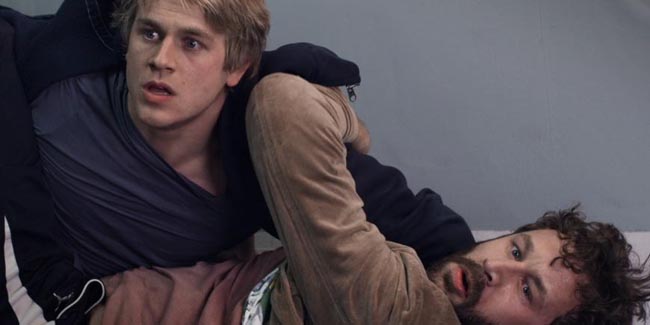 franki go boom
franki go boom stars Charlie Hunnam (Sons of Anarchy) and Chris O'Dowd (The IT Crowd, Bridesmaids) as brothers on a mission to recover a sex tape. Problem is, one of them is responsible for leaking said sex tape onto youtube and the other brother is the reluctant star. Also starring Lizzy Caplan and Ron Perlman in a role unlike we've seen him in before.
Narrative Spotlight, World Premiere
Funeral Kings
The trailer for the dark comedy by the McManus brothers features a couple of foul-mouthed alter boys doing what it is hard headed kids do: vandalizing cars, smoking, a little underage drinking. That is, until the slow motion music video sequence of one of the boys twirling a Magnum .357 like a pint-sized version of Taxi Driver's Travis Bickle. The synopsis on SX's website says the boys' "irreverent personalities will put them in a situation that is too big for them to handle." Walking through a suburban neighborhood with a deadly firearm, what could go wrong?
Emerging Visions, World Premiere
Jeff
Genre fare dominates much of this list, but there are a ton of great documentaries playing at SXSW this year, so I wanted to make sure to highlight a few. Jeff attempts to unravel the mystery of how one of America's most infamous serial killers, Jeffrey Dahmer, managed to carry on a seemingly normal life for nearly four years while carrying out some of the most bizarre and brutal murders this country has ever seen. Comprised mostly of interviews from those close to the case and Dahmer's neighbors, Jeff should be as terrifyingly chilling as anything featured in the Midnighters program.
Documentary Feature Competition, World Premiere
John Dies At The End
Calling to mind the mind bending Naked Lunch, John Dies At The End is based on the comedic horror novel of the same name and brought to the screen by legend of horror Don Coscarelli. Coscarelli, responsible for the Phantasm films and the cult classic Bubba Ho-tep, has largely been absent from the scene the last few years, the exception being a one off episode of the hit-or-miss Showtime series Master's of Horror. But it looks like he's back and in high form too with his latest effort. Starring Chase Williamson, Rob Mayes, and Paul Giamatti.
Midnighters
Keyhole
Canada's wonderfully odd auteur returns to SXSW with his newest for 2012. Keyhole is abstract noir? Hitchcockian surrealism with a bit of Greek mythology thrown in for good measure? Go ahead, string together your own list of pretentious adjectives, but unless you've already seen Keyhole your guess is likely as good as mine. If you're worried 21 Jump Street might be a "little too mainstream" this may be the movie you're looking for.
Narrative Spotlight, U.S. Premiere
The Sheik and I
Filmmaker Caveh Zahedi sets out to do the one thing the underwriter of this film forbid him do, make fun of the very same Sheik footing the bill for his exploits. Commissioned as a film about "art as a subversive act," Zahedi seems to have ruffled a few feathers in his own right with his art piece. The film has been banned for blasphemy and a fatwa has been threatened against him. Well played, Mr. Zahedi.
Documentary Feature Competition, World Premiere
Somebody up there Likes Me
I've become a fan of Bob Byington's dry, deadpan sense of humor. His previous feature Harmony and Me captured with a painfully pathetic sense of honesty the lowest lows of a bad breakup, plumbing the depths well beyond the point where locking yourself up to spare the rest of the world your misery is probably the best solution. But then none of us do that and the results are rarely as bitingly funny. Shot in Austin, Somebody Up There Likes Me promises to provide plenty of crushing awkwardness and snicker-inducing one liners. Keith Poulson (Harmony and Me), Nick Offerman (Parks and Rec), Jess Weixler (Teeth), Stephanie Hunt, and Kevin Corrigan (Pineapple Express, Superbad) starring.
Narrative Spotlight, North American Premiere
Thale
Trollhunter has come to define Norwegian genre films much the same as the Rec series (the most recent installment is also playing at SXSW this year) has done for the Spanish-language horror films. Thale hopes to add another notch in that creepy-ass Norwegian folk tales belt. The film centers on two buddies who work as crime scene cleaners when they stumble across a supernatural female forest creature locked in a cellar. As a bonus, the forest creature appears to be a hot chick with a tail. Certainly less of a hang-up than one would have with Daryl Hannah's character in Splash.
Emerging Visions, North American Premiere
V/H/S
David Bruckner (The Signal), Ti West (The House of the Devil, The Innkeepers), Joe Swanberg (Hannah Take the Stairs), Glenn McQuaid (I Sell the Dead), Adam Wingard (You're Next, A Horrible Way to Die) and YouTube collective Radio Silence pool their talents to give us the latest found footage entry V/H/S. Likely more in the style of Blair Witch than, say, Paranormal Activity, V/H/S packs plenty of directing star power into what appears to be an anthology of short films held together by a central narrative. Get in line early for this one and expect to see plenty of horror hipsters at the premiere.
Honorable Mentions
Cabin in the Woods
Casa de mi padre
The Comedy
The Do-Deca-Pentathalon
God Bless America
Killer Joe
Also special thanks to Erica Alshuler for sending us this SXSW 2012 mash-up video! via MOVIECLIPS.com

Visit the official website for SXSW
[wpchatai]