After ten years, eight films and countless articles celebrating both, it's all over. Harry Potter and the Deathly Hallows Part 2 has apparated into cinemas, broken records all over the place, and now there's nothing left to do but watch it over and over and over again. Possibly in 3D.
But when you come out of the coma induced by the sudden realisation that yes, you really are ten years older than you were when The Philosopher's Stone came out, you may want to watch a different film. Here are some suggestions for ways to plug that Potter-shaped hole in your heart.
(Just in case you are one of the three fans in the world who haven't seen it yet, there are some Deathly Hallows 2 spoilers below).
The Prime of Miss Jean Brodie (dir. Ronald Neame, 1969)
Professor McGonagall has always suffered from never having quite enough screen-time, but when she gets her chance, Maggie Smith really shines, from introducing us to Hogwarts in Philosopher's Stone, teaching Ron to dance in Goblet of Fire, battling for Tallest Teacher with Imelda Staunton's Dolores Umbridge in Order of the Phoenix or gleefully casting Hogwarts' most awesome institutional spell in Deathly Hallows 2. But to see Smith play a somewhat more sinister, if equally inspirational, teacher, you need to watch her Oscar-winning performance in this dramatisation of Muriel Spark's novel. Her Jean Brodie is brittle, determined, sad and ultimately dangerous; a long way away from Professor McGonagall but with just as great an impact on her young students.
An Awfully Big Adventure (dir. Mike Newell, 1995)
Alan Rickman is another fantastic actor who never got quite enough to do – he gets his moment at last in Deathly Hallows 2, and he had decent scenes flicking his wig in Philosopher's Stone and protecting our heroes from an enraged werewolf in Prisoner of Azkaban, but for many of us, we never saw quite enough of him. For more quality Rickman, this film from 1995 provides Romantic Rickman in spades and even a little dose of sneering, wig-flicking Evil Rickman in the in-movie pantomime, in which his character plays Captain Hook. Although it's sold as a comedy-drama, I remember this film more as a tragedy, thanks to the gut-punching ending, but either way it's a sadly neglected gem of a film.
Sweeney Todd: The Demon Barber of Fleet Street (dir. Tim Burton, 2007)
Helena Bonham Carter has done a lot of mad turns for her partner Tim Burton over the last few years, including the childish Red Queen in Alice in Wonderland and a witch (of sorts) in Big Fish. But if it's Bellatrix Lestrange you're missing, this is the film to watch. Although Mrs Lovett is not quite as mad, nor as evil, as Bellatrix, her Victorian aesthetic is the closest to Bellatrix's elaborate witchy look and her outpouring of affection on one man to the cost of everyone else she comes into contact with is distinctly reminiscent of Bellatrix's devotion to her noseless master.
Sense and Sensibility (dir. Ang Lee, 1995)
If you just want to watch as many of the fantastic actors gathered together for the Harry Potter films as possible in one film again, then this one has to be the winner. Madame Pomfrey's husband has died and her daughter Professor Trelawny is trying to find a husband while Professor Snape chases after her younger sister (some woman from a boat). They live near Minister of Magic Cornelius Fudge and his mother-in-law, the original Fat Lady, and are occasionally visited by their neighbour, Dolores Umbridge (who is married to House). It's also a very good film, a touching and funny adaptation of a classic Jane Austen novel.
Stardust (dir. Matthew Vaughn, 2007)
Matthew Vaughn had applied to direct one of the earlier Potter movies, but went on to direct this instead, and if it's the magic you're missing, this is the film to go for. Between witches, unicorns, talking stars, evil princes and sky pirates, all beautifully shot and richly costumed, this is the closest you'll get to that shiver down the spine we all felt when Hagrid first revealed the (cosy, British, pseudo-medieval) enchantment of Diagon Alley. A magnificent score by Ilan Eshkeri rounds it all off.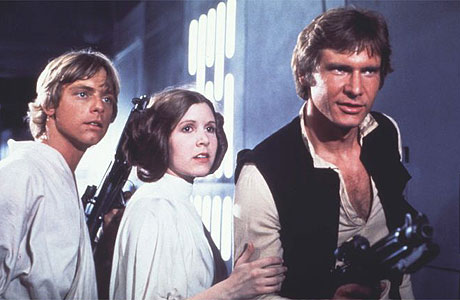 Star Wars
When Harry's young son goes to board the Hogwarts Express to the strains of John Williams' original score for Philosopher's Stone at the end of Deathly Hallows Part 2, all you want to do is go back and watch the whole lot again. At the very least, it produces a yearning for the early, flawed, but magical and considerably more cheerful films. This is the same effect – the John Williams effect, if you will – produced by the shot of Luke Skywalker's aunt and uncle holding him while watching Tattooine's two suns set as one of the series' original themes plays elegiacally in the background at the end of Star Wars: Revenge of the Sith, which instills a desire to re-watch the first (i.e. fourth) film all over again in the minds of the audience, so that you could end up watching them over and over again in an endless cycle… If you've learned every line in every Harry Potter movie off by heart, try breaking the cycle by revisiting the equally adventurous and exciting Star Wars saga instead.
To Kill a Mockingbird (dir. Robert Mulligan, 1962)
Although they might seem as different as two stories can be, Mockingbird and Potter have more in common than just starring two young boys and a young girl. There has always been an underlying theme concerning the blindness and stupidity of racism and prejudice in the Potter books and this comes through even more strongly in the films, which get rid of the problematic House Elf Rights storyline (in which every main character except Hermione spouts the same justifications once used by white slave-owners) and which play up the Death Eater/Nazi analogy to the point of being faintly silly about it (why would a modern witch have a 1940s hairstyle, as the unfortunate Mary Cattermole in Deathly Hallows 1 does?). For an exploration of a child coming to understand racism and the harm it can do in a more specific context, Mockingbird is clearly the next film to turn to.
Grease (dir. Randal Kleiser, 1978)
Tired of peculiar British boarding schools with Houses and uniforms? Then this is the answer. Grease is the American high school movie – it has cheerleaders, geeks, cool kids, sports stars and the high school dance. It also has fantastic songs and the sort of timeless quality you get from setting a film made in the 70s in the 50s. The teenage coming-of-age story has been done many, many times but not often as well as it is here; just make sure your kids don't take too much to hear the message that in order to be happy, you have to give up on your individualism and fit in with the cool kids…
The Belles of St Trinian's (dir. Frank Launder, 1954)
If, on the other hand, you're desperate for more strange British boarding schools, this first and perhaps best of the St Trinian's films may be your preferred choice. 1957's Blue Murder at St Trinian's is also worth a look, as it features water polo, a sport which is surely at least as bizarre as Quidditch if not more so. Again, this comes with a small safety warning; these films will suggest to your children that if you are experiencing a problem, the best way to solve it is to turn to sex, violence or both. Remove all hockey sticks from the vicinity before starting the film.
The Lord of the Rings / The Chronicles of Narnia
Finally, if you want to make the magic of Potter last, what better place to look than two of Rowlings' biggest influences, JRR Tolkien's The Lord of the Rings and CS Lewis' The Chronicles of Narnia? The Rings films are both the better regarded and the more consistent in quality, but the Narnia films have that same childlike wonder and magical setting that was conveyed so effectively in the early Potter movies. And there's no better reminder that without the wardrobe, there would be no Platform 9¾, and without the Ringwraiths, there would be no Dementors.
[wpchatai]