In a controversial move, DC decided to forego publishing its regular line of books and put out 52 one-shot stories featuring some of its best villains. The one-shots range from extremely popular (Joker, Lex Luthor, Brainiac) to the newer and more obscure (Relic, Shadow Thief). They feature some veteran creators and some who have barely drawn a comic. Each "Villains Month" book will get a decimal point after a regular DC Comic. For example, Joker will feature in Batman 23.1, Riddler will feature in Batman 23.2 etc. The first issue of the new DC event Forever Evil will come out the same month as the villain one-shots. It is a direct follow up to "Trinity War" and will be written by Geoff Johns and drawn by David Finch. There are quite a few "Villains Month" books, but the following comics either have great creative teams, continue a compelling storylines, or are simply intriguing.

Justice League #23.2: Lobo (Writer: Marguerite Bennett Artist: Ben Oliver)
Chat Box - Go ahead, make my day and ask me questions about movies and TV shows...
This book could be on the list for the controversy it has spawned alone. Concept art for the noticeably leaner Lobo spawned a lot of anger across the Internet, but writer Marguerite Bennett said on Twitter that he is "bigger, meaner, and nastier" in the actual comic. Companies redesign characters all this time, and this new take on Lobo is nothing like Electric Superman or Rob Liefeld's Captain America. In fact, he looks like a Dark Elf from R.A. Salvatore's Forgotten Realms fantasy series, which isn't a bad thing to resemble. It also looks like Bennett and Oliver are returning the "Main Man" to his dark, loner roots and taking him much more seriously than Liefeld did in Hawk and Dove. Coming off a Batman Annual story where she added a new villain to Batman's rogues gallery, Bennett seems ready to play in the dark side of the DC Universe. Ben Oliver also co-created the new DC villain Massacre in his Batwing run and began his comics career drawing 2000 AD stories so the vast expanse of space isn't foreign to him.
Teen Titans #23.1: Trigon (Writer: Marv Wolfman Artist: Cafu)
Teen Titans has been one of DC's underwhelming books of the New 52 due to the fact that it doesn't feature the Titans' "classic" lineup or the one in Geoff Johns' recent popular run. However, Teen Titans is one of a few books that tie into Forever Evil and will feature the Titans fighting the Secret Society while the Justice League is missing. But before this storyline, Marv Wolfman returns to Teen Titans and gets to explore the first villain he created for the series back in New Teen Titans #2 (1982). Marv Wolfman has a similar relationship to the Teen Titans that Stan Lee has with the Fantastic Four or Chris Claremont has with the X-Men. Any time he writes the book, it is a major event. From the solicitation, it looks like Trigon will be adding Earth to the number of worlds he created. It could be a generic alien invasion story with a supernatural twist, but Wolfman will hopefully use Trigon's relationship with his daughter to Raven to add depth to the comic. Its artist Cafu has already drawn several issues of Action Comics with legendary writer Grant Morrison so he is used to collaborating with big name writers.
Justice League #23.3: Dial E (Writer: China Mieville Artists: Various)
This story is similar to Mark Millar's "22 Stories with a Single Bound" in Superman Adventures #41. However, this comic is wackier than 22 one page Superman stories drawn by different artists. It will feature 20 villains on 20 pages drawn by 20 different artists. These artists include Jock and Jeff Lemire, who is known for his independent work (Sweet Tooth), but mainly just writes for DC. Dial H was a well-beloved title that was cancelled due to poor sales, but this story will act as a coda to Mieville's run on the book. This could be one of the craziest books to come out of DC in years and should make for entertaining reading even if it doesn't feature a big name villain.
Green Lantern #23.2: Mongul (Writer: Jim Starlin Artist: Howard Porter)
Like Marv Wolfman's Trigon comic, this one-shot reunites the ruthless alien warlord Mongul with his creator Jim Starlin. Starlin introduced Mongul as a physical threat to Superman in DC Comics Presents #27 (1980). The original Mongul died in 1995's Underworld Unleashed crossover and was followed by his less effective son, who made an appearance in the Blackest Night crossover. However, Starlin and Howard Porter are returning Mongul to Warworld and building him up as a major threat to Earth again. Howard Porter drew alien conquerors, like Darkseid, Desaad, and the White Martians in his run on JLA and will make sure Mongul retains his physical prowess. For fans of star-spanning epics and bone crushing brawls, this Mongul one-shot shouldn't disappoint.
Earth 2 #15.2: Solomon Grundy (Writer: Matt Kindt Artist: Aaron Lopresti)
In DC's Earth 2 series, writer James Robinson and artist Nicola Scott returned Solomon Grundy to his original status as a villain of the Green Lantern Alan Scott. Like the Green and Red elemental forces that oppose each other in the main DC universe, Grundy is an avatar of the Grey that opposes Scott's Green. This comic will explore how Solomon Grundy became a zombie and also how his rivalry with the Green Lanterns started. Matt Kindt has experience writing undead characters in Frankenstein, Agent of SHADE and has already revamped the Martian Manhunter's origins in the Justice League of America backups. Because of his appearances in Batman: The Brave and the Bold and the Arkham City video game, most fans see Solomon Grundy as a Batman villain, but he actually made his first appearance in All American Comics #61 (1944) as a Green Lantern foe. This comic will fill in the background for Solomon Grundy's actions in Earth 2 and give this sympathetic, yet terrifying villain the showcase he deserves.
Green Arrow #23.1: Count Vertigo (Writer: Jeff Lemire Artist: Andrea Sorrentino)
In recent issues of Green Arrow, Jeff Lemire and Andrea Sorrentino have revamped Count Vertigo, who became a crime lord to make money and return to his homeland of Vlatava. He also used to live in Canada. This comic will show his early days as a criminal in Vancouver, but will also further Lemire and Sorrentino's Green Arrow epic in which they have added many new elements to the character's mythos. Sorrentino is one of the most inventive artists in DC's stables, and his work will stand out in a month where books are mostly done by fill-in artists. The mixture of strong visuals, an interesting new take on a classic villain, and the continuation of a compelling storyline will make this Count Vertigo one-shot a must read.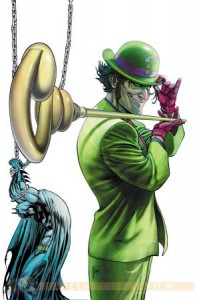 Batman #23.1: Riddler (Writers: Scott Snyder and Ray Fawkes Artist: Jeremy Haun)
This book will be a treat for fans of Scott Snyder's current "Zero Year" story in Batman. It will also depict Riddler causing intellectual chaos in a present Gotham without Batman to protect it. In "Zero Year", Snyder has written an smart, eccentric Riddler, but one with none of the campiness of earlier depictions. This one-shot will show how he transformed from Edward Nygma to the Riddler just like "Zero Year" is showing Bruce Wayne's transformation into Batman. It will also be The Darkness artist Jeremy Haun's debut in the DC New 52. Haun has drawn Gotham and Batman villains in the Question backups in Detective Comics as well as his run on Arkham Reborn. The mix of Snyder's intelligent writing and Haun's twisted art makes Riddler stand out among the host of Batman villain comics coming out this month.
Action Comics #23.2: Zod (Writer: Greg Pak Artist: Ken Lashley)
Before he makes his actual Action Comics debut in issue 25, Greg Pak gets to write General Zod's origin in this one-shot. Superboy Ken Lashley joins him and brings a wealth of New 52 experience, including runs on Suicide Squad, Batwing, Team 7, Blackhawks, and Ravagers. His skill at drawing violent characters and action makes him very suitable for reinventing the militaristic Kryptonian. Not much is known about this title, but it has a great potential to get new fans to read DC Comics. An interesting one and done story about a familiar villain who they just saw in Man of Steel could prove a valid entry point into the DC Universe. On the other hand, it could be a rehashing of Zod's well-know origin story as a rogue Kryptonian, who got banished into the Phantom Zone. Optimistically, Zod will be a big part of "Forever Evil" and breathe new life into Action Comics and the other Superman titles beginning with this comic.
Honorable Mentions: Justice League #23.4: Secret Society, Detective Comics #23.3: Scarecrow, Batman: The Dark Knight #23.2 Mr. Freeze, Batman and Robin #23.1: Two-Face, Wonder Woman #23.2: First Born, The Flash #23.2: Reverse Flash, Batman/Superman #3.1: Doomsday
Check the Sound on Sight comics section all this month for reviews of the DC Villains Month comics, articles about our favorite comics villains, and more evil fun.
Chat Box - Go ahead, make my day and ask me questions about movies and TV shows...