The end is here – if someone asked you what the most important movie musical of all time was, it would come from this portion of the list. Obviously, it's all subjective, but it's difficult to make a case against the influence of these films on our culture and the industry as a whole. So, cue the orchestra and practice your dance moves, because the closing number is here.
10. Saturday Night Fever (1977)
Directed by John Badham
Signature Song: "Stayin' Alive" (http://youtu.be/Fa9n7GirhsI)
After making a name for himself with TV's "Welcome Back Kotter," John Travolta became a star with 1977's cultural landmark Saturday Night Fever, a dance musical where Travolta plays Tony Manero, a young man who works a dead-end job, but spends his weekends as the king of the dance floor at a Brooklyn disco. The soundtrack, which was basically a reissue of a Bee Gees album, became a massive success, thanks to an original approach to cross-media marketing. Saturday Night Fever used the Bee Gees single "Stayin' Alive" as a promotional tool, building interest in the film before its release by making the song a hit first. The film is a clear window into a subculture that was popular for a short period of time in the late 1970s and, more than almost any other film, can't escape it. Saturday Night Fever doesn't hold up too well. It's dated, misogynistic, and overtly sexist. But that doesn't deny the massive impact of the soundtrack, the costumes, and the explosion of Travolta who, with this film, became one of the youngest performers of all time to earn an Oscar nomination for Best Actor, just one year before he would star in another musical that would push him into the stratosphere (see below).
9. The Jazz Singer (1927)
Directed by Alan Crosland
Signature Song: "Toot, Toot, Tootsie (Goo' Bye)" (http://youtu.be/G-WZRUIfHjo)
While we're talking about movies that feel dated, why not rewind all the way back to the beginning with the first feature film with sound included? Starring Al Jolson, The Jazz Singer centers on Jakie Rabinowitz (Jolson), a Jewish man who is disowned by his family after singing popular music at a bar. He runs away from home, renames himself "Jack Robin," and becomes a talented jazz singer, but struggles to deal with the schism between his professional goals and his family and faith. Oh, and to blend in with other jazz singers, he goes in blackface. So, there's that. It's a storyline that has been duplicated and mimicked hundreds of times since, though looking back at it feels a little absurd. The film was the first step in destroying the silent film industry, but the acting had yet to "evolve," let's say. Silent films need to have overly expressive action to make up for the lack of words; movies with sound don't need that as much, but nobody told the performers here. Still, thanks to its trailblazing status as the first film with synchronized dialogue and some memorable musical performances from Jolson, it deserves mention among the definitive movie musicals.
8. The Rocky Horror Picture Show (1975)

Directed by Jim Sharman
Signature Song: "The Time Warp" (http://youtu.be/G-WZRUIfHjo)
It may possibly be the cult film above all cult films. The 1975 adaptation of the musical stage production is a tribute to science-fiction and classic B movies, but managed to garner an incredibly dedicated following after its original release. Susan Sarandon and Barry Bostwick star as a young couple pulled into an underworld of science experiments and transexuality, headlined by the mischievous scientist Frank N. Furter, played with devious joy by the great Tim Curry. The film is all over the place – characters entering and leaving, all of whom possess a sort of monster movie sexuality. The story itself is a twisted re-imagining of Mary Shelley's Frankenstein, with a lot more eroticism and absurdity injected into it. But the fan following is something else altogether. To this day, midnight movie showings continue, complete with super-fans dressing up as their favorite characters, singing along with every musical number. The most memorable of these comes in the form of "The Time Warp," an unusually catchy dance number complete with instructions in the lyrics. As the clip above shows, this surprisingly entertaining sub-cultured film is an experience all its own; especially when seen with a crowd full of fellow misfits.
7. Mary Poppins (1964)
Directed by Robert Stevenson
Signature Song: "A Spoonful of Sugar" (http://youtu.be/HrnoR9cBP3o)
Julie Andrews wasn't cast in the role of Eliza Doolittle in My Fair Lady, a part which she played on stage. So she starred in this Disney adaptation of the P.L. Travers book and won an Oscar for her performance. Mary Poppins is the tale of a young, idealistic nanny who comes to live with the Banks family, told through the eyes of a street performer named Bert (Dick Van Dyke). Mary (Andrews) shows the Banks children a world of wonder by forcing them to use their imaginations, taking them on journeys and adventures with animated characters through the English countryside. Mary Poppins is packed with memorable musical numbers: the one above is what sets her relationship with the children in motion, a simple song about getting your work done by having fun. Eventually, we get a performance from a group of street sweepers (Bert included) and one of the most memorable non-words ever invented ("Supercalifragilisticexpialidocious"). Mary Poppins has long since remained a favorite of the entire Disney catalog, its production eventually fictionalized as the film Saving Mr. Banks. Forgiving Dick Van Dyke's terrible Cockney accent, there isn't a misstep in this wonderful trip through an optimistic woman's imaginative world.
6. A Hard Day's Night (1964)
Directed by Richard Lester
Signature Song: "A Hard Day's Night" (http://youtu.be/l11pQVLKeMM)
The same year Mary Poppins premiered gave us another iconic musical with a little less story and a lot more Liverpool. A Hard Day's Night is the black-and-white fictionalized story of The Beatles as they leave Liverpool to play on a London television show. The film follows them on the train with Paul's grandfather (who is the de facto villain, in a way) as they deal with multiple distractions, including screaming female fans and Ringo getting arrested. There's not much to the story – we follow the Fab Four around, see them interact with one another and fans, and watch hilarity ensue. But, much like their performance on The Ed Sullivan Show, A Hard Day's Night managed to capture a side of the super group and their relationship with their fans, the media, and each other in a way that couldn't be done in an interview or a printed newspaper article. The film has been borrowed from in genres ranging from spy films to television comedies, thanks to the innovative camerawork of Richard Lester and his cinematographer Gilbert Taylor. This was The Beatles the way that history should remember them: talented young Englishmen who enjoyed their lives, appreciated their fans, and loved every moment or their somewhat crazy existence on this planet. And that doesn't even take into account some of the greatest music ever written.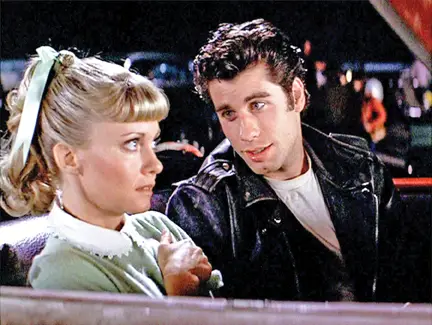 5. Grease (1978)
Directed by Randal Kleiser
Signature Song: "Summer Nights" (http://youtu.be/ZW0DfsCzfq4)
Rydell High: the high school everybody wishes they could attend with teenagers who looked like middle-aged parents. Based on the 1971 stage musical, Grease is still one of the ultimate "sing-a-long" movie musicals. Danny (John Travolta) and Sandy (Olivia Newton-John) are seniors returning from their summer breaks, neither realizing that Sandy has transferred to Danny's school from Australia. The problem: Danny has a reputation as a slick bad boy at his school, the complete opposite of his persona over vacation. Eventually, thanks to the influence and peer pressure from their group of friends, they both make efforts to become what they think the other wants; Danny tries to become an athlete, and Sandy tries to become a loose, badass chick. In the end, the ups and downs lead them back to each other (of course), and they fly away into the clouds. Grease is heavy on the 50's nostalgia and catchy tunes in exchange for some ridiculous dialogue and sub-par acting, but it never really hinders the film. Those who see its problems still enjoy it as a spectacle. Those who see past those issues get lost in its colorful, two-dimensional world, littered with poodle skirts, pink ladies, and leather jackets. It offers three or four "signature" songs, but none can top this karaoke duet to end all duets.
4. The Sound of Music (1965)
Directed by Robert Wise
Signature Song: "The Hills Are Alive" (http://youtu.be/5fH2FOn1V5g)
Maria, the nun who taught the world to sing, came to the big screen in a big way in 1965 in the form of Julie Andrews running through the alps with Robert Wise's Best Picture winner The Sound of Music. Andrews is Maria, a young nun sent to Austria at the beginning of World War II to educate and care for the Von Trapp children and the father Georg (Christopher Plummer) a strict disciplinarian military captain. After initial discord between Maria and the seven children, they eventually warm to her, thanks to her kind words and positive outlook. She sings her way into the hearts of the children and, eventually, their father. The Sound of Music has become a staple in world culture, thanks to its influence in dozens of areas. "My Favorite Things," despite not being a deliberate Christmas song, has become a holiday classic. The children's goodbye song and outfits have been parodied on many an occasion. The title song was even borrowed for one of the other films on our list (Moulin Rouge!), reconfigured and used as an important plot point. But, when all is said and done, it's that crane shot above Julie Andrews as she sings the title song in the mountains that we always comes back to.
3. Singin' in the Rain (1952)
Directed by Gene Kelly, Stanley Donen
Signature Song: "Singin' in the Rain" (http://youtu.be/D1ZYhVpdXbQ)
Gene Kelly plays Don Lockwood, a silent film star who is always cast with the same leading lady, Lina Lamont (Jean Hagen). He is growing tired of her; she thinks they are in love. When the film industry moves into the sound age, the producers decide they have to update their latest offering with the stars to include the sound. When trying to record the sound, multitudes of issues arise, worst of all Lina's horrifying voice. The studio brings in a voice double named Kathy (Debbie Reynolds) to dub Lina's voice over and Don quickly falls in love, infuriating Lina. The love triangle is there; the mild satire of the movie business is adequate. When all is said and done, Singin' in the Rain provides two performances that will forever be indelible: Donald O'Connor's brilliant song and dance number "Make 'Em Laugh" and Kelly's whimsical dance in the street to the title song. The song has been borrowed dozens of times since, most memorably in Stanley Kubrick's A Clockwork Orange, only because it was the only song lead actor Malcolm MacDowell knew all the words to. But that alone points to its impact. The image of Kelly tap-dancing in the puddles and hanging on the lightpost will forever be a picture of love, dedication, and the beauty of music an dance above all.
2. West Side Story (1961)
Directed by Robert Wise and Jerome Robbins
Signature Song: "Tonight" (http://youtu.be/5_QffCZs-bg)
Robert Wise again, this time with the help of Jerome Robbins, brings Romeo and Juliet to the screen in an inventive way. Based on the 1957 stage musical (which is based on the Shakespeare play), West Side Story taks the classic love story and sticks it in New York City, trading in Montagues and Capulets for rival gangs: the Jets and the Sharks. The Jets are a local white gang; the Sharks are an immigrant Puerto Rican gang. The Jets' leader, Riff (Russ Tamblyn), has the greatest trust in his best friend Tony (Richard Beymer), until Tony falls in love with Maria (Natalie Wood), the younger sister of Sharks leader Bernardo (George Chakris). Just like the Bard's classic, tensions flare, there's murder and heartbreak; only this time, there's music from Leonard Bernstein and Stephen Sondheim! West Side Story grabbed eleven Oscar nominations, winning ten, including Best Picture, Best Supporting Actor (Chakris), and Best Supporting Actress for Rita Moreno, who gives the standout performance in the film. Yes, Moreno's voice was dubbed a few times by Marni Nixon and Betty Wand. No, Natalie Wood isn't the least bit Puerto Rican. But so many brilliant song with exceptional lyrics and some of the best choreography put on film makes West Side Story one of the most important musicals of all time.
1. The Wizard of Oz (1939)
Directed by Victor Fleming
Signature Song: "Somewhere Over the Rainbow" (http://youtu.be/PSZxmZmBfnU)
It was MGM's most expensive film to date and didn't earn back the money on its first release, leading to numerous re-releases. It was nominated for six Academy Awards, winning two. Most importantly, it is one of the most important films of all time, let alone musical. The Wizard of Oz, based on L. Frank Baum's 1900 novel, paved the way for film makeup, its use of Technicolor, and its staging of fantasy sequences and dreamlike visuals. Dorothy Gale (Judy Garland) lives in Kansas, with her aunt and uncle and her dog Toto. When her house is taken up in a tornado, she ends up in Oz, a colorful world filled with strange creatures and three important figures: a friendly scarecrow (Ray Bolger), a kind tin man (Jack Haley), and a cowardly lion (Bert Lahr). They join her in her journey to the Emerald City to meet the wizard, while they try to escape the Wicked Witch of the West (Margaret Hamilton) and her band of flying monkeys. The film began running on television in 1965, becoming a yearly holiday tradition, only adding to its reputation. It was chosen for preservation by the Library of Congress in the first year (1989) the process was begun. But, with all the accolades, awards, and memorable moments, Dorothy standing near the cornfield, eyes to the sky is the moment that makes the film. The signature song (Best Original Song Oscar winner) – even 75 years later – is still the greatest song to come from a movie musical, despite its inclusion in a film with so many other memorable songs. The Wizard of Oz taught the world that, no matter what problems we face, wherever we end up, there's no place like home.
–Joshua Gaul