Welcome back to the Definitive List, where for the inaugural top 50, we're counting down the best romantic comedies. The majority of numbers 50 through 41 weren't so traditional. A secret-admirer movie, a period piece, a "These two don't make sense together" movie, and a French fantasy among them, but we still managed to squeak in a Wes Anderson movie and a surrealist masterpiece. It doesn't get any more traditional from here, as numbers 40 through 31 jumps around just as much, from sub-genre to sub-genre. Regardless, these films have made their mark on the industry and still hold a place in the pantheon of the rom-com hall of fame.
#40. Groundhog Day (1993)
Bill Murray was nominated for an Oscar after his dramatic turn in Sofia Coppola's Lost in Translation. He has shown great promise in Wes Anderson's films. But his best performance to date came in this Harold Ramis comedy about a man who can't escape February 2nd in Punxsutawney, Pennsylvania. Starring as Phil, a weatherman in Pittsburgh sent to cover the Groundhog Day festivities in the tiny Western Pennsylvania town, Murray shows a range beyond any of the screwball or deadly serious work he's done. As Phil gets trapped in a time warp that repeats the same day over and over, we see a man go through all the stages of grief – denial, anger, bargaining, depression, and acceptance. It isn't until Phil realizes that being a good person isn't about what it does for you that he sees his tomorrow with Andie MacDowell's Rita. An existential love story if ever there was one, Ramis and Danny Rubin's screenplay is still one of the best ever.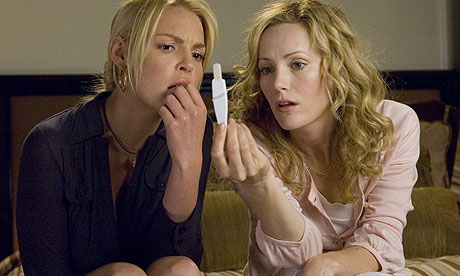 #39. Knocked Up (2007)
Judd Apatow was building his empire of stoner comedy and gross out humor when one of his better efforts premiered in 2007. Knocked Up stars Seth Rogen as a slacker named Ben who manages to land a one-night stand with rising E! journalist Allison, played by Katherine Heigl. The resulting pregnancy and forced courtship is hilarious, despite the criticism of the film and the accusations of it being sexist (including plenty from the leading lady). It's not a mystery – this is a movie about a pregnancy that doesn't focus on the woman. Not only that, she is without a doubt the least interesting character in the film. Regardless, Apatow's film boasts a funny script, solid performances, and has stood up as one of the better films of his catalog.
#38. Adam's Rib (1949)
In 1949, George Cukor directed two screen legends, Katharine Hepburn and Spencer Tracy, in Adam's Rib, a story of two married lawyers representing either side of a court case involving a woman shooting her husband after catching him cheating on her. Obviously, in this scenario, Adam (Tracy) sides with the man, while Amanda (Hepburn) sides with the woman. What ensues is a screwball battle of the sexes, involving fiendish pranks and various attempts at litigation and gaining the upper hand on the other. Eventually, the case takes its toll on their relationship. Tracy and Hepburn were never married in real life, but had a private affair that lasted 26 years, leading to them being paired up in numerous films. Adam's Rib was just another example of two of the greatest actors in film history and how much easier it looks when the two leads have a real, honest connection. It's tough to fake real love.
#37. Harold and Maude (1978)
Director Hal Ashby's second film, Harold and Maude, was more black comedy than romantic comedy. Despite that, the story of a surprising pair of companions elevates beyond the typical romantic comedy tropes. Starring Bud Cort as Harold, a young man obsessed with death, the film sees him drifting away from his life and into a relationship with a 79-year-old woman names Maude, played by Ruth Gordon (oddly enough, Gordon was a screenwriter for Adam's Rib). Ruth teaches Harold about the need to embrace life and live it to the fullest, something he has never felt the need to do. Somehow, their relationship blossoms into a romantic one, despite their incredible age difference. It's a one-of-a-kind romance that works thanks to the performances of Cort and Gordon. Hey, the heart wants what the heart wants.
#36. Chasing Amy (1997)
From age difference to sexual orientation difference, Kevin Smith's third film remains his most interesting and effective, centering around a comic book artist named Holden (Ben Affleck) and his relationship with another comic book artist named Alyssa (Joey Lauren Adams). After Holden and Alyssa become good friends, he slowly realizes that he's falling for her. Unfortunately for him, she's a lesbian. Where the film goes from there is previously unmarked territory, as it explores sexuality and love in a way not really seen in many mainstream films before then. But while the relationship blossoms, we see Holden's business partner Banky (Jason Lee in his best performance) slowly begin to lose touch with his friend, turning that anger toward Alyssa, adding another layer to the complicated relationship. Extremely crude and straight-forward about sex, Chasing Amy found a niche by exploring how important history is to relationships and how it defines you as a person.
#35. Moonstruck (1987)
Before he became wildly unpredictable, Nicolas Cage laid the groundwork to be a pretty successful comedic actor, with work in Valley Girl and Raising Arizona. In 1987, Cage turned in his first performance to get him on the Oscar radar in Moonstruck. The Norman Jewison-directed film centers around Loretta (Cher in her Oscar-winning role) as she falls in love with the brother (Cage) of a man she had agreed to marry (Danny Aiello). In essence, it's a simple love triangle, but with a cartoonish Italian spin.  The film grabbed six Oscar nominations, four of them for acting. The screenplay grabbed an Oscar victory for John Patrick  Shanley, who wouldn't get nominated again until 2009, with Doubt. For years to come, the film (and Cher's movie career) will always be summed up by one line: "Snap out of it!" Sums up Cage's career lately, too.
#34. Sense and Sensibility (1995)
Long before Ang Lee caught the American public off-guard with Brokeback Mountain, he directed the best theatrical adaptation of a Jane Austen novel, 1995's Sense and Sensibility. Starring (and written for the screen by) Emma Thompson, the film took Austen's prose and, while not staying completely faithful, translated it into a beautifully shot, whimsical story of love in the life of two polar opposite sisters. Also starring a pre-Titanic Kate Winslet, Alan Rickman, and Hugh Grant at his most charming, Sense and Sensibility may be best described as an exercise in delight – by the end of the film, if you aren't smiling, you probably have no soul.
#33. Manhattan (1979)
Woody Allen is Woody Allen. His films are idiosyncratic and his stories are microcosms of an overwhelming sense of self-loathing. At the same time, he really knows how to create characters. Probably the best job he did as a director came in 1979 with Manhattan, the story of a divorced New York man (Allen) dating a high schooler (Oscar-nominated Mariel Hemingway), but slowly falling for his friend's mistress (Diane Keaton). Filmed in black and white, Manhattan lays Allen's typical neurosis over a beautifully shot New York City better than any of his other films have done since. It's a funny film, but it's also one of Allen's most realistic portrayals of life and love in the big city. The acting feels more natural than many of his other efforts and the connection formed between Allen and Keaton on screen is as genuine as ever. But, first and foremost, this film is in love with the Big Apple.
#32. Splash (1984)
After Tom Hanks gained semi-fame in TV's Bosom Buddies, he made his first big splash (pun very much intended) in this 1984 fantasy romantic comedy about a man who reunites with the mermaid who saved his life when he was a child. Directed by Ron Howard, Splash spotlighted Hanks' comic timing and Everyman likability, while also proving he could carry a film. It didn't hurt to throw in great supporting performances from John Candy and Eugene Levy, a supermodel (Daryl Hannah) to play the mermaid, and an Oscar-nominated screenplay. As a bonus, it was the first film released by Disney under their offshoot production company Touchstone Pictures, essentially becoming the first film Disney produced that wasn't specifically geared toward children.
#31. Four Weddings and a Funeral (1994)
A year before Hugh Grant stole hearts as Edward Ferrars in Sense and Sensibility, he won his first (and only) Golden Globe for his performance in Four Weddings and a Funeral, a Mike Newell-directed, Richard Curtis-written episodic romp through wedding after wedding, following Grant's Charles, as he keeps running into an American woman named Carrie (Andie MacDowell) at each event. As he always does, Grant puts on his "bachelor lifestyle" face and eventually gets broken down, always putting on the charms he needs to, despite how confused and awkward he seems to be. In any case, the sharp British wit stands out as the star of the film, another indication that Curtis knows how to write a romantic comedy well, especially for British audiences. Nominated for Best Picture in one of the best years for movies ever (Pulp Fiction, The Shawshank Redemption, and more), it still manages to stand out on its own.
As we approach the halfway point, we'll see films that run the gamut from a love story that deliberately states it's not a love story to a sports-themed rom-com to another Richard Curtis-penned movie. We hope you've enjoyed the ride so far; it only gets better from here.
— Joshua Gaul