Batman (2011)

"Volume 1: The Court of Owls" (#1-7) and "Volume 2: The City of Owls" (#8-12, Annual #1)
Written by Scott Snyder (all), James Tynion IV (back-up story from #8-12, co-writer of Annual)
Drawn by Greg Capullo (#1-11), Becky Cloonan (#12), Jason Fabok (Annual)
Inking by Jonathan Glapion
Colouring by FCO Plascencia
Published by DC Comics
Scott Snyder is a relatively new talent, making his major publisher debut writing briefly for Marvel in 2009. In 2010 he debuted his original series "American Vampire" through Vertigo, and its immediate success landed him an exclusive contract with DC as well as a run on "Detective Comics" in 2011. Snyder and Batman seemed a match made in Gotham, his run gaining enormous praise. It was cut brief, after 11 issues, with the New 52 relaunch. Also during 2011 he wrote the five-issue miniseries "Batman: Gates of Gotham", which acts as a sort-of companion to his New 52 run on "Batman", both unearthing complex mysteries surrounding Gotham City while expanding the mythology of the city and of Batman in new and exciting ways.
Not afraid of telling a long story which can potentially wane reader interest, Snyder's first 12 issues of "Batman" (along with the Annual) make up one story arc, each issue an important chapter in the narrative as a whole. On his other major New 52 run, "Swamp Thing", he told one story across 20 issues (#0-18, Annual), making up just one half of an epic co-masterminded by Jeff Lemire through "Animal Man".
The Court/City/Night of Owls story is large in page count, and feels twice as huge in content. There is a great weight to what is being told, as Snyder writes a history of Gotham and a compelling mystery into one. Many Batman writers over the years fail to realize or acknowledge that one of Batman's greatest tools – if not his greatest – is his mind. Worthy of being called the World's Greatest Detective, he shows many of his strongest traits when trying to solve a mystery; the bigger and more complex the mystery, the better. The two greatest most elaborate cases canon Batman comics have dealt with in recent years have been Grant Morrison's metaphysical seven-year odyssey and Snyder's Owls, with both writers arguably having the top two Batman runs in the last decade.
This comic has a carefully plotted narrative, and is sprinkled with clues throughout that provide enhanced appreciation on repeated readings. The less one knows of the comic's exact plot before reading, the better, as it is full of surprises and game-changing story developments. It is the core of the New 52 Bat-family universe, with other comics revolving around it. "Nightwing" has several big ties to it, and later into the story, a one-night cross-over involves "Batgirl", "Batman and Robin", "Birds of Prey", among other Bat-titles.
With Snyder being the MVP of "Batman", it can be easy, but also wrong, to ignore the talents of the artists involved on this comic. The visual detail is very impressive, with Greg Capullo's drawings providing the life stream, and FCO's colours artfully capturing the moody Dark Knight aesthetic without going overboard.
With the upcoming release of Volume 2, now is the perfect opportunity to pick up the entire story, for those who have not been reading the comic since its debut. Volume 1 ends on such a cliff-hanging note, and the fact that it only tells one half of a story might have been disappointing to those who picked up the trade when it was first released last year. This is a story that definitely deserves a single-book deluxe edition; perhaps even an Absolute Edition. Until then, we will have to make do with Volumes 1 and 2.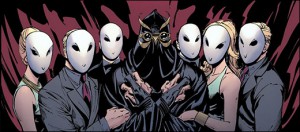 "Volume 1: The Court of Owls" was released in hardcover last year. The paperback will be released March 26, 2013. "Volume 2: The City of Owls" will be released in hardcover March 26, 2013.