When Homicide: Life on the Street premiered in January 1993 after the Super Bowl, it leaped into a different world than the standard hour-long dramas. There were a few exceptions like Hill Street Blues that provided an inspiration, but Creators Barry Levinson and Tom Fontana were entering uncharted territory. The cast lacks the typical pretty faces and mirrors the balding and overweight guys you might expect to see as homicide detectives. This is a show about "thinking cops" who use their wits instead of muscle to catch the bad guys. Setting up a formula with no shootouts or car chases, Levinson and Fontana changed the game for cop shows and network dramas in general. While the dwindling ratings pushed the series towards cancellation many times, it actually survived for seven seasons. The viewership never matched those of a breakout hit like NYPD Blue, but its impact on the television landscape was a lot more significant. Dramas like The Wire and The Shield wouldn't exist without Homicide. It ranks among my favorite TV shows and deserves renewed attention 20 years after its original premiere.
Our story begins with Baltimore journalist David Simon, who spent a year closely following that city's homicide detectives. The result was the fascinating non-fiction book Homicide: A Year on the Killing Streets in 1991. This felt like the perfect source material for a series, but networks would certainly want a much-different tone than the morose atmosphere of Simon's book. Amazingly, NBC took a chance and gave a major promotional push to a show that didn't glamorize the detectives' jobs. It received huge ratings after the Super Bowl, but they quickly dropped as mainstream viewers didn't stick around. Even so, critics and audiences looking for something different raved about the nine-episode season. NBC messed around with the running order and made things more difficult, and that trend would continue in the future. The second season only received four episodes, and its future seemed dead in the water. Amazingly, the show returned for a third run with a complete 22 episodes, and that was the approach the rest of the way. The downside of this longevity was a change towards more action and prettier actors, but the original soul remained all the way to the end.
Watching Homicide in the early seasons was a remarkable experience; it was appointment television because it looked so much different than everything else. First of all, it was shot in Baltimore in a time when most shows were produced in New York or L.A. By using the authentic locations of that city, it brings a realism that's impossible to recreate on a sound stage. The department headquarters looks drab and spare, and that fits with the dour nature of their profession. These men and women see the worst parts of humanity every day and are paid very modestly for their efforts. Their work can decimate marriages and make it impossible to live a normal life. Simon captured those difficulties in his book, and it works even better in the visual medium. When NBC required the producers to make cast changes, they made the intriguing choice to remove a character by suicide. "Crosetti" is one of the most powerful hours and shows the depressing aspects of this work. This moment is referenced multiple times in future seasons, particularly when another detective contemplates a similar action in the harrowing "Have a Conscience".
This material could easily become too difficult to watch, but it never falls into that trap. The main reason is the wonderful ensemble cast, who bring such unique approaches to each character. Our entry point is Kyle Secor's Tim Bayless, a newcomer who's transferred into the department. He begins the series with idealistic views about right and wrong but is slowly decimated by the job. The early culprit is the Adena Watson case, his first as a primary. She's a young girl who's brutally murdered, and he becomes obsessed with finding the killer. His partner is the brilliant and extremely arrogant Frank Pembleton (Andre Braugher), and their bond is one of the cornerstones of the series. Braugher commands the screen and has a style that contrasts sharply with Secor's understated approach. One of the show's pivotal episodes is "Three Men and Adena", which takes place almost entirely in "The Box" while they interrogate a suspect in the Watson killing. The remarkably written script from Fontana reaches a crescendo of back-and-forth exchanges between Bayless, Pembleton, and Moses Gunn as the possible killer. This first-season episode is the perfect starting point into Homicide's style and ranks among the best in its entire run.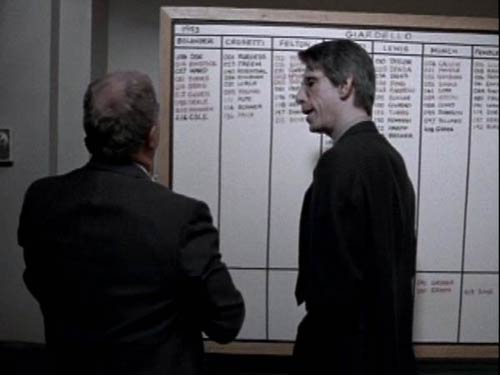 This is hardly a two-man show and includes excellent work from too many actors to mention. Richard Belzer's John Munch is a steady comic presence throughout the show yet still fits in this world. He slides perfectly into the trickier material, starting with his "I am not Montell Williams!" rant in the pilot "Gone for Goode". When his partner Stanley Bolander (Ned Beatty) and two other detectives are shot in the third season, Belzer plays Munch's anger and thoughts of vengeance just right. Beatty is quite a find given his resistance to TV work prior to that point. Bolander is the grumpy yet lovable "big man" who brings such heart to the show. It's too bad that Beatty grew tired of the network messiness and left after three seasons. Clark Johnson now makes his living behind the camera but has great screen presence as Meldrick Lewis. He's such a distinctive character and balances the humor and drama as well as Belzer. NBC requested more sex appeal in the fourth season, and the result was the casting of Reed Diamond as Mike Kellerman. His start is a bit shaky, but he becomes a fascinating character. His involvement in the shooting of kingpin Luther Mahoney leads to one of the most intriguing storylines. Keeping everyone in line is Lieutenant Giardello, played with power and grace by Yaphet Kotto. When he takes charge and puts his foot down, even headstrong guys like Pembleton stop and listen.
Homicide does an excellent job with its female characters, particularly Melissa Leo as Kay Howard. She maintains a tough exterior and is a great detective with better clearance rates than all the guys. Long before she mastered overacting to get an Oscar, Leo reins in those tendencies and shows Howard's frustrations at not getting equal respect. The show is also groundbreaking in its portrayal of African-Americans. Along with Kotto, Braugher, and Johnson, there are plenty of recurring characters that rarely fit into the standard formula. Giancarlo Esposito joins the cast as Giardello's son in the final season and brings an interesting personal connection for that character. Few shows in this era of television give such great roles to African-Americans without forcing them into a certain mold. There is only one Frank Pembleton, and his middle-class Jesuit background differs sharply from Lewis' history.
Although it shares a general framework with today's procedurals, Homicide differs because its characters are so damn distinctive. They're likable even when they do the completely wrong thing, and the writers rarely let them down. Simon joined the show as a staff writer in the later seasons, and that experience certainly shaped his work creating The Wire. There are so many great episodes to recommend from the entire seven-year run. The first two seasons are nearly flawless, and even the slight dips are counteracted by stunning individual stories as the show moves forward. An episode like season six's "The Subway" diverges considerably from the normal structure and ranks among the best entries. Pembleton spends most of it just talking with a guy trapped by a subway car who's played by Vincent D'Onofrio. Other standout examples delve into Bayless' dark past of abuse, specifically "Betrayal" in season five. All the main actors get a chance to expand their characters, and that keeps the show rolling. The seventh season loses some steam, but the finale and movie epilogue close the stories in just the right fashion. They show the persistence of the original vision and give it a well-deserved send-off. It remains the classic police drama and transcends its genre in the best way possible.
Ten Essential Homicide: Life on the Street Episodes
"Gone for Goode"
"Three Men and Adena"
"Bop Gun"
"Crosetti"
"The Gas Man"
"The Documentary"
"Deception"
"Subway"
"Fallen Heroes"
"Forgive Us Our Trespasses"