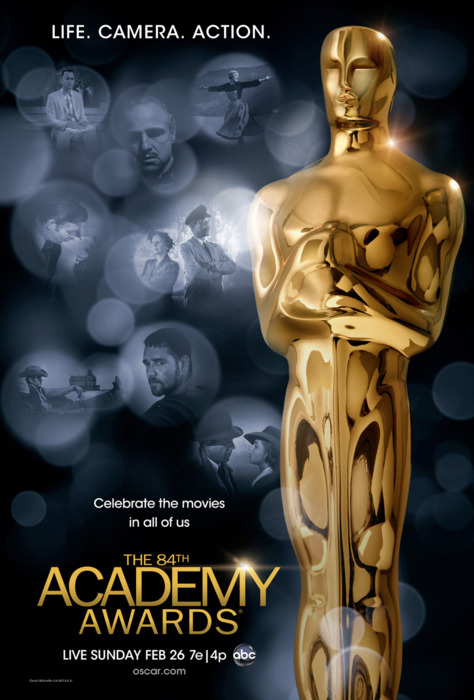 Its that time of the year again in when everyone prepares their Oscar predictions, because let's be honest for a moment – the best part of the Oscars is placing your bets on who'll win and hopefully walking away from a long and usually boring ceremony with some extra cash in your pocket. This morning the Academy of Motion Picture Arts and Sciences announced the nominations for the 84th Academy Awards with no major surprises but instead, a long list of snubs.  Martin Scorsese's Hugo is the surprise leader of the 2012 Academy Award nominations with 11 nods, including Best Picture and Best Director. The Artist followed with 10 nominations. Here are my predictions of who I feel will take home gold come Sunday February 26, as well as those films and talent who I believe were snubbed.
ACADEMY BRANCH BREAKDOWN
Actors 1205
Art Directors 374
Cinematographers 200
Directors 366
Documentary 151
Executives 437
Film Editors 221
Makeup Artists
and Hairstylists 118
Members-at-Large 245
Music 234
Producers 452
Public Relations 368
Short Films and Animation 340
Sound 405
Visual Effects 279
Writers 382
Best Motion Picture of the Year
Nominees:
The Artist (2011): Thomas Langmann
The Descendants (2011): Jim Burke, Alexander Payne, Jim Taylor
Extremely Loud and Incredibly Close (2011): Scott Rudin
The Help (2011): Brunson Green, Chris Columbus, Michael Barnathan
Hugo (2011/II): Graham King, Martin Scorsese
Midnight in Paris (2011): Letty Aronson, Stephen Tenenbaum
Moneyball (2011): Michael De Luca, Rachael Horovitz, Brad Pitt
The Tree of Life (2011): Nominees to be determined
War Horse (2011): Steven Spielberg, Kathleen Kennedy
No surprises here. Martin Scorsese is a perennial favourite of Academy voters, and Hugo, much like The Artist celebrates early cinema, dating even further back to the very start of it all. It would be nice to see Hugo win Best Film but Scorsese took home the gold not too long ago for The Departed. The Oscars also tend to love their post 9/11 movies and Extremely Loud and Incredibly Close does star Tom Hanks, and is directed by Academy fave Stephen Daldry – but you can automatically scratch it off your list since nobody saw the damn pic. While you're at it, you can also knock off The Help, War Horse, Moneyball and Midnight In Paris. since no film which doesn't have its director also nominated stands a chance. I wouldn't be surprised if Tree Of Life took home the award leaving everyone in shock much like how The Hurt Locker upset "Avatards" across the world a few years back. If you wanna be a wild one and make the risky bet, put your money on Malick. If you want to play it safe, put your money on The Artist, which has already been sweeping other major awards ceremonies and is now the odds-on favorite according to Gold Derby. However, I personally think the Academy will choose The Descendants. They love Alexander Payne, they love George Clooney – the film has already picked up some major awards including best picture elsewhere – and in all honesty I don't see the Academy awarding a non-American film top honors. Call it revenge for not getting the Best Picture and Best Director trophies for Sideways.
Prediction: The Descendants
Major Snubs: Considering this is the Academy Awards, nobody expects great foreign language films to appear in this category, but couldn't they have stretched it to ten nominees and thrown in Tinker Tailor Solider Spy? And why not replace The Help with either Shame or Take Shelter? I'm not quite sure if Margaret qualified since there seems to be some confusion on its release date, but it certainly belongs on the list. For my money Melancholia was one of the best films of 2011, and it has not one nomination. What a shame.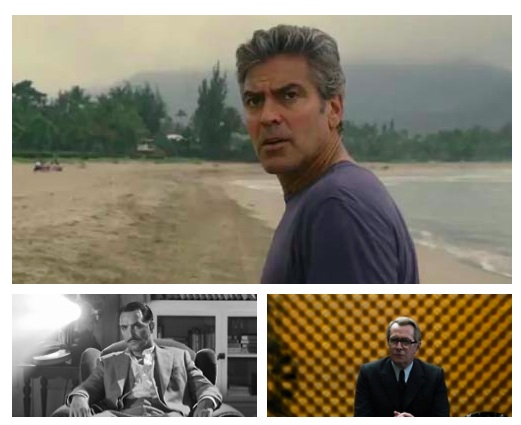 Best Performance by an Actor in a Leading Role
Nominees:
Demián Bichir for A Better Life (2011)
George Clooney for The Descendants (2011)
Jean Dujardin for The Artist (2011)
Gary Oldman for Tinker Tailor Soldier Spy (2011)
Brad Pitt for Moneyball (2011)
Sure everyone loves Jean Dujardin's performance in The Artist and it sure would be nice to see Gary Oldman (who gets his first ever acting nomination) win best actor, but make no mistake, this is without a doubt Clooney's year. He's been picking up best actor everywhere else and while he's already won Best Supporting (Syriana), he's never won the top prize.
Prediction: George Clooney
Snubs: Of course the major snub here is Michael Fassbender, whose performances in both Shame and A Dangerous Method were far more impressive than that of Clooney and Dujardin combined.
Best Performance by an Actress in a Leading Role
Nominees:
Glenn Close for Albert Nobbs (2011)
Viola Davis for The Help (2011)
Rooney Mara for The Girl with the Dragon Tattoo (2011)
Meryl Streep for The Iron Lady (2011)
Michelle Williams for My Week with Marilyn (2011)
Having won at the recent Golden Globe awards, Meryl Streep and Michelle Williams would be the two actresses to consider for a win, but I wouldn't be surprised if Glenn Close took home the award. She's been nominated twice for Best Actress and three times for Supporting but has yet to win. Besides people might be sick of voting for Streep and the film itself didn't measure up to her performance. As for Williams, she might be considered too young and voters might just think to themselves that she still has a bright future ahead with other opportunities. In other words, Close might get the sympathy vote. And if the sympathy vote isn't enough to convince you that she might win, than I ask you to consider this: The acclaimed actress plays a woman masquerading as a male waiter in 19th-century Ireland in order to land a job. It's a performance that's already generating buzz for Close, who already played the role in a 1982 Off-Broadway play and won an Obie award for it. And let's not forget that the voters love gender bending roles. They love female actors who play men, male actors who play women, and sometimes pre-operative transgender wins big (Transamerica). Remember Tootsie, Victor/Victoria, Some Like It Hot, The World According to Garp, The Crying Game, Boys Don't Cry, and The Year of Living Dangerously? Need I say more?
Now that I convinced you that Glenn Close will win, I ask you forget what I said. Meryl Streep is the favorite going in and although she is nominated every year, she hasn't won the Oscar in 29 years, since Sophie's Choice – so bet smart, bet Streep.

Prediction: Meryl Streep
Snubs: It's too bad they snubbed both Tilda Swinton (We Need To Talk About Kevin) and Elizabeth Olsen (Martha Marcy May Marlene) who I felt delivered two of the best performances last year and really did deserve a nomination each.
Best Achievement in Directing
Nominees:
Woody Allen for Midnight in Paris (2011)
Michel Hazanavicius for The Artist (2011)
Terrence Malick for The Tree of Life (2011)
Alexander Payne for The Descendants (2011)
Martin Scorsese for Hugo (2011/II)
I know Scorsese took home best director at the Golden Globes, and Payne seems like a solid pick, but I believe the Academy will surprise us all by acknowledging the greatness of Malick's vision in The Tree Of Life. In recent years they've done good awarding the Coens for No Country For Old Men, Kathryn Bigelow for her work on The Hurt Locker and even Danny Boyle for Slumdog Millionaire. The Academy has been changing drastically in the past ten years, adding in many new and much younger and open minded individuals. This is no longer the Academy that awarded James Cameron Best Director for Titanic. If my predictions are right, it would split the Best Picture / Best Director awards which is rare but still happens from time to time. Though he stands a chance, this famous recluse definitely won't be there to accept.
Prediction: Terrence Malick
Best Performance by an Actor in a Supporting Role
Nominees:
Kenneth Branagh for My Week with Marilyn (2011)
Jonah Hill for Moneyball (2011)
Nick Nolte for Warrior (2011)
Christopher Plummer for Beginners (2010)
Max von Sydow for Extremely Loud and Incredibly Close (2011)
Probably the easiest prediction of the bunch: Christopher Plummer, now at age 82, will no doubt will win Best Supporting Actor. Don't even think twice about this category. With more than eight decades behind him, it's about damn time he got some love from the Academy. Not only is his performance that good but a few of the other four nominees don't even deserve to be on the list. In fact I could easily replace Nolte, Hill and Branagh with the entire cast of Tinker Tailor Solider Spy (but I wouldn't touch Sydow!)
Prediction: Christopher Plummer
Snubs: The major snub here is Albert Brooks for his performance in Drive. Brooks has been making the rounds and turning up the charm resulting in a staggering 18 wins so far, and yet not even a nomination here.
Best Performance by an Actress in a Supporting Role
Nominees:
Bérénice Bejo for The Artist (2011)
Jessica Chastain for The Help (2011)
Melissa McCarthy for Bridesmaids (2011)
Janet McTeer for Albert Nobbs (2011)
Octavia Spencer for The Help (2011)
Along with Glenn Close, Janet McTeer has a good shot at taking home the gold for her performance In Albert Nobbs. I would have chosen Jessica Chastain had they nominated her for the right role – that being her performance in Take Shelter. However, my pick is Octavia Spencer, who has already collected an impressive five wins and six nominations, not to mention snagging a Golden Globe. However, there is always the possibility that have to actresses from that same film in the same category can split the votes. I have a feeling this will be what I like to call the "Three Six Mafia" win, with McCarthy winning and shocking the world.
Prediction: Melissa McCarthy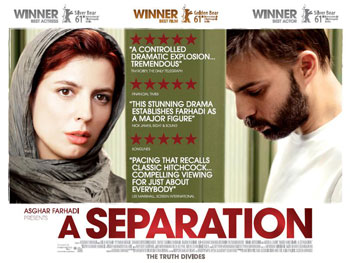 Best Writing, Screenplay Written Directly for the Screen
Nominees:
The Artist (2011): Michel Hazanavicius
Bridesmaids (2011): Kristen Wiig, Annie Mumolo
Margin Call (2011): J.C. Chandor
Midnight in Paris (2011): Woody Allen
A Separation (2011): Asghar Farhadi
Best Writing, Screenplay Based on Material
It's a pleasant surprise to see Bridesmaids get a nomination for original screenplay, as was seeing The Artist nominated here. Woody Allen has a great shot of winning but it would honestly be a crime not to award Asghar Farhadi's screenplay for A Separation – one of the greatest screenplays in recent memory.
Prediction: Asghar Farhadi
Snubs: I am not sure if Abbas Kiarostami's Certified Copy is considered a 2011 release or not, but if so, it does deserve to be on this list.
Previously Produced or Published
Nominees:
The Descendants (2011): Alexander Payne, Nat Faxon, Jim Rash
Hugo (2011/II): John Logan
The Ides of March (2011): George Clooney, Grant Heslov, Beau Willimon
Moneyball (2011): Steven Zaillian, Aaron Sorkin, Stan Chervin
Tinker Tailor Soldier Spy (2011): Bridget O'Connor, Peter Straughan
As much as I loved Hugo, I'm putting my money once again on The Descendants. Alexander Payne has to walk away with at least one trophy.
Best Animated Feature Film of the Year
Nominees:
A Cat in Paris (2010): Alain Gagnol, Jean-Loup Felicioli
Chico & Rita (2010): Fernando Trueba, Javier Mariscal
Kung Fu Panda 2 (2011): Jennifer Yuh
Puss in Boots (2011): Chris Miller
Rango (2011): Gore Verbinski
Rango would seem like the obvious choice simply because we all assume most voters have seen Rango and not the other four nominees. But let's just assume that the voters actually do their work and watch every movie, they'll still most likely choose Rango simply because it is the best feature listed here. Chico & Rita is captivating both visually and musically but disappointing in the story department and Puss In Boots and Kung-Fu Panda 2 aren't even in the same league as Gore Verbinski's flick. However the one film that can surprise is A Cat In Paris easily taking Tintin spot; this thrilling adventure/mystery is aimed squarely at an adult audience in search of a gripping drama in anime form.
Prediction: A Cat In Paris
Snub: Steven Spielberg's The Adventures of Tintin
Best Foreign Language Film of the Year
Nominees:
Bullhead (2011): Michael R. Roskam(Belgium)
Footnote (2011): Joseph Cedar(Israel)
In Darkness (2011): Agnieszka Holland(Poland)
Monsieur Lazhar (2011): Philippe Falardeau(Canada)
A Separation (2011): Asghar Farhadi(Iran)
As much as I would like to see Canada's Monsieur Lazhar pick up the win, Asghar Farhadi's A Separation is the sure win. This is a no brainer since it is one of the most critically acclaimed films of 2011, landing number one on many top 1o lists across the globe.
Prediction: A Separation
Snubs: It's too hard to say who got snubbed since each country can only submit one film and sometimes the country itself chooses badly. Personally I'm pretty happy with the list as both Bullhead and A Separation made my top 20 of 2011.
Best Documentary, Features
Nominees:
Hell and Back Again (2011): Danfung Dennis, Mike Lerner
If a Tree Falls: A Story of the Earth Liberation Front (2011): Marshall Curry, Sam Cullman
Paradise Lost 3: Purgatory (2011): Joe Berlinger, Bruce Sinofsky
Pina (2011): Wim Wenders, Gian-Piero Ringel
Undefeated (2011): Daniel Lindsay, T.J. Martin, Rich Middlemas
There is a lot of talk right now surrounding The Memphis Three, not only with Joe Berlinger and Bruce Sinofsky's documentary but also with West Of Memphis premiering at this year's Sundance. However I do feel that the combination of the dark material, and the fact that it is the third entry of a trilogy that has spanned decades will only hurt its chances to win. If I had to place a safe bet, I would choose Pina, a film which is universally loved, with a well known and respected director behind it. It also helps that the film itself i dedicated to late and great Pina Bausch.
Prediction: Pina
Snub: The major snub here is for Steve James and his brilliant documentary The Interrupters, a film we have championed for months now. The Interrupters not only made our list of 30 best films of 2011, but it appeared number one for our list of best docs. It truly is one of the best documentaries I've ever seen. Also not on the list of nominees is Senna, which also appeared on our list of best films of 2011 and in second place to The Interrupters for best Documentary.
****
For the remaining categories, I have highlighted my predictions in bold.
Best Achievement in Cinematography
Nominees:
The Artist (2011): Guillaume Schiffman
The Girl with the Dragon Tattoo (2011): Jeff Cronenweth
Hugo (2011/II): Robert Richardson
The Tree of Life (2011): Emmanuel Lubezki
War Horse (2011): Janusz Kaminski
Best Achievement in Editing
Nominees:
The Artist (2011): Anne-Sophie Bion, Michel Hazanavicius
The Descendants (2011): Kevin Tent
The Girl with the Dragon Tattoo (2011): Angus Wall, Kirk Baxter
Hugo (2011/II): Thelma Schoonmaker
Moneyball (2011): Christopher Tellefsen
Best Achievement in Art Direction
Nominees:
The Artist (2011): Laurence Bennett, Gregory S. Hooper
Harry Potter and the Deathly Hallows: Part 2 (2011): Stuart Craig, Stephenie McMillan
Hugo (2011/II): Dante Ferretti, Francesca Lo Schiavo
Midnight in Paris (2011): Anne Seibel, Hélène Dubreuil
War Horse (2011): Rick Carter, Lee Sandales
Best Achievement in Costume Design
Nominees:
Anonymous (2011/I): Lisy Christl
The Artist (2011): Mark Bridges
Hugo (2011/II): Sandy Powell
Jane Eyre (2011): Michael O'Connor
W.E. (2011): Arianne Phillips
Best Achievement in Makeup
Nominees:
Albert Nobbs (2011): Martial Corneville, Lynn Johnson, Matthew W. Mungle
Harry Potter and the Deathly Hallows: Part 2 (2011): Nick Dudman, Amanda Knight, Lisa Tomblin
The Iron Lady (2011): Mark Coulier, J. Roy Helland
Best Achievement in Music Written for Motion Pictures, Original Score
Nominees:
The Adventures of Tintin (2011): John Williams
The Artist (2011): Ludovic Bource
Hugo (2011/II): Howard Shore
Tinker Tailor Soldier Spy (2011): Alberto Iglesias
War Horse (2011): John Williams
Best Achievement in Music Written for Motion Pictures, Original Song
Nominees:
The Muppets (2011): Bret McKenzie("Man or Muppet")
Rio (2011): Sergio Mendes, Carlinhos Brown, Siedah Garrett("Real in Rio")
Best Achievement in Sound Mixing
Nominees:
The Girl with the Dragon Tattoo (2011): David Parker, Michael Semanick, Ren Klyce, Bo Persson
Hugo (2011/II): Tom Fleischman, John Midgley
Moneyball (2011): Deb Adair, Ron Bochar, David Giammarco, Ed Novick
Transformers: Dark of the Moon (2011): Greg P. Russell, Gary Summers, Jeffrey J. Haboush, Peter J. Devlin
War Horse (2011): Gary Rydstrom, Andy Nelson, Tom Johnson, Stuart Wilson
Best Achievement in Sound Editing
Nominees:
Drive (2011): Lon Bender, Victor Ray Ennis
The Girl with the Dragon Tattoo (2011): Ren Klyce
Hugo (2011/II): Philip Stockton, Eugene Gearty
Transformers: Dark of the Moon (2011): Ethan Van der Ryn, Erik Aadahl
War Horse (2011): Richard Hymns, Gary Rydstrom
Best Achievement in Visual Effects
Nominees:
Harry Potter and the Deathly Hallows: Part 2 (2011): Tim Burke, David Vickery, Greg Butler, John Richardson
Hugo (2011/II): Robert Legato, Joss Williams, Ben Grossmann, Alex Henning
Real Steel (2011): Erik Nash, John Rosengrant, Danny Gordon Taylor, Swen Gillberg
Rise of the Planet of the Apes (2011): Joe Letteri, Dan Lemmon, R. Christopher White, Daniel Barrett
Transformers: Dark of the Moon (2011): Scott Farrar, Scott Benza, Matthew E. Butler, John Frazier