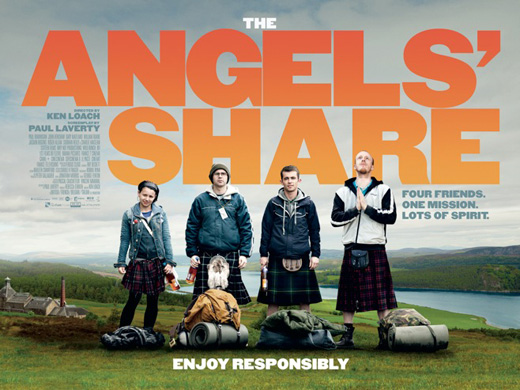 The Angels' Share
Written by Paul Laverty
Directed by Ken Loach
UK/France, 2012
Though often associated with social realism, a few of Ken Loach's films have possessed a comedic streak, and his latest film has more in common with the likes of Looking for Eric than it does Kes or The Wind That Shakes the Barley. Transforming into a heist caper in its second half, The Angels' Share bears resemblances to the much beloved Ealing comedies, most obviously Whisky Galore with which it shares the common thread of whisky theft. There's also some clear inspiration from Bill Forsyth's films of Scottish youth in Loach and regular writing partner Paul Laverty's focus on young, wily Glasgow-based men and women; much of the film's most successful comedy thrives on Scottish colloquialisms. This comedic leaning represents one aspect of Loach's brand of filmmaking, but the film's first half is mostly full of his more grim tendencies despite some laughs, and the disorienting shifts in tone don't always work.
The Angels' Share's narrative concerns young offender Robbie (newcomer Paul Brannigan), who while performing community service is mentored by a sympathetic, whisky-loving social worker (John Henshaw). Caught in a cycle of criminality, rivals, violence and long-term unemployment, the struggling Robbie discovers he has natural abilities as a whisky connoisseur. Spotting a chance to turn his life around and become a reliable new father, Robbie hatches a scheme with some of his fellow offenders to secretly extract just enough of an extremely rare cask of whisky, on auction in the Scottish highlands, in order to finance plans to escape the region and start anew with his girlfriend and newborn son.
In the film's first half, convincing depictions of the real consequences of a criminal lifestyle are portrayed and articulated, and there is an excruciatingly painful, believable scene in which Robbie must confront a half-blind former victim, scarred for life, and his still furious family. As such, it is quite jarring and often frustrating when these various points are set aside for notions that further crime, albeit one free of violence, is a justifiable solution; despite the arguable harmlessness of the theft, the rarity of the product and the media attention behind it still renders it a colossal infraction that could make Robbie and company's situation even worse, but this sort of point is never brought up by Laverty's screenplay. Additionally, while a lot of the character's comedy amuses, the repeated mocking of one member of the team's ignorance seems unusually mean-spirited from decidedly socialist filmmakers fond of promoting working class voices. The audience relationship with that character speaks quite well in regards to the film as a whole: it's funny, but there's a frequent sense of unease regarding the comedy's relation to everything else.
Josh Slater-Williams