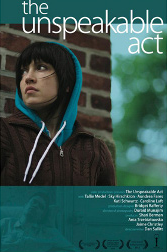 The Unspeakable Act
Directed by Dan Sallitt
Written by Dan Sallitt
USA, 2012
There are countless moments in Dan Sallitt's The Unspeakable Act that resonate far deeper than most things you've seen on screen; this is a precise and assured work that revels in silence and bruises the viewer with its spoken and unspoken intimacy. The film is the third entry in writer/director Dan Sallitt's modest filmography thus far, representing some sort of miraculous watershed moment for independent cinema and for Sallitt himself. Though the director tends to deal in taboo subjects, his approach at unearthing brutal truths and honesty within the medium shines brightest in his latest. While on the surface it's a film about incest, reducing the film and Sallitt's intentions to a singular portrait of said taboo would prove to be a rather faulty endeavor.
We first meet Jackie (Tallie Medel) as she frantically aids in a dinner preparation for the arrival of her older brother Matthew (Sky Hirschkron) and his new girlfriend; Jackie is 17 and is going through some sort of breakdown. Though Jackie has been in love with Matthew all of her life, her actions are primarily acknowledged and felt within the family domain. Perhaps viewed as a childish crush by her mother and sister, Jackie's feelings somehow transcend traditional wants and needs by way of an identifiable universal longing; Sallitt wisely avoids any judgmental stance only to further the difficult dynamic on display. If Jackie is indeed going through just a phase, the limits of her actions remain both undefined and exceedingly dire. Though her bond with Matthew remains strong despite the awkward circumstance at hand, there's a fleeting fragility to almost every action that takes place between the two. Sallitt frames their relationship with one another through the prism of their impossibly close-knit family. Reoccurring static shots of the interior of the home (a setting which nearly acts as another character) offer up an all too familiar personal iconography of the family's shared history and cloudy past; all we need to ever know about them is thoroughly hinted at or conveyed throughout Jackie's expository narration. As Jackie tells us, her home is her native country; to act outside of it would be akin to walking amongst foreigners.
The days before Matthew leaves for college begin to shrink; each moment serving as a microcosm of Jackie's failed attempts at a normal life. In hopes of numbing her cause, Jackie begins sexually experimenting with a boy in her class. Though it doesn't offer her the obvious pleasure that she seeks, the goal of her explorations seem to be aimed at what kind of a response they'll trigger from Matthew. The natural flow and earnest accessibility to process these moments within Jackie's youth is a thing of beauty. The inherent taboo nature of The Unspeakable Act is barely present as Sallitt offers up an evolving authenticity that's hard to shake.
As the summer nears its inevitable close and Matthew prepares to leave for Princeton, Jackie begins psychotherapy (a process she becomes quite fond of) in hopes that it will curve her depression. The running narration via Jackie serves as both instant access into her complicated plight and an intimate portrait of the shifting idea of the modern family. While the film charts Jackie's attempt at acting on her incestuous desires, it's often unclear as to when the narration is taking place. This unspoken passage of time is subtle, but reveals an inconsistency in Jackie's psychology that never becomes truly defined. The film seems to be building towards something even as Jackie projects her fantasies onto reality, and while the two never actually meet, there's a sense that this particular summer and its set of emotions will never breathe and crumble together so freely.
Sallitt's ability to avert common melodrama in favor of a more predominantly vivid encapsulation of Jackie's alienation is a small wonder in itself. It's in the daily boredom and frustrations of such a vulnerable period that allows for the little details of Jackie to blossom. Whether it be the scolding of a friend for incorrectly referring to Matthew as Matt, or a haircut that Jackie offers her brother, there's a keen emphasis placed on the simple moments between siblings that make this film such a rich and rewarding experience. Tallie Medel's incredible performance is the undeniable core of the film; a feat of naturalism and proper cadence that feels all too rare in modern cinema. Directed with such meticulous care and quiet grace, Sallitt's The Unspeakable Act will live on as a proper snapshot of youth forever changed by one action and feeling. To know and understand Jackie is to see a little of ourselves in her, a constant reminder of the unifying imperfections and desires that make up the human condition.
— Ty Landis