Anna Karenina
Written for the screen by Tom Stoppard
Directed by Joe Wright
UK/France, 2012
For most of its running time, Joe Wright's version of Anna Karenina takes place within interior confines, with nearly every scene occurring on a set of noticeable stages. There are no attempts to disguise the artificiality of the film's appearance: clear models and miniatures are heavily used, and there are even moments where the viewer can see the extras in a long, unbroken take re-arranging the contents of one set so as to transform it into another. Joe Wright has so far been one of the more interesting directors to heavily dabble in period drama, and Anna Karenina sees a sharpening of his increasingly trademark long takes that previously felt overly showy at times, alongside a carrying over of the visual and aural creativity of his brilliant action effort Hanna.
Wright's film doesn't just take notes from theatre, with influences from dance and painting also on display. A studio-bound period drama with so many artistic reference points and vibrant editing can't help but initiate memories of Baz Luhrmann's Moulin Rouge, especially so when Matthew Macfadyen almost seems to be channelling Jim Broadbent's performance in that film, and when there are similarly so many lines heavy with utterance of that abstract idea "love". While both films have this very polarising, slightly similar style, Wright's film is certainly far less abrasive and more easily accessible even when heightening its artifice. If one manages to be tuned in with its approach, the results of the aesthetic are often quite extraordinary.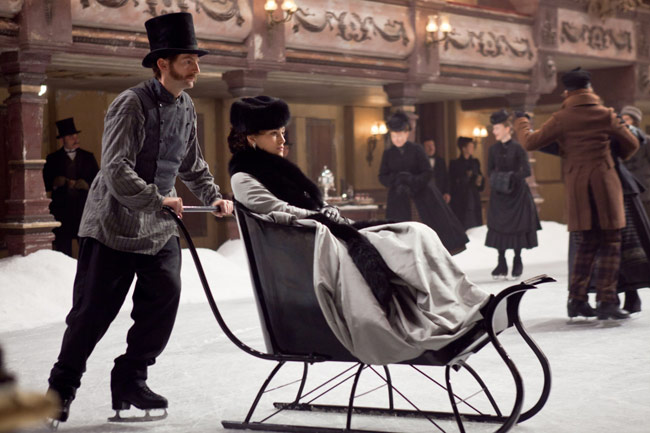 The conceit of the film's approach to relegate Leo Tolstoy's lengthy novel into a stage setting seems to be to suggest the falsity of the story's Russian society. Tellingly, bar the odd venture by other characters, the film only really wanders into the outside world, one of actual landscape settings, when following the idealistic Levin (Domnhall Gleeson) who searches for a "real" life. Most screen adaptations of Tolstoy's novel either excise the character of Levin completely or dramatically reduce his part. Despite never interacting directly with Keira Knightley's Anna, Levin is effectively co-lead in Wright's version, his romantic storyline with Alicia Vikander's Kitty having direct consequences as a result of Anna's actions, as well as providing a contrast to both that relationship and the decadence of the Moscow aristocracy.
Despite the heightened theatricality, the naturalistic performances of much of the cast do not suffer. Wright has consistently got great results with Knightley, and the actress excels in perhaps her best performance to date. Gleeson is also great, as is Jude Law, avoiding caricature as Anna's politician husband, while Vikander and Kelly Macdonald are strong in the other prominent female roles. Macfadyen, despite being somewhat out of place amongst an otherwise low-key assortment of performances, is still very entertaining and a comic highlight. Aaron Taylor-Johnson equips himself quite well in the early stages of Anna's affair but not so much when the relationship gets deeper; the chemistry is fine regarding the initial lust but not so much when they're supposed to be hopelessly in love.
The Johnson criticism relates to the film's biggest detriment: as the story progresses, the excitement of the passion eventually leads to constant demands and ultimatums that become increasingly tiresome during the film's final third. Additionally, though the balancing act between the Anna and Levin storylines is initially well handled, Levin and Kitty end up disappearing for so much of the second half that one loses some connection to their fate. Some of the emotional urgency of the story is still retained in the final act, but it is significantly weakened by elements that tend to drag and don't seem to be in successful unison with the aesthetic flourishes. Still, while the film's emotional pull isn't always consistent, it is host to some wonderful flourishes: see a truly sweet conversation and declaration of love told entirely through the medium of toy letter blocks. Another potentially alienating choice in a boldly realised film, but it definitely works.
Josh Slater-Williams
[wpchatai]