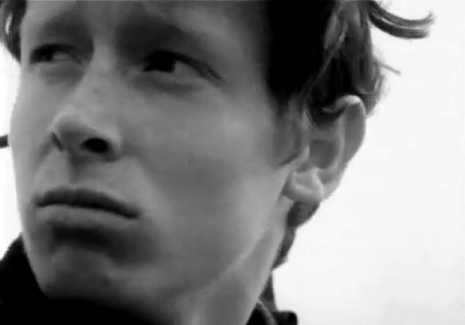 In the late 1970s and 1980s, composer Giorgio Moroder was often accused of trying to replace the orchestral movie soundtrack with high-energy, synthesizer-heavy disco pop laid on with a trowel in movies like Thank God It's Friday (1978), Flashdance (1983), Scarface (1983), and Top Gun (1986). I remember a magazine story on Moroder which quoted one of his many critics as saying, "The day the music died, Giorgio Moroder was brought in for questioning."
I think some people had the same opinion about movies and Tony Scott. Full disclosure: I'm one of them. But it would be greatly unfair to Scott, who apparently committed suicide Sunday after being diagnosed with inoperable brain cancer, not to admit that, for good or for ill, his 1980s feature work had an enormous impact on commercial filmmaking.
The younger brother of Ridley Scott by seven years, he was gifted – like his brother – with an outrageously good eye; a taste for the visual strong enough to earn him his master's degree from London's Royal College of Art (which he'd attended on scholarship no less). But painting didn't pay well, so he joined with his brother in Ridley Scott Associates where, from the 1970s into the 1980s, he applied that eye to moving pictures, directing thousands of commercials, some of them still-talked-about all-time classics in the U.K.
His first feature was the visually sumptuous, dramatically wispy attempt at erotic vampirica, The Hunger (1983), and it was such a lambasted flop it's a surprise Scott's feature career didn't end right there. But three years later, producer Jerry Bruckheimer tapped him to direct Top Gun and movies would never be the same.
It was a perfect marriage of sensibilities (along with Michael Bay, Scott would remain one of Bruckheimer's go-to directors). Bruckheimer, whose youthful interest in photography had led him to his own career in commercials before turning to movies, had the same affinity for striking imagery as Scott.
The timing of the union was just right, too. MTV was only five years old, and the non-stop near-abstract visuals of music video were not only still hypnotically novel, but on their way to becoming the defining visual sensibility for a new movie-going generation. With Giorgio Moroder (another ideal wedding of sensibilities) supplying a Pop's Top Ten-nish soundtrack, Scott put together montages that were, essentially, music videos woven into the narrative of the film (some critics carped that the whole movie was little more than an extended music video).
Striking visuals, a pulsing, toe-tapping score, and a super-patriotic story that made a hero of a young, cocky, mouthy, go-my-own-way fighter jock made for a flick which hit a big, fat sweet spot with MTV's first generation of ticket-buyers: Top Gun scored a whopping $176.7 million domestic. I did the math: at today's ticket prices, that would translate to almost $390 million: more than, say, this year's The Amazing Spider-Man, last year's Harry Potter and the Deathly Hallows Part 2 or Transformers: Dark of the Moon, or any of the Twilight movies. Love it or hate it, you have to respect that kind of box office muscle.
Top Gun set the template for Scott: high-octane visuals, rapid-fire editing (often at the hands of Chris Lebenzon), an MTV-friendly soundtrack, and a story simple enough to absorb without having to pay too much attention.
It also set the template for so many of the box office winners of the next few decades, movies that moved fast, piled on the action, featured characters who were often little more than catch phrases with biceps, offered music video fodder (at least back when MTV still played music videos), and where plausibility – even under Hollywood's extremely elastic definition of the concept – was irrelevant. Think the Lethal Weapons, Speed (1994), Twister (1996), anything by Michael Bay.
Though his brother Ridley often took the same rap of favoring looks over substance, their styles, though both highly visual, were strikingly different.
Ridley's films — good and bad – play out like classical music: stately, elegant, unrushed, somber.
Tony's movies are rock 'n' roll: fast, loud, exhausting, sometimes painfully bright.
It's hard to imagine Tony doing something as subdued as Ridley's Napoleonic-era The Duelists (1977), or even pulling off the brooding sci fi Gothicism of Alien (1979). By the same token, Ridley would have seemed a poor fit for Top Gun or all the running back and forth in Crimson Tide (1995).
Despite being regularly slammed for his storytelling, Scott did care about plot and character. Explaining the failure of Days of Thunder (1990) – Top Gun cloned to the NASCAR circuit – Scott diagnosed the problem as having started production without a finished script. "(You) always have to get a story," he said, "and you've got to get character first…"
But it wasn't a sentiment that quite squared with his execution. In an Entertainment Weekly story about a trending flimsiness in big screen storytelling, The Fan (1996) screenwriter Phoef Sutton told the story of shooting the movie's climactic baseball game in a torrential downpour. Sutton and others tried to argue Scott out of it pointing out that baseball games are called on account of such weather. The rain stayed. Said Sutton: "…I don't think Tony cared about the plausibility of it."
In his later years, he seemed to be trying to reach for the kind of substance his early films were often accused of lacking, but he remained better at taking a good picture than giving it meaning. Enemy of the State (1998) was entertaining enough, but it was like Coppola's The Conversation (1974) with the poetry removed and replaced with explosions and chases; Spy Game (2001) was an anemic John LeCarre wannabe; The Taking of Pelham 123 replaced the local color which had made the original so memorable with a needlessly busy yet flavorless plot.
Like his brother, Tony also produced, and in those projects one could sense an ambition to do something of substance. There were such laudable efforts as the HBO movie RKO 281 (1999) about Orson Welles' fight to make Citizen Kane; The Gathering Storm (2002), another HBO feature, this about Churchill's attempts to prep England for WW II; Gettysburg (2001), a cable documentary about one of the most pivotal battles of the Civil War; and the lovely, elegiac (if sadly little seen) Western, The Assassination of Jesse James by the Coward Robert Ford.
Though Scott would continue to turn out some respectable earners in his later years (Déjà vu [2006], The Taking of Pelham 123, Unstoppable [2010]), after the 1980s, he'd never hit Top Gun heights again, and, in fact, after Beverly Hills Cop II (1987) only ever crossed the $100 million domestic mark one more time with Enemy of the State (1998). Perhaps the problem was that Scott's eye-tickling rat-a-tat-tat style had, by the 1990s, become so widely copied that his often dramatically weak films had little else to offer; the trend setter had become just another member of the pack.
But give him this. Few filmmakers make a lasting impact. Most directors and most films come and go, cinematic mayflies fluttering around the box office for a few weeks before disappearing. The same can't be said of Tony Scott. Love 'im or hate 'im, it'll be a long time before anyone forgets him.
– Bill Mesce
Tony Scott as a young man starring in his brother Ridley's first film
[vsw id="KyM54sHC7Co&feature" source="youtube" width="500″ height="350″ autoplay="no"]
Chat Box - Go ahead, make my day and ask me questions about movies and TV shows...